Students
Support is available Monday-Friday, 8:00 am-5:00 pm.
You can obtain assistance by: 
---
---
What does "Unavailable" mean?
If you notice that one of your current semester courses listed to the left (which will have the number 2178 for Fall Courses, in the Class ID) is not linkable and has an "Unavailable" notice by it, that means your instructor has made the course unavailable while he/she works on it.
If your course is still unavailable after the official start date, create a Help Desk ticket. Login with your campus User ID and Password, go to the menu Student Support > Blackboard > Blackboard - Application Error. Please make sure you to include the course number and both an email and phone number where you can be reached. 

---
Do all of my classes use Blackboard?
Not all instructors choose to use Blackboard; it is up to the discretion of your instructor. Some instructors may use parts of it, such as grades and discussions.
Please check with your instructor(s) to see how Blackboard will be used in your course.

---
I am unable to see the the course menu. Where is it?
If you are not able to see the course menu, there is an arrow on the left side of your screen. Put your cursor on the on the arrow, it says "show course menu", click to expand it.

---
How do I customize my course list?
Click the small wheel to the right of your 'My Courses' menu header. Current courses (2178) can be made visible and unavailable courses can be removed from view.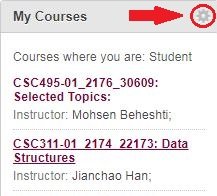 ---
How do I upload an assignment to Blackboard?
Select Assignments from your course menu. You will see a listing of your assignments.
Click on the Name of the Assignment. A new screen will load where you will see further instructions, a due date, points possible, an area to type comments, and the ability to attach a file.
When you are ready to submit an Assignment, click "Browse" to attach your file, and then click "Attach File." Please note that you MUST click Attach File in order for the file to be included. If you have comments to enter, type them in the comment box.
Click "Submit." If you want to submit later, click "Save As Draft" instead of Submit. After you click Submit, you will be able to view your Submission History.

---
I am unable to post an assignment. What do I do next?
Be sure to choose a short name for your assignment, such as assignmentone or myassignment. Blackboard has a problem with certain special characters used in Assignment names like # and /. These characters traditionally act as parsers, so Blackboard saves the download file with a different name and as a result, breaks the link that you just tried to create, resulting in a "HTTP Status 404" error message.
To resolve this issue, please create Assignments without a # or / in the title. If an Assignment has already been created, remove the # or / from the title in both the Assignment tool and the corresponding Grade Center column to use the Assignment File Download tool.

---
I lost online access to a quiz momentarily, and now I cannot re-open the quiz. How can I access it again?
Only your instructor can reset your quiz.

---
Something happened while I took an online test. I need it to be reset.
Please contact your instructor and explain in detail what happened. Only your instructor can reset your online test. CSUDH IT Help Desk and Blackboard Support cannot unlock nor reset tests.

---
Do I need special software to use Blackboard?
Blackboard is a web-based tool, and we recommend changing out to a different browser if you experience issues.
However, there are several browser plug-ins commonly required to display content in Blackboard:

---
Best Practice: Copying and Pasting Text to Prevent Loss
To protect against losing work if an internet connection loss or software error occurs, you may choose to type in an offline simple text editor, such as Notepad or TextEdit, and copy and paste your work into Blackboard Learn.
Alternately, before submitting or saving, you can select and copy all of the text typed in Blackboard Learn. Select the text and right-click to copy it. You may also use key combinations for copying and pasting:
Windows: CTRL+A to select all the text, CTRL+C to copy, and CTRL+V to paste.
Mac: COMMAND+A to select all the text, COMMAND+C to copy, and COMMAND+V to paste.

---
How to Customize My Course Listings
Courses from previous semesters can be hidden and reordered from the My Courses list on the Courses tab in Blackboard.
To hide how you courses display in the My Courses list, click the gear icon at the top right corner of the My Courses list.
Next, check or uncheck the information you want displayed for each course.