News & Information
---
The Dean's Office updates regarding COVID-19
March 23, 2020
Due to the COVID-19 pandemic the University has experienced many changes. However, we are still committed to servicing our students. Please take a moment to read the following information.
The Dean's Office:
As of March 17, faculty and staff were asked to work remotely. This means that the Dean's Office will be closed until we can return to campus. Because of this, phone calls are not the most efficient way to contact us; if you do need to call, we can be reached at (310) 243-3389. We expect to return to answering phone calls by April 1.
Contact Information
Currently, e-mail is the best way to contact us
cah@csudh.edu
. We will get back to you as soon as we can.
Thank you for your patience as the College transitions.
Graduation Writing Exam
Request for Withdrawals extended to April 10
Pro-Rated Parking Spring 2020
Financial Aid
Laptop Loaner Program
The Division of Information Technology (DTI) recognizes a computer can be an essential learning tool not everybody has a computer of their own. The
Technology Loaner Program
provides a variety of devices, ranging from iPads to laptops on a first-come, first-serve basis to all currently, enrolled CSUDH students.
Toro Pantry
The mission of the Toro Food Pantry is to assist and support CSUDH students who may experience food challenges, such as skipping one or more meals per day. At no cost, CSUDH students are able to receive 1 bag of food per household. The pantry is located in the Meditation Room at LSU Room 238.
Free Spectrum Internet for 60 days
Beginning Monday, March 16, we'll offer free access to internet and WiFi for 60-days for new Pre-K to 12, college student and teacher households who don't currently have internet or WiFi service. This discount will be applied as a credit for your first two months of internet services. We'll waive any installation or pre-payment fees to help get you started.
---
The School of the Arts Proposal
The School of the Arts at CSUDH is designed to provide its exceptionally diverse student population innovative instruction within the Arts ecosystem focusing on artistic excellence, community engagement, entrepreneurship, and career development through multidisciplinary collaboration across the humanities, ethnic studies, and across the university. As a vital educational, artistic, and cultural resource for the South Bay and beyond, The School of the Arts at CSU Dominguez Hills plays an essential role in the cultural and creative development of its students and traditionally underrepresented voices.
The creation of a School of the Arts will positively impact the success of the talented CSUDH students in the performing and visual arts by preparing them to be at the forefront of an increasingly culturally diverse and inclusive arts and entertainment industry. Our students strive for prestige, artistic excellence, and a first in-class experience that will be furthered by cultivating and celebrating a climate of the Arts through focused School of the Arts branding on our campus.
A School of the Arts will benefit CSUDH students by providing a stronger infrastructure supporting multiple departments, increased community engagement, opportunities for students to connect with industry professionals, and facilitate interdisciplinary collaboration across courses, projects, and performances.
Read more about The School of the Arts Proposal
---
2019 President's Student Leadership and Service Awards
Highlighting their exemplary leadership, commitment to inclusion and student support, and the impact they have had on the campus community, California State University, Dominguez Hills (CSUDH) honored five students with the Presidential Award for Outstanding Student during the 2019 President's Student Leadership and Service Awards Ceremony on May 7.
The annual event also celebrates and showcases co-curricular experiences through student organizations, and recognizes outstanding faculty and staff who support them.
The College of Arts and Humanities wishes to congratulate two of its own:
Iztel Marin, a graphic design major, for her Presidential Award for Outstanding Student award and to Raul Rubio, administrative support coordinator, for receiving the Marilyn Brady Award for Distinguished Service.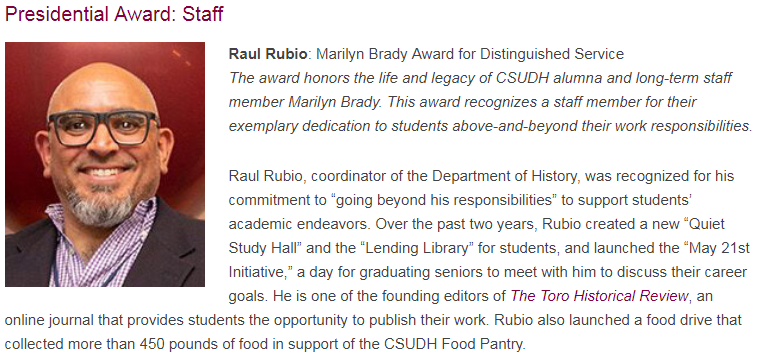 ---

---
2019 Faculty Awards Honor Excellence in Teaching, Research, and Service
California State University, Dominguez Hills (CSUDH) honored faculty members during the 2019 Faculty Awards Reception on April 18 for their excellence in teaching and research, their contributions to university governance and development, and for the role non-tenure track faculty play in student achievement.
During the reception, which took place in the Loker Student Union, 40 of their colleagues were also celebrated for five to 35 Years of Service to the university.