For more information about the university's response to COVID-19, go to the Toros Together Page
News & Information
---
The Dean's Office updates regarding COVID-19
August 17, 2021
Due to the COVID-19 pandemic the University has experienced many changes. However, we are still committed to serving our students. Please take a moment to read the following information.
The Dean's Office:
As of August 2, 2021, some of the faculty and staff have returned to campus. This means that the Dean's Office will be open Monday- Thursday from 8:00am to 5:00pm. On Fridays, our office will be open from 8:00am to 12:00pm. You can seek assistance on campus by visiting LCH A111 or LCH C316 between 8:00am to 5:00pm.
Contact Information
Thank you for your patience as the College transitions.
---
The School of the Arts Proposal
The School of the Arts at CSUDH is designed to provide its exceptionally diverse student population innovative instruction within the Arts ecosystem focusing on artistic excellence, community engagement, entrepreneurship, and career development through multidisciplinary collaboration across the humanities, ethnic studies, and across the university. As a vital educational, artistic, and cultural resource for the South Bay and beyond, The School of the Arts at CSU Dominguez Hills plays an essential role in the cultural and creative development of its students and traditionally underrepresented voices.
The creation of a School of the Arts will positively impact the success of the talented CSUDH students in the performing and visual arts by preparing them to be at the forefront of an increasingly culturally diverse and inclusive arts and entertainment industry. Our students strive for prestige, artistic excellence, and a first in-class experience that will be furthered by cultivating and celebrating a climate of the Arts through focused School of the Arts branding on our campus.
A School of the Arts will benefit CSUDH students by providing a stronger infrastructure supporting multiple departments, increased community engagement, opportunities for students to connect with industry professionals, and facilitate interdisciplinary collaboration across courses, projects, and performances.
Read more about The School of the Arts Proposal
---
Resources
Faculty Resources
Criteria for Proposing Tenure Track Faculty Positions in Five Year Hiring Plans
Student Resources
---
News
2019 President's Student Leadership and Service Awards
Highlighting their exemplary leadership, commitment to inclusion and student support, and the impact they have had on the campus community, California State University, Dominguez Hills (CSUDH) honored five students with the Presidential Award for Outstanding Student during the 2019 President's Student Leadership and Service Awards Ceremony on May 7.
The annual event also celebrates and showcases co-curricular experiences through student organizations, and recognizes outstanding faculty and staff who support them.
The College of Arts and Humanities wishes to congratulate two of its own:
Iztel Marin, a graphic design major, for her Presidential Award for Outstanding Student award and to Raul Rubio, administrative support coordinator, for receiving the Marilyn Brady Award for Distinguished Service.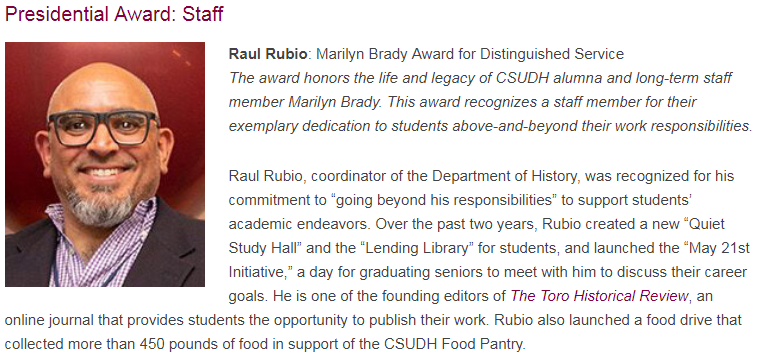 ---

---
2019 Faculty Awards Honor Excellence in Teaching, Research, and Service
California State University, Dominguez Hills (CSUDH) honored faculty members during the 2019 Faculty Awards Reception on April 18 for their excellence in teaching and research, their contributions to university governance and development, and for the role non-tenure track faculty play in student achievement.
During the reception, which took place in the Loker Student Union, 40 of their colleagues were also celebrated for five to 35 Years of Service to the university.