News & Information 
---

---
2019 Faculty Awards Honor Excellence in Teaching, Research, and Service
California State University, Dominguez Hills (CSUDH) honored faculty members during the 2019 Faculty Awards Reception on April 18 for their excellence in teaching and research, their contributions to university governance and development, and for the role non-tenure track faculty play in student achievement.
During the reception, which took place in the Loker Student Union, 40 of their colleagues were also celebrated for five to 35 Years of Service to the university.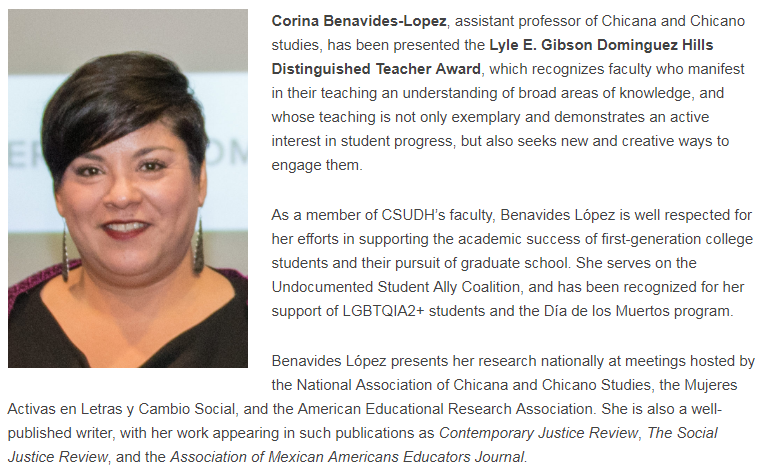 ---

---
Author Angela Davis: Dymally Distinguished Speaker Series

---
Toros Boost Effort to Turn Industrial Waste Site into Neighborhood Park
---
Campus Opens Newly Renovated Marvin Laser Recital Hall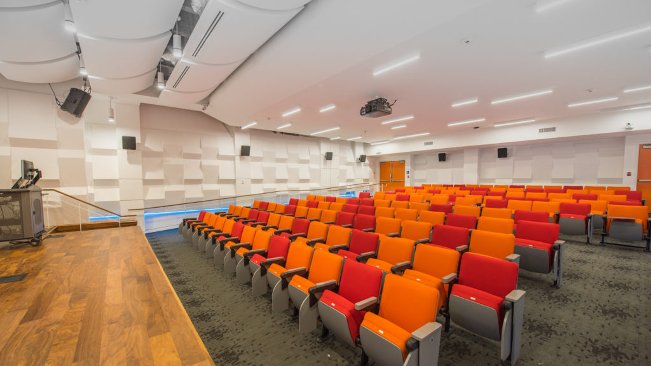 ---
University Recognizes 2018 Staff Awards of Excellence Winners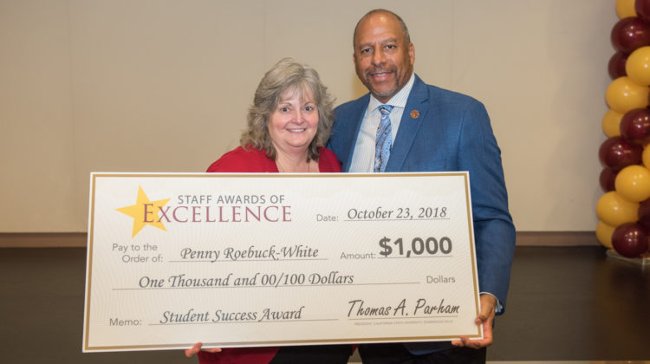 Penny Roebuck White, academic adviser in the College of Arts and Humanities, received the Student Success Award for "creating and supporting an environment of teaching and learning that assists in the recruitment, transition, retention, and graduation of students."
During the ceremony, Roebuck White was celebrated for being proactive, her skill in detecting potential problems and roadblocks for students, and her patient and meticulous nature. She was also commended for her "extraordinary and inspiring" dedication to students, who see her as a trustworthy ally and someone with a wealth of knowledge about academic programs and the inner-workings of the university.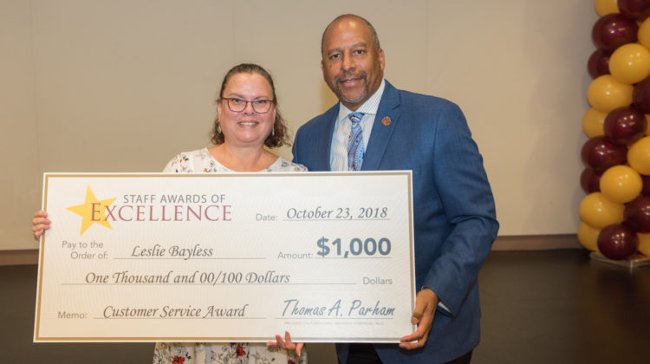 Leslie Bayless, administrative support coordinator in the Department of English, was awarded the Customer Service Award. The honor recognizes staff who "demonstrate exemplary customer service for students, employees and/or guests."
Bayless was honored for her willingness to go the extra mile, and for her high degree of skill and competence, which is complimented by her good humor. Bayless supports more than 50 full- and part-time faculty members, handling everything from scheduling issues and queries, to book orders and faculty contracts. She was also recognized for providing students with excellent advice and guidance, and always treating them with respect and kindness.
---

Assistant Professor of Art Devon Tsuno created the fork design for the latest version of Cannondale's SuperSix bicycle. Tsuno, a rider himself, worked on the design in collaboration with the Pasadena-based cycling brand Team Dream.
Devon Tsuno, Assistant Professor, Studio.  Tsuno received an MFA from Claremont Graduate University in 2005 and a BFA from California State University, Long Beach in 2002.  His recent body of abstract paintings on handmade paper focuses on the LA landscapes' bodies of water and native versus non-native vegetation. He has exhibited internationally in Japan, Mexico, Korea, The Netherlands, Hong Kong, and New Zealand. His recent solo exhibitions include Occidental College (Los Angeles), Roppongi 605 (Tokyo), PØST (Los Angeles), and Azusa Pacific University (Los Angeles). He was also awarded a 2014 CCF Emerging Artist Fellowship for Visual Art.
---
Come Into the Light: a 
dance and music collaboration concert!

California State University, Dominguez Hills' (CSUDH) Department of Theatre and Dance and Department of Music will perform the "Come into the Light" dance and music collaboration concert, a celebration of choral, vocal, and instrumental music that will take place Dec. 6, 7, and 8 at 8 p.m., and Dec. 9 at 2 p.m. in the Richard and Karen Carpenter Performing Arts Center at CSU Long Beach.
What: "Come into the Light" Faculty Dance Concert
When: Dec. 6, 7, and 8 at 8 p.m., and Dec. 9 at 2 p.m.
Where: CSU Long Beach. The Martha B. Knoebel Dance Theatre, at the Richard and Karen Carpenter Performing Arts Center, located at 6200 E Atherton St., Long Beach, Calif, 90815.
Tickets: General Admission is $18; students, seniors, alumni, and military personnel, $13. Click
 

here

 

to purchase tickets.

"Come into the Light" will feature faculty performing the instrumental music of such iconic performers as Cole Porter, Leonard Bernstein, Stephen Sondheim, and Frank Ocean. The music is set to original choreography produced by CSUDH faculty members Doris Ressl Acosta, professor and chair of the Theatre and Dance Department; Amy Michele Allen, assistant professor of dance; dance lecturers Sarah Cashmore, Jeff Hendrix, Kenneth Walker, and Marco A Carreon; and guest artist Nathan Ortiz.

Artistic direction for "Come into the Light" is provided by Acosta. Dawn Brooks, conductor of the CSUDH Chamber Singers. Rik Noyce, supervisor of winds, brass and percussion at CSUDH, will provide the music direction.

"Come into the Light" will also feature the CSUDH Chamber Singers, which will perform with the Duck Soup Trio jazz ensemble, featuring Meg Griffith on flute and pianist Danny Pravder. - Press Release courtesy of CSUDH news.
---
Just a note of congratulations to Dr. Nancy Cheever, Communications Department, for being recognized as one of 26 faculty in the CSU to win a Faculty Innovation and Leadership Award. She is one of 366 faculty from throughout the CSU nominated for the award and was selected for having implemented innovative practices that improve student success. Here is the announcement on the CSU website: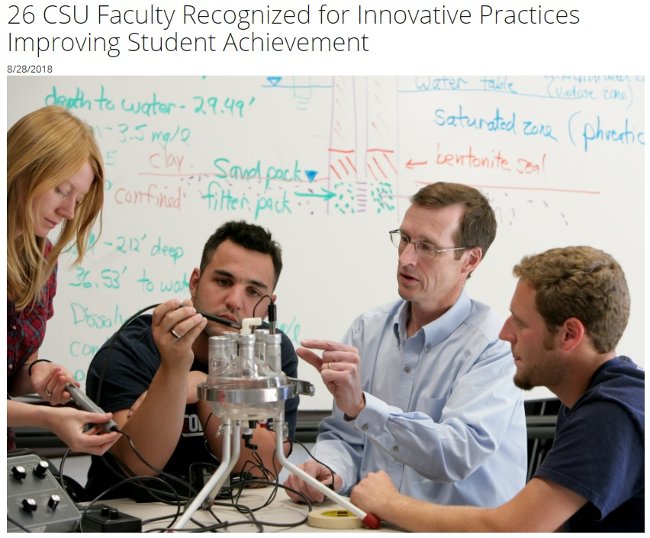 Congratulations again! Thanks for your leadership in this area, Nancy.
Mitch Avila, Ph.D.
Dean, College of Arts and Humanities
California State University, Dominguez Hills
The College congratulates Thaithao Nguyen (History) and Jesús Eduardo González Franco (Spanish), both students in the College of Arts and Humanities, who were named 2018-19 Sally Casanova Scholars!
Click the image to read more!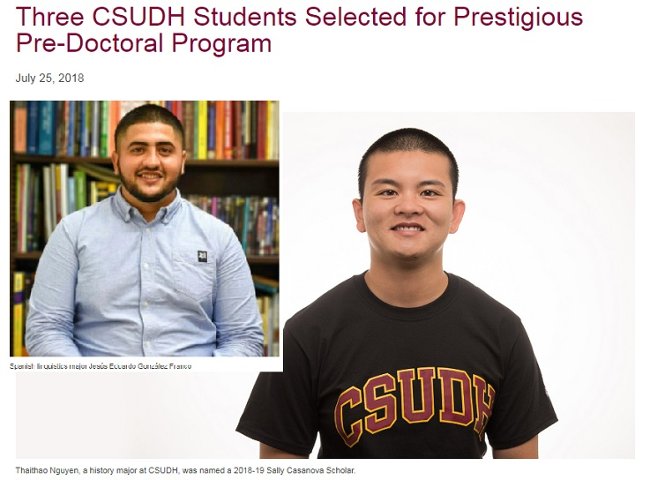 For more information on the 
California State University system's (CSU) competitive California Pre-Doctoral Program click here.
---