Career Services for CSUDH Alumni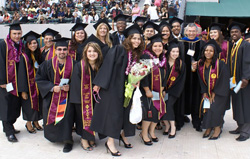 Welcome to the Career Center web site. Services for alumni do not end at graduation! Starting May 2016, graduating CSUDH students have a twelve month grace period from the last time attended when services are free, and following that time period, a nominal fee applies. If we've been a help to you in achieving your goals, we are proud to have done it. While we hope that you have used our services while you were a student to help you successfully find a job, we also want to help those who still need assistance after they've been away. Please use this site to explore the various services we can provide. 
December 2015 and May 2016 graduates: Let us know your career or professional plans! Fill out the Class of 2016 Outcomes Survey 
Learn more about the benefits and services for alumni offered by CSUDH Alumni Relations Office.