Why Recruit at CSU, Dominguez Hills?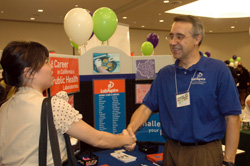 CSUDH offers a rich array of majors and degrees, and our graduates are highly qualified. We are one of the most ethnically diverse campuses in the West, and our students possess in-depth work experience. You will find CSUDH students and graduates to be motivated and goal driven.
Recruiting Services for Employers
The CSUDH Career Center provides the following services to address the recruiting needs of employers.
Our professional association, the National Association of Colleges and Employers (NACE), has provided a Salary Calculator as a free resource for your use. NACE collects salary data on college graduate hires several times a year. Their data is national in scope. Be aware that salary data for California trends toward the high end of the ranges given.
Job & Internship Postings
Career & Internship Expos
Career & Internship Expos are held every fall and spring semester, and attract students across all majors and class levels as well as alumni.
The Education Job Fair is held every spring semester, and is geared towards teaching and school counseling candidates. 
On-Campus Interviews
Employers may schedule interviews on campus to interview graduating students for multiple full-time professional positions. The OCI program may also be utilized to interview upperclassmen for multiple internship positions in one organization. Internships must be paid. The service is free.
Outreach Tables & Information Sessions
Outdoor Employer Outreach Tables are available for employer use on the well-trafficked Vendor Walkway adjacent to the Loker Student Union.Outreach Tables are available on Tuesdays and Wednesdays. Employers are provided a canopy, table, chairs, advance publicity and parking permits. There is a $75 fee per day, payable in advance.
Employer Information Sessions may be scheduled in concert with a scheduled On-campus Interview, or to promote a career or internship opportunity. Sessions are hosted in classroom or meeting spaces. The service is free.
Partnership & Sponsorship Opportunities
Become an Employer Sponsor or Partner through the Corporate Connection and improve your recruiting results at our campus. Sponsors receive high visibility on our website, print media, banners, and other media. Sponsors and Partners are also provided direct opportunities to interact with student organizations and academic departments.
Additional Promotion Opportunities
Student organizations are often receptive to having employers appear at their campus meetings to speak on career topics or discuss job opportunities. A list of organization contacts is available at our office.
Employer videos, CD's and literature are maintained in the Resource Library of the Career Center for student use.
Recruiting Services for Graduate & Professional School Representatives
Graduate School Fair
A campus Graduate School Fair is hosted on campus every fall semester. This high profile event attracts students from all majors. Recruiters are provided a canopy, table, chairs and lunch.
Contact Us
For more information about recruiting services, please contact us:
or call the Career Center:  310-243-3625.