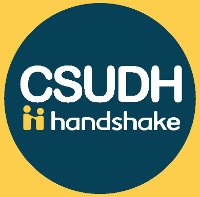 CSUDH Handshake is a job and internship site for CSUDH Students. Handshake offers access to full-time career positions, part-time jobs, internships, and on-campus work study and student assistant positions.* Handshake also provides career event & workshop information, on-campus interview schedule, and an employer directory.
*Disclaimer:  The University and the Career Center hold no liability from fraudulent activity as a result of a Handshake posting.  While each job and internship must meet specific criteria prior to approval for posting, regrettably, fraudulent job postings may appear in our listings from time to time.  The attached word DOC offers tips on how to avoid them.  Any "employer" who hires you without an in-person interview, requires you to provide personal information online (bank account number, social security number, etc.) or advances you money prior to work being performed is suspect.  Report all such encounters immediately to the Career Center.  To file a complaint about an online job scam, go to the online Internet Crime Complaint Center of the FBI.
Other Job Search Websites
Disclaimer: The CSUDH Career Center website contains links to other websites outside the campus domain. We are not responsible for the content, accuracy, or opinions expressed on such websites. Inclusion of any linked third-party website does not imply approval or endorsement by the us.  See our tip sheet [DOC] on how to avoid a fraudulent job posting.
For internship opportunities, see our Internships page.
---
General Employment
| Website | Description |
| --- | --- |
| Monster College | Monster College provides national listings for college students and recent grads, and includes numerous internship opportunities. |
| NACE Link | National job database for college students that is affiliated with the National Association of Colleges and Employers. |
| Cal JOBS | The California Employment Development Department's website. Register and upload your resume, and learn about local services for job seekers. |
| California Job Network | Jobsite with links to hundreds of California companies offering hourly jobs to full-time executive positions. |
| Care.com | Website for job seekers in Human Services. Positions include caregiver, babysitting, tutoring, housekeeping, and pet care jobs. |
| Career Builder | General job search site whose print listings are featured in the "Help Wanted" sections of major newspapers each Sunday. |
| Careerjet | In one simple search, Careerjet gives job seekers access to a huge selection of jobs that are sourced from various internet sites, saving the trouble of having to visit each site individually. |
| Career Rookie | Connects students and recent graduates to internships, part-time jobs and entry-level positions with the nation's top employers. (A division of CareerBuilder.com) |
| College Grad Job Hunter | Centralized information about job search preparation, salary negotiations, and job postings for new grads. |
| College Job Board | College Job Board is designed to help students and alumni find internships, temporary jobs, part-time jobs and full-time jobs. |
| College Recruiter | Information for college students and college grads who are searching for work, or continuing their education. |
| CoolWorks | Part-time and summer jobs in resorts and national parks. |
| DiverseCareers | Represents more than 200 companies that hire for a wide range of industries. |
| Experience | Targeted to alumni, with mid and senior-level job opportunities. |
| Indeed | In one search, Indeed gives students free access - instantly, in a single search - to millions of jobs and internships from thousands of job boards, newspaper classifieds and company websites. Our service is invaluable for anyone looking for a new job. |
| LinkedIn Jobs | Leverage the world's largest professional network to connect with opportunity. Use LinkedIn Jobs to harness the power of your network and get hired. LinkedIn Jobs surfaces insights such as whom you know at a company, providing you an edge in your job search. |
| SimplyHired | Various job/internship postings with features such as job email alerts, salary finder, employment trends. |
| Working World | Online resource of Working World magazine featuring Southern California area jobs updated daily. |
| Zip Recruiter | Job and and internship posting site for college students and recent graduates. |
---
Federal Jobs
| Website | Description |
| --- | --- |
| Student Jobs | One-stop portal for a range of employment opportunities for students within the Federal Government. |
| Environment Websites | Description |
| --- | --- |
| about.com | Environmental jobs, internships and volunteer opportunities. |
| Conservation Job Board | Profiles the latest jobs in the fields related to conservation including forestry, wildlife biology, marine science, environmental policy, park management, recreation, and more. |
| Ecoemploy | Covers environmental employment in the USA and Canada, including natural, green and science listings. |
| Environmental Careers | Environmental Careers brings together leading environmental employers with the best candidates to work for a better environment. |
| GoJobs | Environmental job listings updated daily. |
| JobsFed | Index for Medical, Health, Environment Jobs. |
This page provides connections to a number of web sites which will assist those who want to start their own businesses. A listing here does not connote endorsement. They are listed only for informational purposes.
Organization
Type of Employment
Contact Info
Fulbright US Student Program
English teaching assistantships
Jan Gasco, Campus Advisor
jgasco@csudh.edu
310-243-3506
IIEPassport
Designed to help you find the perfect internship abroad, whether it is part of an academic course of study, or on its own.
 
JET (Japan Exchange & Teaching program)
Teaching English as a second language in Japan
Angel Bridgeport-Curtis
jet@cgjapan.org
213-617-6700
JobsDB.com
Recruitment network across Asia, including Australia, China, Hong Kong, India, Indonesia, Korea, Malaysia, Philippines, Singapore, Taiwan, and Thailand.
 
Overseas Jobs
Access an information center for jobs across the globe.
 
Peace Corps
Full-time work overseas to help better a developing nation
Lindsay Humphrey at 310-356-1107 orlhumphries@peacecorps.gov
Working Holiday Visas for New Zealand
Openings in tourism, agriculture, restaurants, manufacturing
Inquire at the New Zealand Consulate General
2425 Olympic Blvd., Suite 600E
Santa Monica, CA
310-566-6555
World Endeavors
Professional development internships abroad in Europe, Australia, Asia and South America
Lindsay Allen
info@worldendeavors.com
612-729-3400
Staffing services offer temporary or permanent solutions for the new graduate or alumnus with applicable skills and experience. There is no cost to the candidate. You are on the staffing service payroll and may qualify for benefits such as sick leave and vacation.
Agencies listed offer temporary, temp to perm, and permanent positions across a variety of fields unless specialty is noted.
Organization
Type of Employment
Contact Info
Ajilon Professional Staffing
 
191 S. Vermont Ave. Suite 840, Torrance, CA 90502
Apple One, Torrance
 
18538 Hawthorne Blvd, Torrance, CA 90504
310-370-0708
ChildCare Careers
Provides fully qualified and pre-screened teachers and site directors for child care centers, preschools, and before and after school programs throughout California.
1700 S. El Camino Real #201, San Mateo, CA 94402
650-372-0211
Culver Careers
 
1025 W. 190th St. Suite 350, Gardena, CA 90248
310-756-0966
Exact Staff
 
1515 W. 190th St. Suite 152, Gardena, CA 90248
310-329-1900
Helpmates Staffing Services
 
2780 SkyPark Drive, Torrance, CA 90505
310-326-6700
Kelly Educational Staffing
Hires certificated teachers to work as Substitute Teachers in the greater Los Angeles area and individuals with 60 or more units of college-level coursework to work afternoons as after-school Substitutes.
5000 E. Spring Suite 270, Long Beach, CA 90815
562-425-6019
Kelly Services
 
21250 Hawthorne Blvd. Suite 750, Torrance, CA 90503
310-543-3589
Kelly Scientific Resources
A provider of staffing services to the biotechnology and pharmaceutical industry. They recruit majors in cytotechnology medical technology biology and chemistry.
625 The City Dr. Suite 475, Orange, CA 92868
714-971-0721
On Assignment Lab Support
Place scientific professionals in contract contract-to-hire and direct hire positions.
1515 W 190th St. Suite 417, Gardena, CA 90248
310-213-1954
Office Team (Division Robert Half Int'l)
Specialized staffing service for administrative professionals.
990 W. 190th St. Suite 290, Torrance, CA 90502
310-768-8098
Robert Half Finance & Accounting
Professional staffing and consulting services for accounting and finance.
990 W. 190th St. Suite 290, Torrance, CA 90502
310-719-1400
Spherion Professional Services
 
970 W. 190th St. Suite 425, Torrance, CA 90502
310-327-3558
Ultimate Staffing
 
970 W. 190th St. 210, Torrance, CA 90502
310-851-5704
Volt Professional SearchDirect Hire
 
3655 Torrance Blvd 120, Torrance, CA 90503
Volt Technical, Engineering & Computers
Placement in technical positions
19191 S. Vermont Ave 950, Torrance, CA 90502
310-329-4400
Wollberg/Michelson Personnel Service
 
3625 Del Amo Blvd Suite 270, Torrance, CA 90503
310-793-8600