Course Descriptions, Schedule & Costs
NOTE: The Management and Supervision Certificate is being upgraded! Existing courses are being overhauled and new courses will be added beginning with the Spring 2023 term. Fall 2022 is the last opportunity to complete the certificate under the current format.
---
    Request Information Now!
    Find us on Facebook! CSUDH Human Resources Management Programs
    Connect on LinkedIn! Human Resource Management at CSUDH CCPE
CSUDH's instructor-led Management and Supervision program is conducted live online, using Zoom and the Blackboard Learning Management System. Live virtual class sessions will be conducted at the day/time indicated in the
program schedule
. Attendance and participation via Zoom at all class sessions is required.
---
THE PROGRAM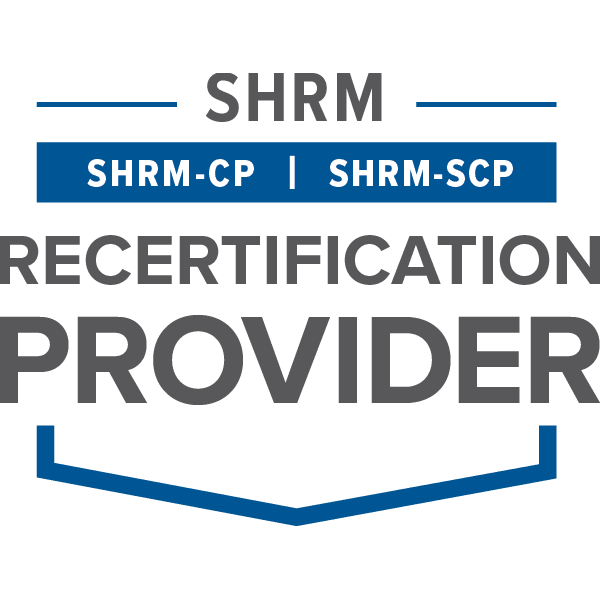 Participants will learn specific management skills and techniques required to be an effective manager or supervisor and to increase their value to their organization and/or company. The courses will expose participants to the myriad of laws and regulations directly impacting their work as supervisors, managers and agents of their employer.
California State University Dominguez Hills is recognized by SHRM to offer Professional Development Credits (PDCs) for the SHRM-CPSM or SHRM-SCPSM. This program is valid for 24 PDCs for the SHRM-CPSM or SHRM-SCPSM. For more information about certification or recertification, please visit www.shrmcertification.org. The program also provides 24 recertification credits toward PHR (Professional in Human Resources) and SPHR (Senior Professional in Human Resources) re-certification.
What You Will Learn
Through this two course, eight-week program, students will cover major topics of importance for the success of managers and supervisors in today's workplace. Each class session will focus on "real world" situations, developing participant skills and techniques to effectively address workplace issues and concerns.
Who Should Attend
Current leaders, supervisors, line and middle managers, as well as individuals seeking to position themselves as viable candidates for promotion into management.
Eligibility Requirements
This course is open to all students currently working in a management or supervisory capacity or individuals seeking knowledge to advance into a management or supervisory position.
Special Features
Courses are offered for Continuing Education Units (CEUs). Nationally recognized standards govern attendance requirements to earn CEU credit. A permanent record of attendance is established; students may obtain a copy of their transcripts by calling the Cashier's Office at (310) 243-3821.
A Certificate of Completion is awarded upon the successful completion of two required courses. Classes may be taken in any order according to individual needs. The program can be completed within one semester.