Mandatory International Student Orientation and Check-In with ISS Office
Welcome to California State University, Dominguez Hills! To help you better understand all about our campus and the regulations to maintain your F1 visa, all new incoming international students are required to attend our mandatory International Student Orientation. You will have the opportunity to meet other international students online, and learn more about the campus, life in the U.S., and resources available to you. 
Save-the-Date!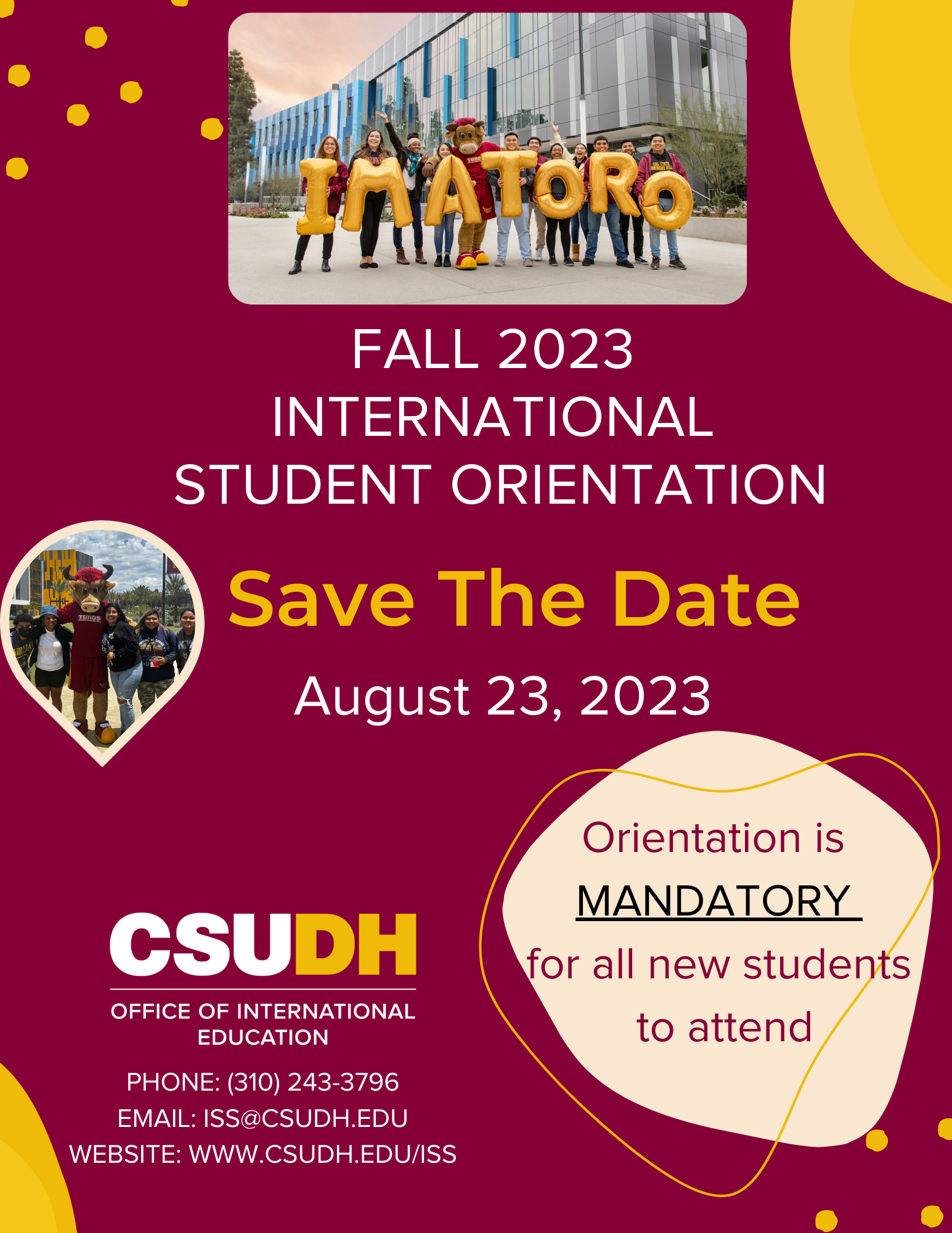 Fall New International Student Orientation on
August 23, 2023! 
Pre-Arrival Information and Check-In Forms
View/Download our Orientation and Pre-Arrival Information (PDF form).
You will bring the following documents/forms to Orientation:
Welcome Week
Welcome Week is a week-long showcase of various departments, resources and programs, helping new and returning students to connect to CSUDH. More information will be provided during the first week of each semester.
Please visit CSUDH Student Life for more info ►


While You're Here,
Helpful Tutorials:
Health Insurance and Required Immunizations
The CSU requires all international students to obtain and maintain adequate insurance coverage (health, medical evacuation, and repatriation) during their period of enrollment. Health insurance protects you from having to pay, by yourself, large medical bills that can arise even from simple medical procedures.
International students will not be able to register for classes until the International Student Services (ISS) office has received verification that you have purchased LewerMark Student Insurance. There are no exceptions to this policy. Waivers might be considered only for certain government-sponsored arrangements, and for students with a parent or spouse who has a U.S. employer-based policy that covers the student.