Center for Science & Innovation Building
Message from President

I am extremely pleased to announce that the new Center for Science and Innovation building was approved for CSU Dominguez Hills by the CSU Broad of Trustees (BOT) at their November meeting. During the last 12-to-18 months, a number of CSU Trustees, the Chancellor, and new Executive Vice Chancellors have toured CSU Dominguez Hills, including visiting the Natural Sciences and Mathematics (NSM) building. Based on discussions during and subsequent to these tours, CSU leadership developed a clearer sense of the importance of a new science facility for CSU Dominguez Hills.

Planning and design of the 87,000 gross square-foot building will now begin in earnest and will take approximately 15 months. We have selected Hammel, Green and Abrahamson (HGA) as project architects.

Groundbreaking for the new building, which will be located immediately to the south of the existing NSM building, will occur in late spring of 2017, with construction to be completed in summer 2019, in time for fall semester occupancy.

When complete, the new building will be a modern instructional facility, providing state of the art science labs and classrooms supporting innovations in science and math education and faculty research. Science labs and lab support currently housed in the existing NSM building will be relocated in the new building, which also will house new active learning classrooms, faculty research labs, and common gathering space designed to foster collaboration and increase faculty and student interaction.

Realization of the anticipated approval of a new Center for Science and Innovation by the trustees was made possible thanks to the efforts of numerous individual groups, including member of a Science Building Feasibility Steering Committee compromised of faculty, staff, and students, including co-chairs Dr. Rod Hay, Dean of Natural and Behavioral Sciences, and Mr. Jonathan Scheffler, Director of Facility Services, who worked with an architectural and engineering firm to engage faculty and staff and complete and initial feasibility study required by the Chancellor's Office. Additional input and involvement by faculty, staff and students will continue throughout the planning, designed and construction of the building.

Renovation of the Natural Sciences and Mathematics Building: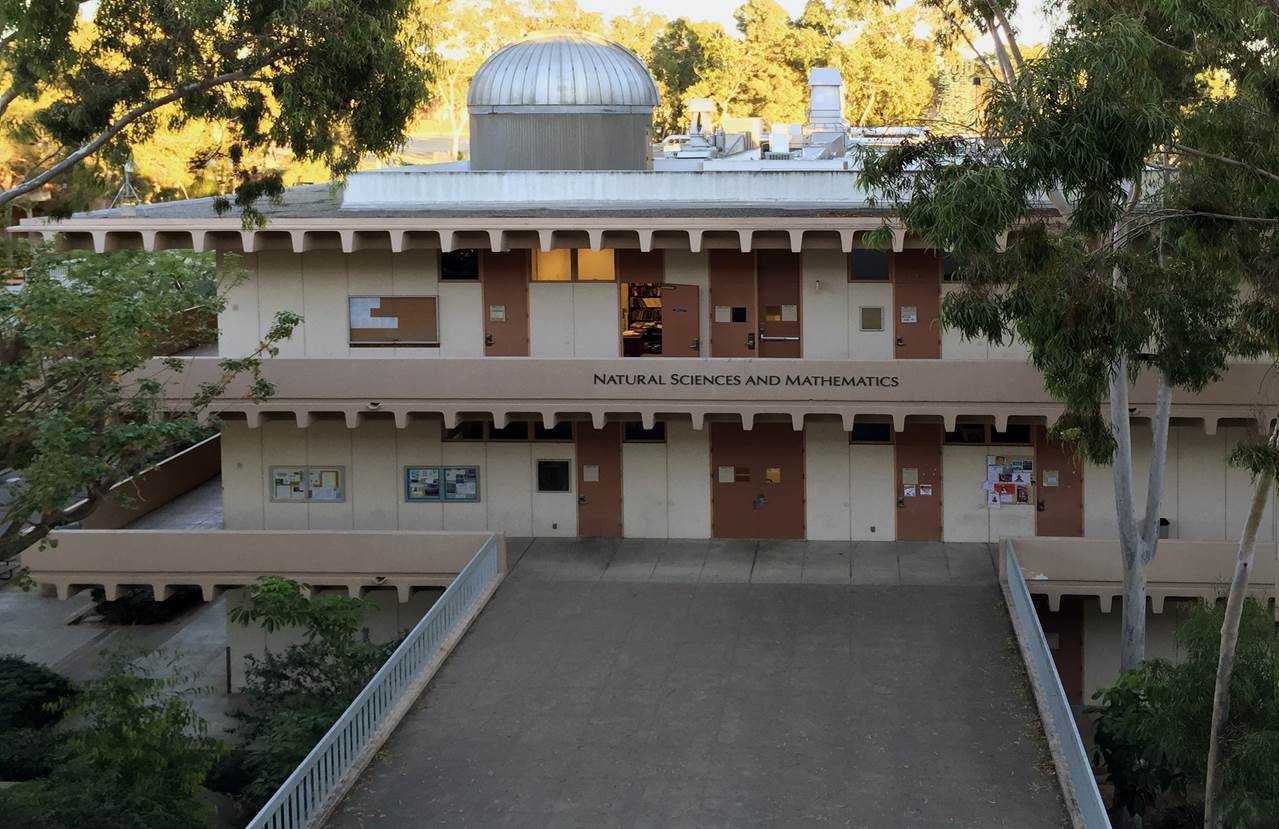 As previously indicated, science labs and lab support currently housed in the existing NSM building will be relocated to the new building when this building is complete. Once this occurs and the current NSM building is vacant, renovation of the existing NSM building will occur. This renovation will include removal of existing fume hood and other specialized lab equipment and infrastructure and retrofitting of existing labs and classrooms spaces to provide modern classrooms and instructional space. Upgrades are likely to include expansions of existing spaces to provide additional open space for student group activities and installation of dry labs.

Location Of CSI Building


| | |
| --- | --- |
|   | The area encircled in red is where the Center for Science & Innovation Building will be located, between the NSM Building and the South Academic Complex Building. |
CSUDH CSIB-SD WORK PLAN


Kick Off Program & Cost
May 1, 2016

A/E Team Role and Introduction
SD Phase Goals and Deliverables Highlights
SD Phase Schedule Review
Budget Discussion/Target Value
Refresher from Feasibility Study
Lessons Learned from Site Tours

SD Meeting
June 2, 2016

Final Program Sign Off
Reconfirm Budget Targets To Be Established By C.W. Driver
Reconfirm Adjancencies And Stacking
Detailed Analysis
Examine Various Siting/Massing Options in Conjunction with Cost
Reconfirming Guiding Principles
Start of Set Log Matrix
Discuss Preliminary Massing and Site Analysis

SD Progress Meeting
July 3, 2016

Review and Finilize Set Log Design Evaluation Matrix
Develop Floor Plans and Key Driver Spaces Lay Out-RFD
Review the Final Massing Options
Review Site Sections
Visual Bench Marking and Understanding of Design Feel for Interior and Exterior Spaces
Engineering Reviews: Civil, Structural and MEP
Target Values to be Reexamined

Final SD Meeting
August 4, 2016

Final SD Floor Plan
Building Entries/Circulation/Service/Connectivity
Review Building Design in Conjunction of Bench Marking from Last Meeting
Review Interior Major Space
Discuss Renderings/Concepts for Presentation To BOT
Review Progress Engineering Narratives 

Board Of Trustees Presentation
September 5, 2016

Present to BOT
Internal Draft Cost Estimate to be Reviewed
Engineering System Refinements for Cost Purposes
Continue to next Steps Once the Cost is Approved and N.T.P Received from the Owner
Possible Final Presentation to Stakeholders, Similar to BOT

CSUDH-SD Work Plan [PDF]

Architecs: Hammel, Green and Abrahamson, Inc. (HGA)


About HGA
Team

Listed below are the names of the team from HGA that will be working on this project from beginning to end.
Kaven Amirdelfan, Principle-in-Charge, Project Manager| HGA
Alyssa Scholz, Interior Design| HGA
Patrick Thibaudeau, Sustainability| HGA
Kevin Donaghey, Project Architect| HGA
James Matson, Higher Education Expert| HGA
David Lang, Science Designer| HGA
Laboratory Planning, Sean Towne|HGA
Laboratory Planning, Mark Ranyak| HGA
Structural Engineering, Saiful Islam| HGA
Structural Engineering, Vernon Gong| HGA 
Mechanical, Electrical & Plumbing, Frank Stefan| HGA
Mechanical, Electrical & Plumbing, George Lui| HGA
Mechanical, Electrical & Plumbing, Sean Hira| HGA
Mechanical, Electrical & Plumbing, Alex Popa| HGA
AV/IT & Acoustics, James Good| HGA
AV/IT & Acoustics, Jack Shimizu| HGA
AV/IT & Acoustics, Ken Godacy| HGA
Cost Estimating, Rick Lloyd| HGA
Landscape, Wayne Romanek| HGA
Civil Engineering, Reza Rezaian| HGA
Signage & Wayfinding, Norman Philips| HGA
Signage & Wayfinding, Paul Hershfield| HGA
Organizational Chart [PDF]


Contractor: C.W. Driver


About C.W. Driver