Project UPLIft: Uniting to Prepare Low Incidence Teachers
Become a special education moderate/severe teacher!!!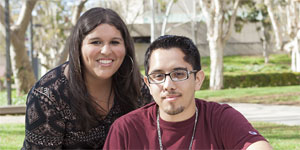 Project UPLIfT is looking for people interested in teaching children with moderate/severe disabilities.  While participating in this project, you will be a full-time student and complete your preliminary credential course requirements in only four terms.  You will benefit from having a mentor assigned specifically to you for all four terms.  This mentor will be able to advise you on the particulars about the teaching profession as you move through the project.  You will also receive assistance in looking for employment in our local high demand schools.
Project UPLIft benefits:  If you've ever wanted to teach children with moderate/severe disabilities, Project UPLIfT can get you there with:
Cohort Classes
Taught by CSUDH College of Education faculty and district personnel, classes are held in the evening, typically two or three days a week.  Classes will be held on the CSUDH campus.  You will take all of your classes in a cohort of 9 students each term.  Being in a cohort lends extra support and builds collegiality along with the potential for long term friendships.
Complete Your Credential in Four Terms
UPLIfTs program means you will complete your preliminary moderate/severe credential in just four terms.
Individualized Mentoring
UPLIfT participants receive four terms of individualized mentoring from teachers in the field.  Your mentor will be available to help you learn the ropes, build your confidence, meet the challenges, and reap the rewards of teaching in today's urban high schools.
Advisement at Every Step
Your UPLIfT staff will help you at every step of the journey as you apply to the university and special education program, apply for UPLIfT, register for classes, and apply for your preliminary special education teaching credential.
Financial Incentives/Support
You'll receive a stipend for tuition, a stipend to cover most textbooks, and a small living stipend each of your four terms in the program.
UPLIfT will begin spring 2014.
If you're ready to join Project UPLIft, then take the first step and call us at (310) 243-2355 or email: UPLIft@csudh.edu
College of Education Apply here: www4.csudh.edu/coe/apply/index
Special Education: www4.csudh.edu/coe/programs/special-education/index
"Supported by a grant from the US Department of Education (OSEP #H325K130401)"