Multiple Subject Program
Inspire your students to learn.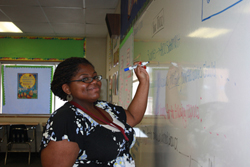 The Multiple Subject Option prepares candidates to earn a California Preliminary Multiple Subject Teaching Credential authorizing them to teach in a self-contained classroom, usually grades kindergarten through six. At CSUDH's College of Education, our Multiple Subject Program is specifically geared toward developing passionate teachers who are well equipped to teach and inspire children in our communities' diverse urban schools.
Features of the Multiple Subject Program
Real Classroom Experience
Multiple Subject students complete supervised student teaching or internships in urban classrooms, interacting with a diverse range of students.
Flexible Options
Students have the option to complete a University Internship or a Student Teaching position.
Candidates who are currently contracted public school teachers but have no preliminary credential complete a University Internship under the guidance of a trained CSUDH supervisor and a school-based support provider. Visit the MS/SS Intern Program.
Students who do not currently teach in a public school setting enroll in the Student Teaching Option. The student teacher receives support and guidance from a CSUDH field supervisor as well as an experienced master teacher from the partnering public school.
Strong School Relationships
Multiple Subject candidates benefit from the College of Education's strong partnerships with local school districts who actively seek our students to fill student teaching positions.
Respected Credential
Student teachers from our Multiple Subject Program are recognized and valued for the preparedness and passion for teaching in urban schools.
To learn more about the Multiple Subject Program and other Teacher Education Programs, including how to apply and requirements, call (310) 243-3525.