Hazardous Waste Label Directions
ALL hazardous waste must be labeled and should be filled out properly.
The new CSUDH hazardous waste label is a PDF file that you may save onto your computer
The hazardous waste label does come with instructions on how to fill the label out
The following information MUST ALWAYS be on the label:
Accumulation start date
Each element inside the bottle or container
Amount
Additionally, you MAY NOT use any Abbreviations or Chemical Formulas.
Note: If you are generating the same type of waste, you may save the PDF file with all the information on it already and all you would have to do is change the date.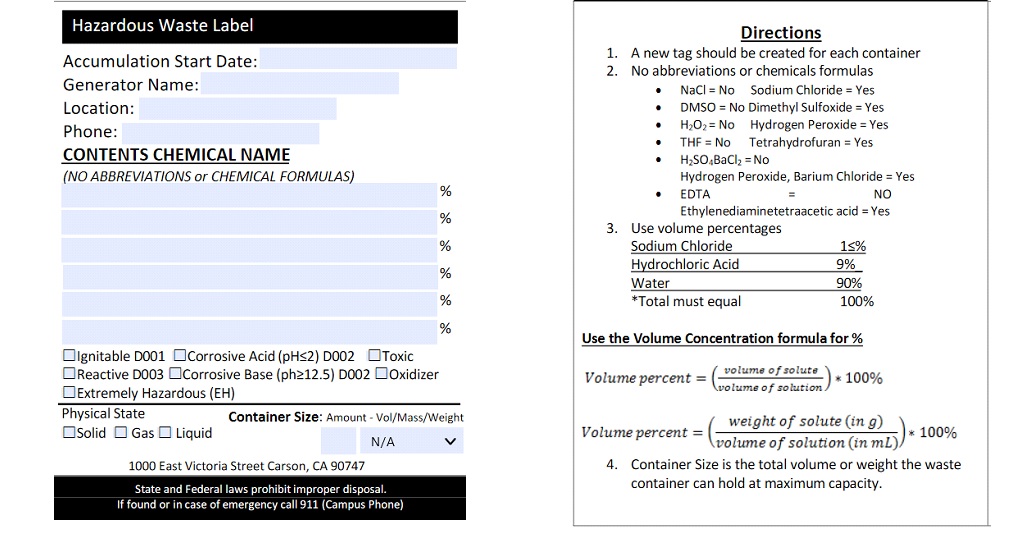 Once you have fill out the label correctly, you will need to enclose the hazardous waste label inside a clear self-adhesive envelope and stick it onto the bottle or container. The clear self-adhesive envelopes are provided by EHS.
Note: If the bottle or container is too small, you may place it inside the clear self-adhesive envelope along with the hazardous waste label.