Welcome to CSUDH online safety courses, depending on your job requirements, you will need to complete required training. Cal/OSHA has a number of regulations which require training on workplace safety and health. The specific Cal/OSHA training requirements that apply to your workplace depend on the types of work activities you as an employee are actually performing.
Provided by the Chancellor's office through CSULearn, below you will find information on the safety courses, such as estimated time, re-certification, and course code. The online safety courses are accessed through your CSULearn account, please make sure you have your account information to login.
Tips for CSULearn
Only use the Google Chrome web browser preferably.
CSULearn will not work a 100% with other browsers such as Firefox, Explorer, or Safari.
DO NOT close any windows when the course is being launched.
Print Screen the completion of the course for your records
***IMPORTANT NOTICE***
---
Microsoft announced that it will end support for Internet Explorer 11 across its Microsoft 365 apps and service as of August 17th, 2021.  After this date, Microsoft advises that end-users of Internet Explorer 11 will have a "degraded experience" or will not connect to Microsoft 365 apps and services. Microsoft has already ended Internet Explorer 11 support for Microsoft Teams as of November 30th, 2020.

Based on this end of support notification and the limited investment moving forward in Internet Explorer 11 from Microsoft, SumTotal recommends that you upgrade your browser support to the latest versions of Firefox, Chrome, Safari, or Microsoft Edge. SumTotal will continue to support Internet Explorer 11 using best efforts for a period of time. However, moving forward, since Internet Explorer 11 will have limited support directly from Microsoft, this will make it difficult for SumTotal to guarantee continued support for this platform.

SumTotal will continue to evaluate support from Microsoft for Internet Explorer 11 and provide guidance as we receive more information and details.

---
CSULearn Updates
---
Hello Everyone,
We've received a few tickets regarding a login error message that some users are receiving when trying to access CSU Learn (SumTotal). This login message states "Thre is an error signing in". Where "Thre" is spelled incorrectly. This is due to an update in security validation in the latest release to address concerns of a stale token request during the login process.
We've received an update today indicating the spelling error has been corrected and they indicated a patch would fix this issue causing this error on or around September 13th. However if you do encounter this error, below are steps to assist with resolving the issue.
Solution:
Have affected user try logging in, if issue persists go to step #2
Have affected user go to date and Time Settings and click the Sync now button in the Synchronize your clock section (please review screenshot for reference)
Attempt to login to CSU Learn (SumTotal)
If unsuccessful in their attempt to login after the steps above, (their computers have recently synchronized the time, on that same day, as displayed in the Date & time setting), please ask the user to provide screenshots showing the Last successful time synchronization message and include their system time from the task bar in the image.
Please attach user's screenshot to the ticket and we'll escalate up to SumTotal to validate.
As of: 8/18/21
---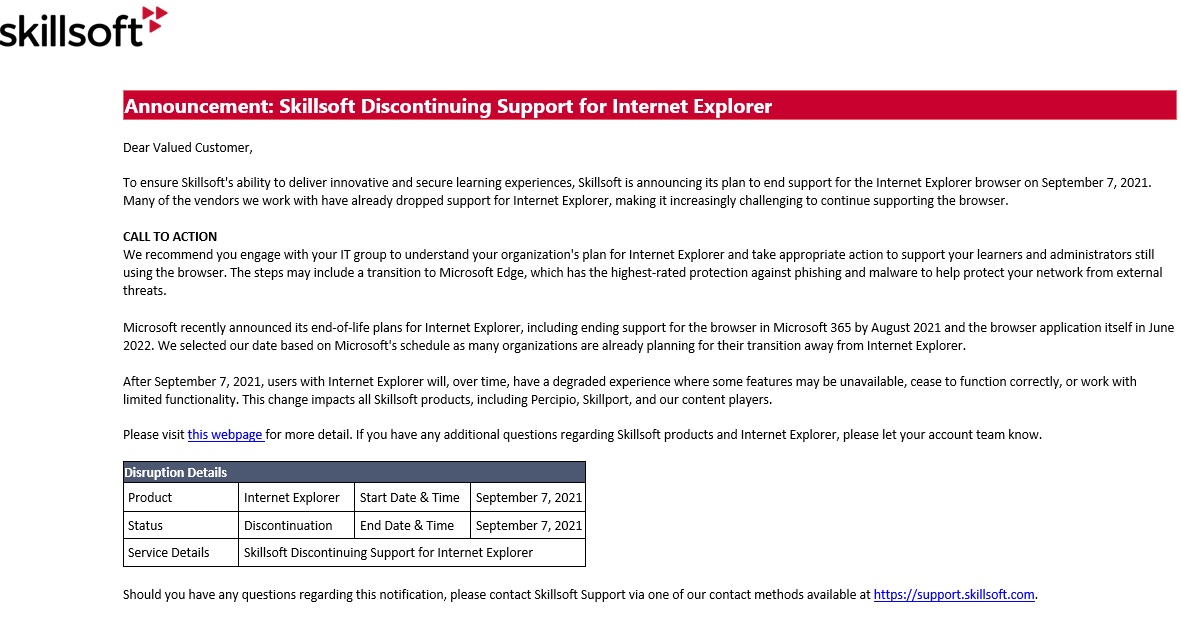 As of: 8/06/21
21.2 Dashboards/Documentation/Intro Video Updated
The upgrade to 21.2 will bring a new UI menu toolbar
Updated the CSU Learn Training Portal video on all campus home dashboards (you made need to clear your browser cache to see the updated video)
As of: 7/23/21
Safety in the Workplace During COVID-19 (Employee focused)
 As safety measures are being updated and new direction is being provided by the CDC and Cal / OSHA, there could be continuous updates to the Safety in the Workplace During COVID-19 course. Cal / OSHA will meet this Thursday, July 28th and may provide updates that will impact the current version of this course.
 Injury Illness Prevention Program (IIPP)
The IIPP course will be updated this Friday, July 30th (end of day) to reflect critical accessibility updates. Those who are in progress need to complete prior to July 30th. Otherwise, those who are in progress will be reset to the beginning of the course.
As of: 7/26/21