Kara Dellacioppa, Ph.D., Director, Faculty Development Center
Office: LIB-1940 {Universlity Library Art Gallery on first floor of North University Library}
Phone: (310) 243-3149
Email: kdellacioppa@csudh.edu
Drop-In Hours:
To Be Announced
 Erika Torres, Assistant to the Director, Faculty Development Center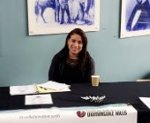 Erika Torres earned her BA in Psychology from CSUDH in 2011. She has served as a student assistant with the Ronald E. McNair Scholars program and after graduation she worked with the graduate writing center, Promoting Excellence in Graduate Studies (PEGS) grant, as a research coordinator. During this time, she coordinated the program's calendar, collected and assessed program evaluations, developed research questionnaires and tutor feedback forms, and supported the program's mad efforts to inspire students to further their own academic endeavors. She Joined the Faculty Development Center (FDC) in 2015. Currently she is assistant to the director at FDC and works alongside Dr. Kara Dellacioppa to help the center's mission of developing and enhancing faculty and staff academic goals and health and well-being. While pursuing her Masters in Health Psychology, Ms. Torres  helps to coordinate the FDCs programming, including:
FDC yearly calendar, Faculty Success Program, Faculty Learning Communities, First Year Seminar, Quality Matters, and New Faculty Orientation.
Office: LIB 1940
Phone: (310) 243-3148
Email: ertorres@csudh.edu
Danielle Lemon-Jones, Student Assistant, Faculty Development Center
Danielle Lemon-Jones is an incoming transfer student who received her AS in Business Administration at El Camino College Compton Center. She is continuing her education here at CSUDH for her Bachelor's degree in Finance. She is currently under the supervision of Dr. Kara Dellacioppa as Student Assistant creating, designing, and editing flyers for upcoming events, creating and managing FDC's foundation budget, and contributing to the webpage here at the Faculty Development Center. Mrs. Lemon-Jones is using her event planning skills and her education in Finance both in the Faculty Development Center and as the Director of Technology for the CSUDH Finance Student Society. She applies the marketing and finance skills that she is learning here at CSUDH in her job and extracurriculars.
Office: LIB 1940
Reza Boroon, Manager, Academic Technology - FDC Faculty Expert
Reza Boroon is the Academic Technology Manager at California State University Dominguez Hills. He has 15 years experience in higher education, and instructional technology.


His position at CSUDH is focused upon conducting faculty workshops about Blackboard, and related classroom technologies such as Lecture Capture, Blackboard Collaborate, and iPad technology in the classroom ; Working with faculty (one-on-one, in small groups) in the development, implementation, and evaluation of hybrid and online courses; and providing training and/or support in creating accessible instructional materials as well as an accessibility review of excising materials.
Reza is also an adjunct faculty at CSUDH, Occupational Therapy Program where he teaches e-Portfolio course.

Office: LIB-5723
Phone: (310) 243-2524
Email: rboroon@csudh.edu