Orientation
[Get Adobe Acrobat Reader free here]

Welcome to CSU Dominguez Hills. We are pleased you are joining the CSUDH faculty. You will find our University an exciting, interesting and rewarding place. Our fundamental goal is to provide our students the highest quality education and we are committed to assisting our students achieve their educational objectives. At the same time the faculty imposes on themselves high expectations about scholarship and service. The University administration is here to assist faculty to accomplish their goals.
As a new CSUDH faculty you will face a number of challenges. To help you through the first semester, we conduct a new faculty orientation. This year's spring 2013 orientation was held on January 18, 2013. The orientation included an overview of CSUDH, an introduction to our CSUDH students, tips for effective teaching and use of technology, information on University policies services and other topics vital to new faculty.
If you couldn't attend orientation or would like to learn more, following are presentation materials from past orientations you can download.
Introduction to CSUDH
The mission of the Faculty Development Center is to support the University's mission of success in education through a student's contact with faculty members who effectively combine teaching, scholarship, and service and to help create a campus culture that values and supports excellence in teaching, learning, and research.
Learn more about:
Create an Inclusive Learning Environment
Course Design and Student Centered Learning
Student Centered Learning
This student-centered perspective is a hallmark of the CSUDH approach to teaching. We strive to empower instructors by helping them develop a deep understanding of how students learn, so that they can effectively apply and adapt teaching strategies to meet their own goals and their students' needs.
Course Design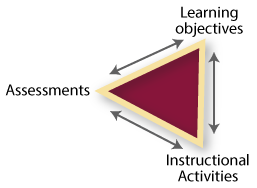 Assessments should reveal how well students have learned what we want them to learn while instruction ensures that they learn it. For this to occur, assessments, learning objectives, and instructional activities need to be closely aligned so that they reinforce one another.
Course Design and Student Centered Learning [PDF]
Additional presentation materials available for download:
Classroom Management and Learning Styles [PDF]
Admissions and MYCSUDH
An Admissions Presentation [PDF] is available and topics covered are:
FERPA
MYCSUDH.EDU
Add/Drop through Census
Petitions
New Faculty RTP pulling the pieces together
The Office of Faculty Affairs provides RTP services on the overall management of the RTP process; Design and manage the RTP schedule; Custodian of all RTP and faculty personnel files; Notifications to candidates; and Notifications to RTP reviewers.
A RTP Presentation [PDF] is available and topics covered are:
What is RTP?
Three Foundations for RTP
The Six RTP Cycles
Sequence of RTP Review
Professional Plan
Scholarship Standards
Tenure and Promotion