Highlighting Diversity through Creative Web Design
In spring 2007, the faculty of Interdisciplinary Studies/Program for Adult College Education (IDS/PACE) felt it was time to showcase the creativity and scholarship of the students in our program. We were awarded a mini-grant from the WASC  committee (Western Association of Schools and Colleges) to reflect the diversity of our majors by inviting them to tell their own stories. Incorporating student interviews and photos in our most publicly accessible "face," our web page, we hope to reach out to the local community in a way that is informative, exciting, and inspiring. By inviting our majors to participate in this project, we also see this web building as a communal project that will bring current students in touch with each other, their faculty, their university, and the region. The interviews were done by students themselves, proofread by faculty. We hope that viewers will return to our website to get the next installment, and give us comments and pose questions about our program.
To contact us, write to: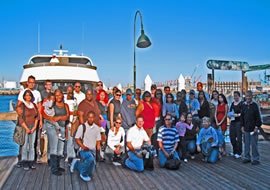 Group shot of IDS/PACE introductory class on
a harbor cruise field trip led by the Harry Bridges
Institute, of the Port of LA.