Malika Shakoor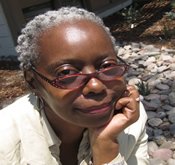 "I was born in Buffalo, NY and came out to LA in January 1974. It was winter in Buffalo, and we were snowed in. My former husband and I were looking at TV and saw something about California; we looked at each other, and it was like a light bulb came on. We moved here shortly thereafter."

Malika received her Associates degree at Trade Tech from their PACE program when it had just started.  The greatest difficulty in completing her BA came from health problems, but, she recalls, "I came back and completed my BA in Dec of 2000, with an IDS major and a sociology minor. I graduated cum laude and received outstanding student in my major." (The late) Dr. David Heifetz and (now retired) Dr. Myrna Donahoe "were two of my outstanding teachers. Heifetz really helped me write with more passion. Very colorful. He didn't curse; he cussed!"

"I knew that I wanted to write," Malika remembers, so she decided to take an English MA."The director at the time said, since you haven't taken English, you need to take pre-requisites. You have to take a test, read a poem and interpret. But I didn't know the terminology. The interpretation was spot-on, but I didn't write about the mechanics, so I failed the test. I studied the terminology on the internet and passed the test the second time."
Her determination and drive helped her when her next crisis struck: while "going through the program for my MA in 04, I was diagnosed with colon cancer. I was exhausted, but I figured that it was because I was going to school day and night, trying to finish everything. I would walk my granddaughter around the corner to the park, and I would get so tired, an other worldly tired. So I had to sit out again, and I withdrew and finished my chemo. When I had rested, I came back and completed the course work in fall of 06. I am now writing my thesis."
Malika thinks that "PACE is the best thing that came down the pike. For working adults who think they don't have enough time, it's designed for them. The range of classes is good, and I see it is getting even better. Visiting museums, interpreting art, experiencing university life. I will always be involved in school just to mix it up with people and hear their views. I like to absorb the energy. When you have good professors that allow you to stretch your imagination and push you to do your best, there's nothing like it. I love school."
"Everyone loves it that I've gone back to school because they know that education is my passion. Finishing my Masters degree would mean that I could teach at JC level. But I would like to go on for a doctorate and return to CSUDH and teach English…the way Dr. Joyce Johnson does." Malika also recommends Dr Price's "Social Documentation" class, learning to use "pictures to interview someone and using that to do analytical writing."
"For myself, it's everything coming to fruition, starting and stopping, even with all the obstacles, finding out that I'm much stronger than I thought I was."