Octavio "Tavo" Solorzano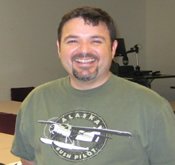 Although Octavio "Tavo" Solorzano was born and still resides in Long Beach, when he decided to finish his college degree, he enrolled at CSUDH. Through his community college PACE experience, Tavo found the IDS/PACE program at CSUDH and discovered that the IDS program setup and reasonable costs fit his needs wonderfully. He considered attending CSULB, which is much closer to his home, but realized that its impacted classes and lack of an undergraduate program geared towards working adults would make it difficult for him to complete his degree in a timely manner.
Another asset that was extremely important to him was that, upon contacting the IDS/ PACE program at CSUDH, Tavo found the department's counselor, Marilyn Brady, to be warm and encouraging; " I couldn't ask for a better counseling and enrollment experience."
Although it took Tavo ten years to finish his lower division requirements, within a year in IDS/PACE, he has already reached senior status.  He feels that this is due to the combination of ease of counseling and enrollment, a program schedule that is tailored specifically for working adults, and the concentration of IDS classes into four interesting areas.  In addition, he is so close to finishing that he feels the excitement of "seeing the light at the end of tunnel." Specific classes that have stood out to Tavo in his IDS/PACE experience have been those in literature.  He particularly loved the experience of creative writing in "Global Stories" and the mind-broadening perspectives of "Literature and the Rights of Women," feeling that both classes encouraged him to stretch his analytical and creative abilities in positive ways.
Tavo admits that it is sometimes difficult to balance work, school and his personal life but also realizes that his choice of taking a course load of five classes a semester contributes to the struggle!  However, since he is making such great progress and can alternate the weekend classes, he intends to continue at the same grueling pace so that he will graduate next year.  The support of his family, partner, and co-workers has also been a great motivator.  Tavo was particularly touched that his mother offered to assist him with tuition if necessary.  Although he declined her offer, her gesture will always be remembered by him with love.
Not only would Tavo recommend the program to others, he regularly does so by telling his coworkers that "it can be done even when you work."  He encourages them to try the IDS/PACE program, and now that he only has a year left they are also encouraged by his success and have been very supportive.  He also believes that the program has already contributed to his career advancement by improving his analytical and writing skills.
The youngest of eight children of Mexican immigrants, Tavo will be the second Solorzano sibling to graduate from college. Although it will also contribute to earning a higher income and open more doors, for Tavo the greatest significance of his education is his sense of pride in attaining that very personal goal.  Next, not content with a BA, Tavo intends to enroll in a Masters program!