Thurlene Anderson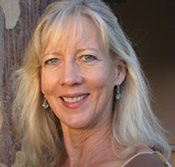 According to recent CSUDH graduate Thurlene Anderson, "Some of the best things about the IDS experience [were] – enjoying the journey, the sense of community, the supportive faculty, and getting acquainted with some amazing people on a similar journey. I picked CSUDH because of the PACE/IDS program. I was just lucky to discover that it is close by and a smaller campus by comparison, which I consider a plus. The program is also encouraged for those finishing the PACE program at LAHC, from which I transferred."
The key factor for Thurlene in her return to school was that, "I had finished independent studies with my two youngest children, who are now 21 and 19. I've wanted to go back to school since my oldest son started first grade – he's now 30, ha!" It may have taken her awhile to get back to university studies, but her transition was relatively easy: "I was fortunate to have been in the academic mind-set for quite a few years because of my children's independent studies – I'm a teacher already by heart, and had taught American Literature at a private high school. I also had my own childbirth education business and was used to the disciplines of research and study."
Family support was important, though. "I have quite a support group within my immediate family structure," says Thurlene, "my husband, my five children, and my six grandchildren (well, one is only a year old). They think it is awesome that I'm finally accomplishing what I've wanted to do for many years. They also think it's quite amusing that my two youngest children and I are in college at the same time. What that means is that I and some of the children I taught in high school American Literature classes are now graduating from college at the same time – how ironic it that?"
She recalls that, "An especially supportive occasion was when I received my AA degree from LAHC and wasn't going to walk for the graduation ceremony. My family insisted that it would be good for me to celebrate that accomplishment, that it was huge, and that it would encourage me to look forward.  They were correct, and I'm thankful that I listened."
Thurlene finds it difficult to name her favorite classes, but, when pressed, she lists "The American Dream," "Literature and the Rights of Women," "The Hero/Anti-Hero," "Inventing America's Past," "Success and Values," "Modern American Social Problems," adding that she also surprised herself by enjoying the science classes.
"I have already recommended this program to many others.  It is a very do-able program with an extremely supportive faculty who want one to succeed. I'm hoping that my oldest daughter will be joining the program shortly."
Now that she has her bachelor's degree in Interdisciplinary Studies, Thurlene is enrolled in the Masters in Humanities Program at CSUDH and is already fulfilling her academic destiny by teaching classes at the Fashion Institute of Design and Merchandising where she had previously worked as a recruiter.