Typhanie Willock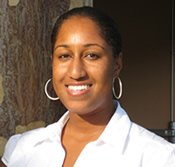 "I'm impressed with the IDS program.  I am a witness that this program changes lives."
Born and raised in Southern California, Typhanie Willock should know about education. "I've been in school all my life.  When I was three years old, I attended head start on the campus of California State University, Los Angeles. It was during that time that I realized I wanted to attend college.  I admired the students walking around the campus with their books and backpacks, heading to class."  After attending West Los Angeles Community College where she received her AA degree in Liberal Arts, two years ago she decided, "it was a must that I transfer and obtain my BA degree."
Currently a Special Education Assistant for the Los Angeles Unified School District, Typhanie chose to attend CSUDH because her mother is an alumnae. "I wanted to follow in her footsteps.  She always spoke highly of CSUDH and the IDS department.  I knew by choosing IDS as my major, I would be well on my way to accomplishing my goal of becoming a Special Education instructor for school age children."
Typhanie's family and her boyfriend have been very supportive of her while she's been in school.  "They encourage me to keep going and they always remind me that I'm almost done." In spite of great support, like many IDS/PACE majors, Typhanie had to make difficult choices to return to school. "After working two jobs for several years and struggling to make ends meet, I decided I would sacrifice one job and go to school during the evenings full time. Although some of my classes were extremely challenging, I have enjoyed them all.  There's not one class I didn't enjoy and learn from."
Her biggest challenge is reading for several different classes, all at once. "I learned that organization and good note taking is the key, especially when you have a heavy load." She believes that "IDS is one of the greatest programs on this campus.  Its courses are offered conveniently in the evening, which allows the average working adult time to grab a bite to eat after work and head on to class.  Weekend classes are also offered, which has allowed most of us to finish a lot sooner.  The professors are eager to teach and they are awesome to work with."
"There are so many things I've experienced while in the IDS/ PACE program.  The curriculum is great and I've learned so many things that I may not have learned if I weren't here.  I've read an array of mind opening novels and attended museums and different cultural events. I've also made new friends.  All these experiences will be with me for a lifetime."
"I would definitely recommend the IDS/ PACE program to others.  This program is perfect for anyone, from the recent high school graduate to the mother of four returning to school.  I don't know where the time went but it's been less than two years since I transferred to CSUDH and I'll be graduating this fall" 2007.
More knowledge and a better income are the immediate benefits for Typhanie, who plans to enroll in a graduate program in fall 2008. "I'm on a roll now!"