iTOROS MOBILE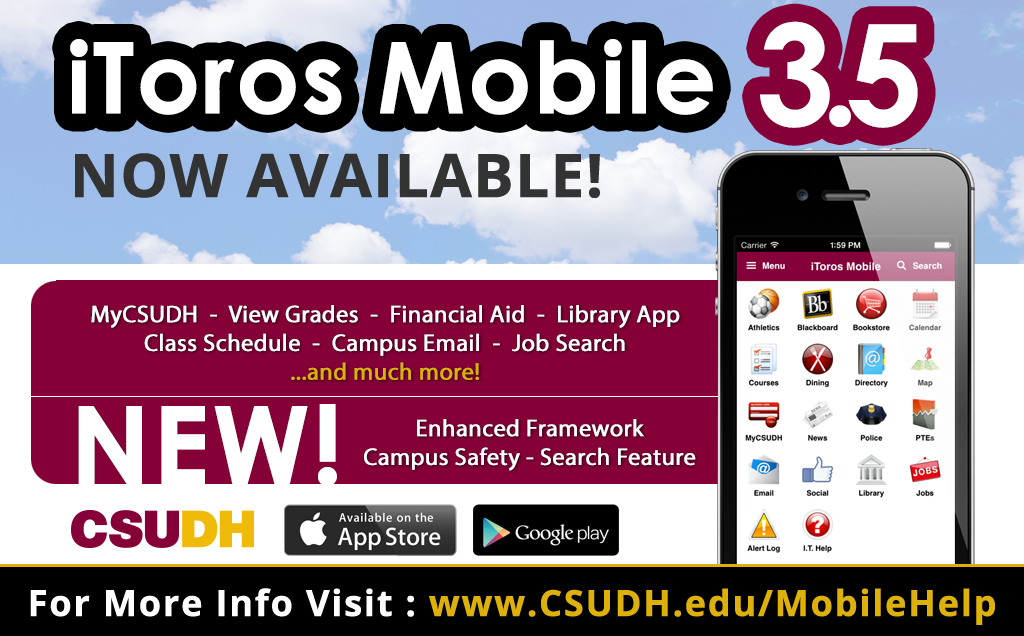 Overview
The initial release of the CSU Dominguez Hills iToros Mobile application was officially announced during the Spring Semester of 2013.  Our latest version, 3.5 was released March 2018 and includes a re-designed and enhanced framework along with improved performance.  iToros Mobile 3.5 includes new features such as saving your favorite apps on the springboard/home screen, new computer labs, new framework, new search capabilities, new directory search, and an updated map display. 
The app is the creation of a small team of application support personnel within the Division of Information Technology.  Analyst - Developer, Abdul Hameed Raja Mohamed and My.CSUDH.edu Portal Administrator, Ed Liao spent nearly 15 months researching, developing and spending time with our campus community to create a useful on-the-go mobile platform that serves the needs of CSUDH students, faculty and staff. 
Technology & Features
The iToros Mobile application employs a cross-platform hybrid based technology as opposed to a native or strictly web-based app.  This means that a portion of the application is downloaded to the device from an app store and then connects via the device web browser engine to extract and display information when needed.  This approach allows the CSU Dominguez Hils I.T. web team more control over the application, while allowing the application native-like access to device capabilities such as camera and local storage.

Apple iOS:  The iToros Mobile iOS application was constructed based upon the jQuery Mobile Framework toolset, using XCode and Cordova SDK for iOS, along with programming languages such C#, HTML5, CSS3 and Javascript.  

Google Android OS: The iToros Mobile Android application was developed using jQuery Mobile Framework with Android SDK, along with programming tools and languages, including Eclipse IDE, HTML5 and CSS3 and Java/JavaScript.

Security: iToros Mobile uses an open source federated identity management solution known as Shibboleth, along with Lightweight Directory Open Access Protocol (LDAP) to securely authenticate student users. This solution allows for Single Sign-On capabilities between student email and the MyCSUDH mobile portal.  Access to these secured areas can be terminated through a user invoked log out capability or through automatic session time-out features.  

App Features:  iToros Mobile provides iOS and Android based smartphone and tablet users with ease of access to information such as campus events and news, library resources, job opportunities, maps, course catalog search, student email, MyCSUDH mobile portal and more.  Users will also find support options, such as mobile FAQs, access to helpdesk support, ability to provide the mobile support team feedback or even access to the campus directory to search for faculty or staff.  NEW in Version 3.0; the application now includes search functionality, campus emergency preparedness information, and the ability to save your favorite apps to the springboard.
See a full list of features and details.

Mobile Portal: The MyCSUDH mobile portal application provides students with a convenient view of a subset of PeopleSoft CMS student data.  Students are able to check their class schedules, view their grades, verify enrollment appointments, check financial aid details, view current and future financial obligations owed to CSUDH, along with the ability to check holds and To Do List items.  The MyCSUDH mobile portal application also provides students the ability to provide feedback to their learning success by taking part in the campus Perceived Teaching Effectiveness (PTE) Survey process, with direct access to the survey database.
Enhancing the Application
The iToros Mobile web team continuously strives to reach out to the campus community for feedback and input on mobile development through open forums, online surveys and through the in-app Feedback option. Their attention is currently focued on feature enhancements and upgrades that will futher expand the mobile experience for the student and the campus community.  
Common Questions
Where can I find the application?  What are the minimum requirements?
The application can be downloaded to Android and iOS supported devices via the Google Play or Apple iTunes stores.
Download Now
iPhone/iPad Requirements: Compatible with iPhone, iPad, and iPod Touch. IOS version 6.0 or newer. Features require WiFi or 3G/4G network connection.
Android Requirements: Compatible with most Android enabled smartphones and tablets. Android version 4.2 or newer. Features require WiFi or 3G/4G network connection.
Is the application available on Windows or Blackberry devices?
No.  The application is currently only available for download to Android and iOS supported devices.  The iToros Mobile development team is constantly monitoring market trends and statistics and may consider supporting other platforms in the future.
Can I submit feedback, suggestions and feature enhancement requests?
Absolutely!  The CSU Dominguez Hills web team is always welcoming feedback.  This information can be submitted through the iToros Mobile app under HelpDesk -> Options or by visiting the https://www.csudh.edu/mobilehelp website.  From here, you will also find a full list of FAQs.
To learn more about iToros Mobile or to download the application to your supported device, please visit our mobile help page.
---
iToros Mobile Downloads (as of Jan 13, 2014)
Total Android/iOS Device Installs:  7,755
iOS:  5,400 (support for iPod, iPad2/3/Air/Mini, iPhone4s/5/5s/C running iOS 7)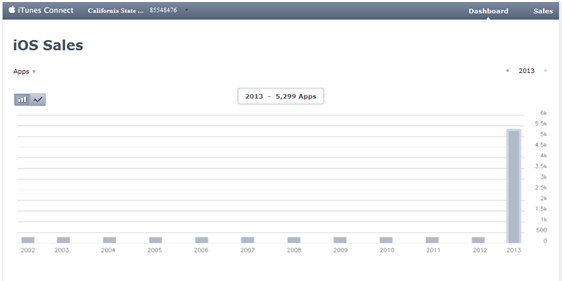 Android – 2,355 (support for 4,235 device types running Android 3.1 – 4.1)