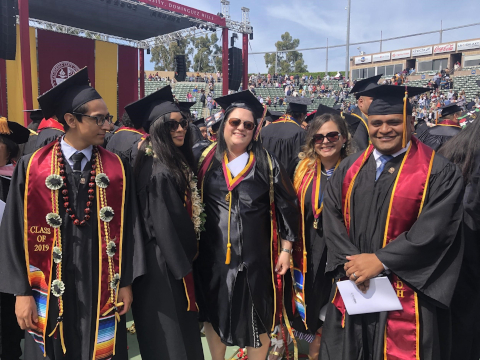 Thirty (30) units are required for the major. Required classes are rotated, giving students the opportunity to finish their upper-division classes within two years. Required classes are offered evenings, weekends, or online. Each class is worth 3 units.
A total of 120 units are needed for the BA.
A Bachelor's in Labor Studies requires 30 units in one of a number of approved courses.
One course is a required "capstone" course: LBR 490, which may be substituted with LBR 496.
Selected courses that have been pre-approved to be combined for a Labor Studies Degree include:
LBR 101: Introduction to Labor Studies
LBR 200: Labor and the Environment
LBR 201: Work/Life
LBR 202: Class Struggles in Film and Popular Culture
LBR 310: Success and Values
LBR 312: Decade of the 60s
LBR 313: The Future of Work
LBR 314: The American Dream
LBR 350: Research Methods for Social Change
LBR 411: Contracts and Negotiations
LBR 412: Labor Law
LBR 495: Special Topics
LBR 496: Practicum in Labor Studies
Related courses in other disciplines can be also be applied toward a Labor Studies Bachelor's degree, such as:
ACC 230: Financial Accounting
ANT 346: Anthropology of Work
ECO 330: Labor Economics
HIS 348: Labor In American Society
HRM 316: Labor & Industrial Relations
MGT 312: Organizational Behavior
PSY 372: Industrial and Organizational Psychology
PUB 315: Labor-Management Relations in Government
SOC 315: Sociology of Work