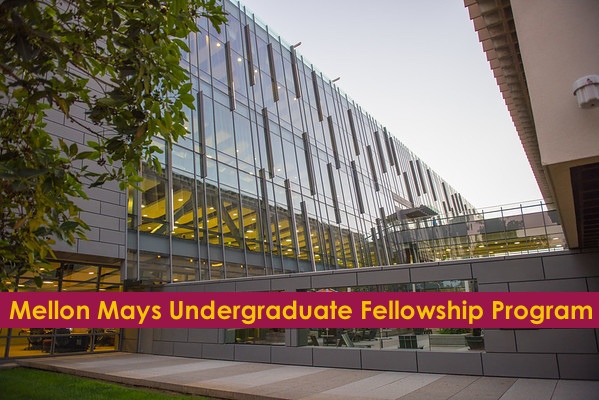 Mellon Mays Undergraduate Fellowship Program (MMUF)
CSUDH is proud to be one of five CSU campuses—including CSU Fullerton, CSU Long Beach, CSU Los Angeles, and CSU San Bernardino—that houses the Mellon Mays Undergraduate Fellowship program. This program is the centerpiece of the Andrew W. Mellon Foundation's initiatives to increase diversity in humanities faculty in institutions of higher learning. Established in 1988, the program's initial cohort of eight member institutions has expanded considerably, comprising 48 member schools, including three South African universities, and three consortia, one of them composed of historically black colleges and universities within the membership of the UNCF. The California State University consortium is honored to join other MMUF institutions on the west coast, such as Stanford, UC Berkeley, Caltech, UCLA, USC, UC Riverside, Whittier College, and the Claremont Colleges consortium.
Open to students of all races and ethnicities, the program's main objective is to increase the number of students from underrepresented minority groups, as well as others who demonstrate a commitment to the goals of MMUF, who will pursue a Ph.D. and a professorial career in designated humanities fields. The program's overarching purpose is to address and remedy the disproportional absence of faculty of color in higher education, considering especially the effects of this disproportion on the educational process. As such, the MMUF program aligns with the historical mission of CSUDH, a campus born from, and committed to, a vision and mission of social justice.
Each year, the CSUDH MMUF program will select four Mellon Fellows, who will receive financial assistance, close professional mentorship, summer research opportunities, and graduate application support while engaging in activities that help foster intellectual, social and cultural growth.For more information about the national program, please visit the national Mellon Mays Undergraduate Fellowship Program page by clicking here. 
Toward a More Inclusive Academy: MMUF at 30
A signature initiative of The Andrew W. Mellon Foundation, the Mellon Mays Undergraduate Fellowship (MMUF) program addresses the problem of underrepresentation in the academy, especially at a time when populations of American college students are more racially and ethnically diverse than ever before. To date almost 850 MMUF fellows have earned PhDs, the majority of whom teach in the academy. In celebration of the program's 30th anniversary, this short documentary features interviews with MMUF fellows at all stages of their academic careers, from current undergraduate fellows to faculty members, along with MMUF coordinators and staff of the Mellon Foundation. Please join us in celebrating the success of MMUF and the vital contributions of its alumni toward the diversification of the academy and its scholarship. 
Program Benefits
$3600 term stipends for each year in the program (2 years)
$3900 summer stipends to conduct research with a faculty mentor (2 years)
$600 travel stipends for travel-related expenses (2 years)
$400 research stipend for research-related expenses (1 year)
GRE preparation
Up to $10,000 repayment in undergraduate/graduate student loans, once entered into a Ph.D. program
Guest lectures and social/cultural activities throughout the year
Ongoing professional advising and moral support
MMUF fellows benefit most from continuing their studies with other students moving toward similar goals, including MMUF fellows at other institutions, creating a local, regional, and national cohort and support system.
Additional Opportunities
Regional Undergraduate Conferences
There are seven regional MMUF conferences, which bring together MMUF fellows and coordinators from member institutions in the same geographic region. At these conferences, often held annually, fellows will have the opportunity to present their research, make connections to other fellows outside their programs, and gain a sense of what academic conferences are like. CSUDH is part of the West Coast Conference, which includes:
California Institute of Technology
California State University Consortium
Claremont Colleges Consortium
Heritage University
Stanford University
University of California at Berkeley
University of California at Los Angeles
University of California at Riverside
University of New Mexico
University of Southern California
Whittier College
MMUF Undergraduate Journal
Since 1995, the Harvard University MMUF program has published the MMUF Undergraduate Journal, which features scholarly articles from MMUF fellows from all member institutions. The purpose of this journal is to showcase fellows' research and scholarship, while also providing undergraduate students with a glimpse into the processes and expectations of academic publishing.