GUITAR STUDIES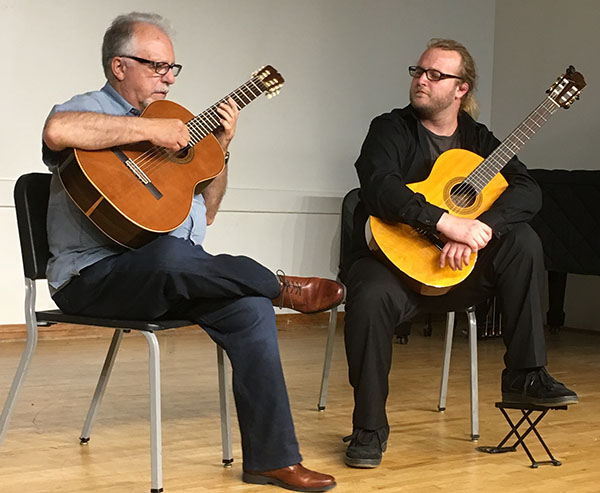 The Guitar Program at CSUDH is one of the strongest in Southern California with more than twenty full time students receiving weekly private lessons from a world-class faculty. Students may choose between Classical and Studio Jazz options. In addition to enrolling in Guitar Ensemble, students attend weekly workshops and the Advanced Guitar class. In addition to guitar coursework, each student must also declare one of the departments three degree options (General Music, Performance, or Music Education). Audition information is available at: https://www.csudh.edu/music/audition-placement/.

Faculty
Dr. Scott Morris (Department Chair and Supervisor of Guitar Studies)
Matthew Greif (classical and jazz guitar)
Julian Coryell (jazz and commercial guitar)
David Isaacs (classical guitar)
Kai Narezo (flamenco guitar)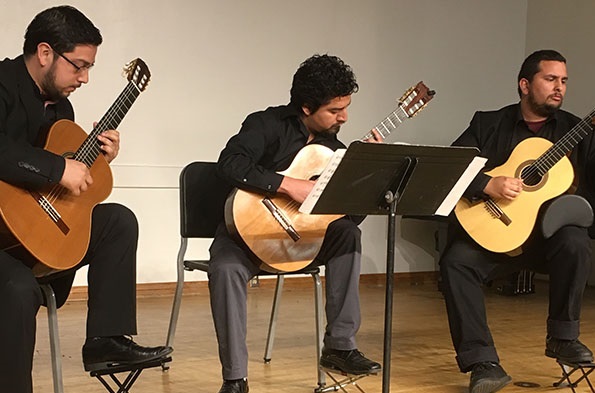 Guitar Ensemble
The CSUDH Guitar Ensemble (MUS 178-478) is co-directed by Matthew Greif (member of the GRAMMY-winning LAGQ) and David Isaacs. The guitar consists of small jazz and classical ensembles as well as a large guitar orchestra. Jazz guitar students are often simultaneously enrolled in Jazz Band (MUS 173-01 to 473-01) and classical guitar students are encouraged to play lute or 5-course Baroque guitar in the Early Music Collegium (MUS 170-02 to 470-02). Contact David Isaacs at disaacs@csudh.edu for information on how to enroll.
Guitar Day at Dominguez is our annual open house for local community colleges and high schools. Visiting students participate in a full day of workshops with CSUDH guitar faculty members and perform in Ensemble Showcase recital in the University Theatre. Last year's visiting guest artist was Pepe Romero. Find out more about the event at: https://www.facebook.com/csudhguitarfestival/.
Like us on Facebook at: https://www.facebook.com/csudhguitar/.