VOICE CHORAL STUDIES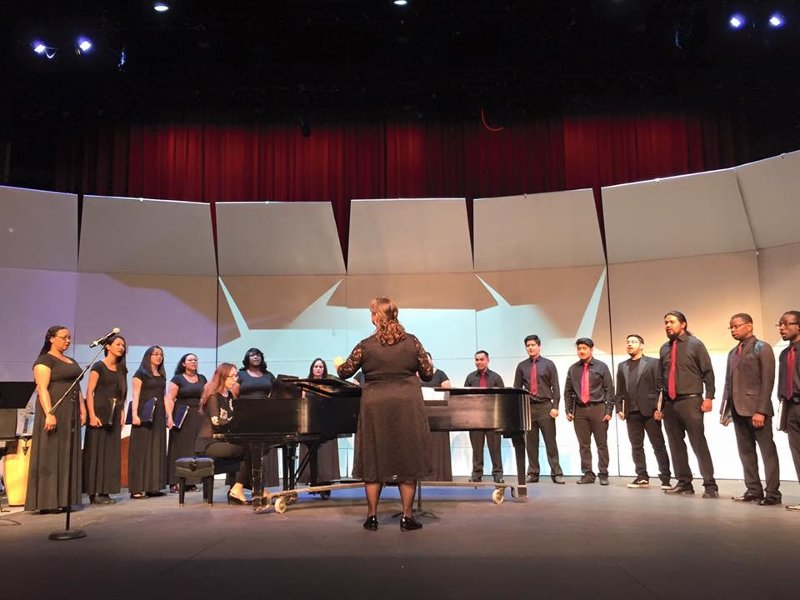 The Voice and Choral Studies program at CSUDH offers students individual instruction from our experienced faculty to develop healthy and versatile vocal production, to become dynamic performers, and to learn appropriate performance practice for classical, musical theatre, jazz, and popular music. Students may choose between Classical and Commercial Music Performance options. The curriculum for our Music Education Voice students includes choral rehearsal techniques, conducting, and methods classes in four instrument areas. All Voice majors enroll in one or more of our vocal ensembles, attend weekly Vocal Workshops and group voice classes, and perform in a Student Recital every semester. In addition to voice coursework, each student must also declare one of the department three degree options (General Music, Performance, or Music Education). Audition information is available at: https://www.csudh.edu/music/audition-placement/.
Faculty
Dr. Dawn Brooks (Voice)
Dr. Kevin St. Clair (classical voice)
Professor Kendra Vuk (classical and contemporary voice)
Charles (Chuck) Dickerson (Supervisor of Special Ensembles)​
Dr. Rik Noyce (Early Music Collegium)

Chamber Singers
Traditional choral ensemble performing a wide variety of choral music from the 17th century to the present, conducted by Andrew Schultz. The ensemble regularly prepares and performs major choral/orchestral works, most recently Carmina Burana by Carl Orff, Haydn's Lord Nelson Mass, Requiemby W.A. Mozart, Five Mystical Songs by Ralph Vaughan Williams, Ceremony of Carols by Benjamin Britten, and Chichester Psalms by Bernstein. A student conductor is chosen each semester to prepare, rehearse, and conduct a choral work for the final concert. Contact Andrew Schultz (anschultz@csudh.edu) for information about auditions.
University Chorus
Non-audition choir focusing on solo and group performance of jazz, pop, musical theatre, gospel and other contemporary vocal genres, directed by Professor Kendra Vuk. The ensemble prepares a unique program each semester for a final performance with a live rhythm section. Recent programs have included music by the Beatles, Queen, Coldplay, Pharrell, Michael Jackson, and Stevie Wonder, as well as musical theatre selections from Grease, Rent, The Wiz, and Dear Evan Hanson. Contact Professor Kendra Vuk (kvuk@csudh.edu) for more information
Early Music Collegium
Non-audition ensemble for vocalists and instrumentalists exploring repertoire and performance practice from Antiquity to Baroque eras, co-directed by Dr. Rik Noyce and David Isaacs. Vocalists work on music by Handel, J.S. Bach, Vivaldi, Monteverdi, Hildegard von Bingem, and other classical composers, accompanied by period instruments. Vocalists also have the opportunity to participate in a recorder ensemble. Contact Dr. Rik Noyce (dnoyce@csudh.edu) for more information.


Jubilee Choir
The Jubilee Choir at CSUDH is dedicated to learning and performing music of the African Diaspora including Spirituals, Gospel, music of the Movement, and other such music.| The choir is open to CSUDH students as well as members of the community. CSUDH students interested in join the choir must enroll in MUS 172-272-372-472. Community members may register for NAMU 101-028 (CN 43568) at no cost.

Rehearsals take place on Monday evenings from 7:00PM-9:00PM in LaCorte Hall (LCH).

Jubilee Choir Director and CSUDH Director of Special Ensembles
Charles Dickerson
Performances:
CSUDH Winter Choral Concert 12/10/18