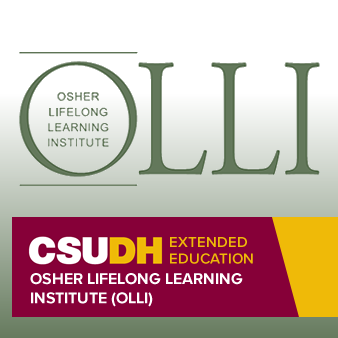 The Osher Lifelong Learning Institute at California State University, Dominguez Hills
is a program of educational, cultural, and social opportunities for retired and semi-retired individuals age 50 and above. Members experience taking courses in a relaxed atmosphere for the pure pleasure of learning.
Read more...
---
 View Our Latest OLLI Catalog!
How to register for classes ► | Download our Interactive OLLI catalog/view below ▼
---
  Upcoming Special & Just Added Events
Check out all of our upcoming courses by clicking the "Courses" link on the menu on the right! Here's a quick list of our upcoming special events:
OLLI Open House & Orientation
Tuesday, June 4, 2019 • 10:00am – 12:00pm
Join us at an OLLI Open House to learn more about lifelong learning for retired and semi-retired adults. For more information on OLLI at CSUDH visit www.csudh.edu/olli or call (310) 243-3208.
OLLI Members are welcome to invite friends to the 2019 Summer Open House. This is a great opportunity to learn about membership in the Osher Lifelong Learning Institute and to find out how to register for classes. Light refreshments will be served. RSVP to (310) 243-3208 or by email to olli@csudh.edu by May 20, 2019. Drop off your registration forms at the Registration Office.
8th Annual OLLI Juneteenth Celebration
Thursday, June 19 • 1:00pm –4:00pm
Friends don't let Friends miss out! Invite a friend to experience a taste of OLLI at our annual gathering—it's a great way to get to know us—as we commemorate this historical day with entertainment, music, interactive games and a traditional Juneteenth menu.
La Brea Tarpits and Museum
Monday, June 24
San Gabriel Mission Docent-led Tour
Thursday, August 1
Los Angeles Environmental Learning Center and Hyperion Plant Tour
Monday, August 5
Los Angeles Central Library Architecture and Gardens Tour
Wednesday, August 7
AARP Driver Safety
Wednesday or Thursday, August 14, 15
---
Courses & Events
View our OLLI Activity Calendar:
---
Member Tips
  Are you a new or returning OLLI member?
OLLI Membership for 2018-19 includes Fall 2018, and Spring 2019, and Summer 2019.
Join or renew now ►
OLLI needs your registration – even for free events – for grant award reporting purposes... Register today!
 

 Need help with your Blackboard/Toromail access?

As an OLLI member, you have been provided your very own account for accessing online course content and our campus Gmail ("Toromail")

Access Blackboard for the First Time:
https://www.csudh.edu/academic-technology/faq/

Forward Your Toromail to Your Personal Gmail:
https://www.csudh.edu/Assets/csudh-sites/it/docs/forward-toromail-to-gmail.pdf
  Annual Parking Passes: New membership benefit!
Annual parking passes for OLLI members are available now... Just $20 for the whole year!
For more info, call 310-243-3208
CSUDH Campus Maps ►
OLLI Parking Passes ►
Join Our Online Community!
Share & view event photos, check schedules, and connect with fellow OLLI Members!
Login & Like:
  facebook.com/CSUDHOLLI