CSUDH has a number of programs to assist those with food insecurity issues. Find out more about these programs below -- maybe one of them is what you're looking for!
CalFresh

CalFresh is a nutrition assistance program that helps low-income individuals, families, and college students buy the food they need. CalFresh dollars help stretch tight food budgets and help many people afford to incorporate a healthy lifestyle. #everybodyeats
---
Toro Food Pantry
The mission of the Toro Food Pantry is to assist and support CSUDH students who may experience food challenges such as skipping meal or meals per day. It is currently opened and located in the Library, room 2514.
Learn more about the Toro Food Pantry.
---
Food Recovery Network (FRN)
The Food Recovery Network (FRN) is a national organization that focuses on fighting food waste and hunger in America. The FRN conducts outreach efforts by partnering with campus dining facilities and collecting leftover food items that would otherwise be disposed of.
CSUDH has recently started a campus chapter of the Food Recovery Network. This group conducts FRN Fridays, where they intercept the food that Campus Dining is about to throw away, and divert it to campus housing instead. It is served buffet-style at 2:30 p.m., and CalFresh Outreach personnel will also be on site to sign up students for the CalFresh program.
FRN also has a similar partnership with the Campus Urban Farm. When produce is ready to harvest, FRN volunteers take it to either the FRN Friday at housing or to the Food Pantry located in the Women's Resource Center.
To volunteer to help out with FRN Fridays, contact the CSUDH Sustainability Club.
---
Hot Meal Card Program
Each semester, eligible CSUDH students can receive a Hot Meal Card to use in Campus Dining. To sign up for a card:
Log on to https://torolink.csudh.edu using your My.CSUDH username and password
Search for "Toro Food Pantry"
Locate the "Hot Meal Card/CalFresh Application"
The student will receive a text or email from CalFresh to determine if they are eligible for benefits
If eligible, the student will pick up their Hot Meal Card from the Basic Needs Coordinator.
---
CSUDH Eats App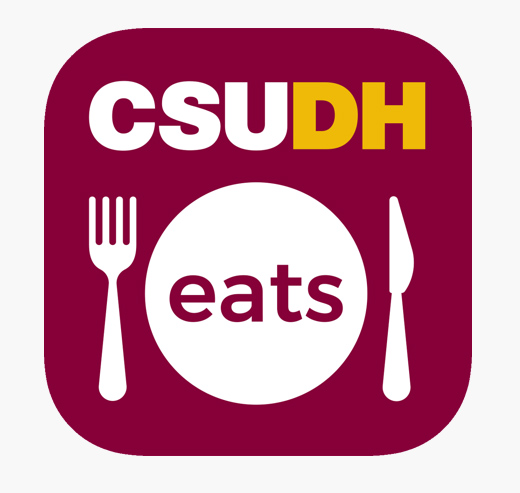 CSUDH Eats is a mobile food app that is available for CSUDH students who are iOS users. The app alerts students to available food from catered events and meetings on campus.
Download the FREE CSUDH Eats app on the Apple App Store.
An app for Android users is coming soon!