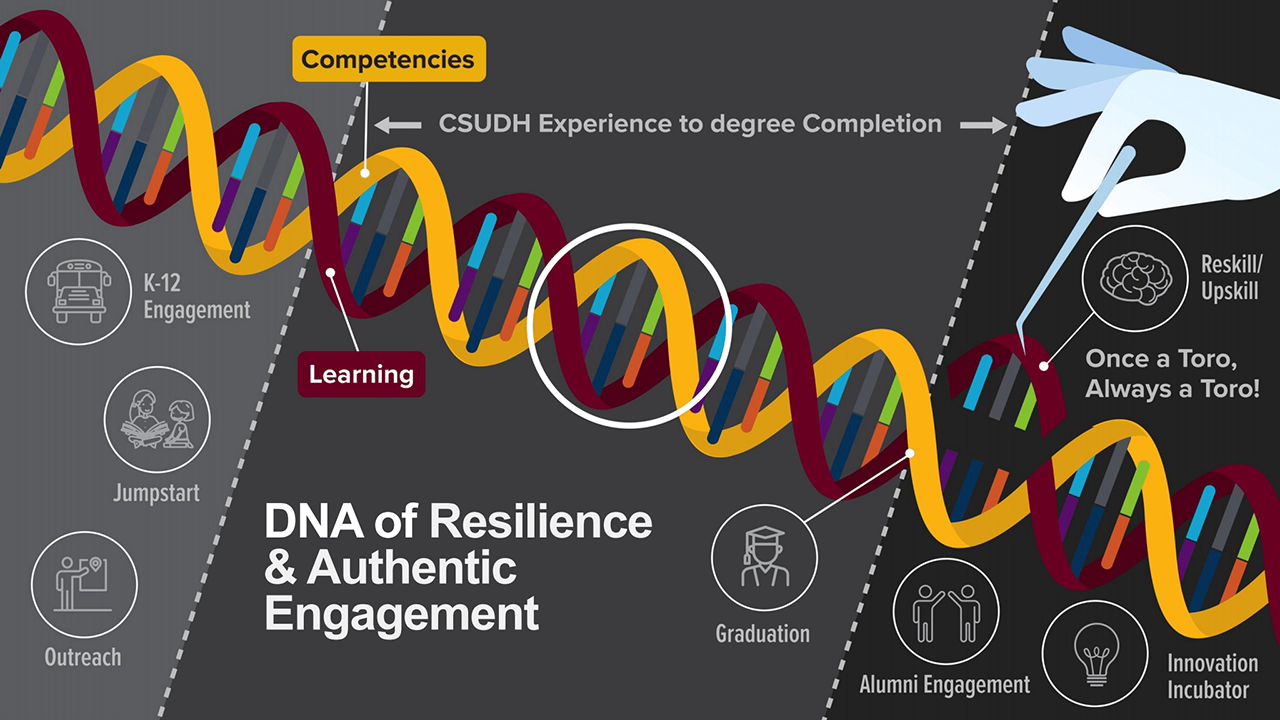 The Workforce Integration Program highlights how opportunities abound at California State Dominguez Hills. Begin your life-long learning journey with us as we explore how skill development can positively impact social and economic outcomes for all community stakeholders.
---
Why Skills?
Through partnerships with faculty, University Advisement Center, and the Career Center, students have been involved in the development of the institute. With SKILLS as a common language used across K-12, collegiate, and post-graduate student success, we see this as the basic and elemental building block – as critical and fundamental as strands of DNA.
The skills are held together by competencies that students develop across the lifespan. Students can add, strengthen, and refine their skills as they develop, enter the workforce, and change jobs across their lifespan.
Students who explore their career potential and plan on how they will align their class, work, volunteer, internship, research, and other experiences will create a story about their skills and speak about them more coherently, developing confidence about and motivation to complete the milestones toward the degree. 
The institute combines university and industry data using technological tools to demonstrate the value of the California State University, Dominguez Hills experience in a manner that benefits all stakeholders: students, faculty, employers, and the community.
Learn more about how the Dominguez Hills experience uses technical tools and data to integrate workforce readiness concepts on campus and in the community.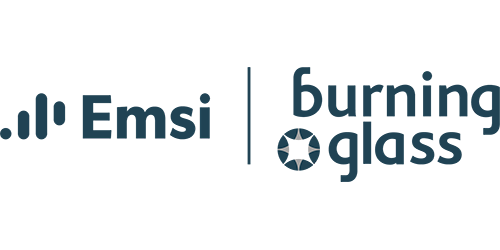 https://www.economicmodeling.com/
Our labor market analytics partner provides CSUDH with several tools that help us maximize the use of data driven decision making.
Skills Match is a tool that allows students to explore their career opportunities while exposing them to language used by those hiring for the jobs they want.
Skillabi is a tool that allows faculty and administrators an opportunity to validate their curriculum alignment to workforce demand skills, by translating learning outcomes and program expectations.
Analyst market data allows our campus to examine industry earnings and growth projections. Analyst provides insights for program review and development in addition to alumni outcomes. Below is an image showing the variety of reports available.

Speaking of insights, did you know…? The largest growing field in the next 10 years, Health Care and Social Assistance, is expected to grow 25%. The Transportation and Warehousing industry is expecting to grow by 10% in the next 10 years.
The Construction industry is expecting only four percent growth however it is also a field with excellent earning potential.
Information Technology and Mining are the highest paying fields in the region, yet both are expecting a decrease in job growth by 2030.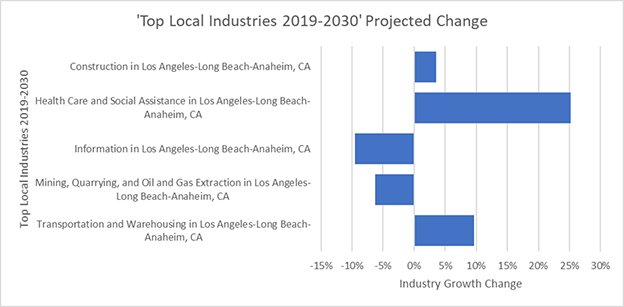 Top 15 Skills for All Job Types Sought by California State University (all) by Job Quarter
Skills help us understand how a company intends to achieve their stated goals. According to the Sankey above, CSUDH is most interested in hiring those with skills in Student Services, Advising, and Strategic Planning. Do you have the skills to be a future CSU staff member?
---
How can students explore the possibilities each degree offers and learn about career paths and earnings of CSUDH alumni? Try this website and take notes using this reflective tool https://www.dropbox.com/s/y8105vyzmuakep0/exploring-possibilities-with-calstatepays.pdf?dl=0