Overview: The CM1 Editor View
The lower portion of the CM1 User Interface (UI) that initially displays the Dashboard also becomes the Editor View when creating or editing items.
To open a page or asset in Editor View, double-click the item in the Finder. The item opens in Editor View in read-only mode. You must click the EDIT button to enter Edit Mode where changes can be made.
When you create a new page or a new asset in the Finder, the new item automatically opens in Editor View.
---
Editor View Elements
At the top of the Editor View are tabs, a properties bar, menus, and buttons.
The Editor View displays pages and assets differently.
Based on your CM1 role, some Editor View elements may not be available or visible.
Editor View: Tabs

Editor View: Properties Bar

Editor View: Menus

Editor View: Buttons
IMPORTANT! Always remember to click the CLOSE button when you're done working with an item. This will "check in" the item and allow it to be edited by others. Otherwise, the item will remain "checked out" by you and unavailable for others to edit. The following message will be displayed: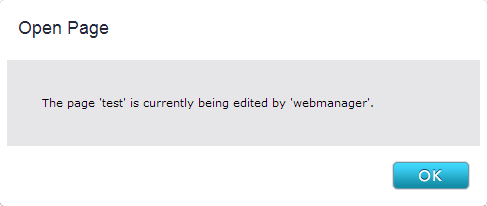 If you are in the Dashboard, you can select Editor View in the CM1 User Interface (UI) menu: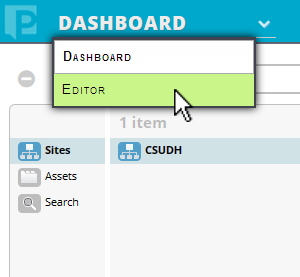 ---