View: Course Schedule & Costs, Descriptions, and Textbooks
NOTE: The Assistive Technology program will not be accepting any new students for the Summer and Fall 2023 terms, as we are retiring the current program. The new program will be available for enrollment for Spring 2024 beginning in November 2023.
---
---
The Program
Federal and state laws require that school district personnel be prepared to offer a full range of assistive technology services to provide access to curriculum content for all students. The Assistive Technology Specialist Certificate Program prepares individuals to fully understand and implement these federal and state mandates within their school, district or program.
Each of the courses meet the professional development hours for license renewal as required by the California Speech-Language Pathology and Audiology Board, as well as, other state agencies.
Who Should Attend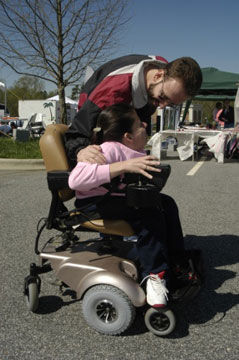 Educational administrators, teachers, and anyone who has the desire or professional need to learn the federal and state requirements for serving the disabled within their organizations, including:
Special Education Teachers
Occupational and Physical Therapists
Speech and Language Specialists
Rehabilitation Specialists
Educational Program Specialists
Educational Resource Specialists
School Psychologists
School Administrators
Parents of Special Needs Students
In addition, the first course, SPE 530 Introduction to Assistive Technology, provides a detailed overview of Assistive Technology including evaluation and assessment. This course will be of interest to a greater audience including parents of disabled students, as well as, other interested members of the community.
The Courses
Courses are offered online, year-round on a trimester schedule. All courses carry 3 semester units of graduate-level education credit.
*SPE 530 & SPE 531 must be taken first, then SPE 532 & SPE 533, followed by the Capstone course SPE537. The program can be completed in as little as three terms (approximately 9 months). 
 View our online course schedule 
Note: Once you have completed all the courses in the certificate, you may apply to receive the certificate ►
    Find us on Facebook! CSUDH Professional Educator Programs
    Connect on LinkedIn! Education Professionals at CSUDH Continuing Education
---
California State University Dominguez Hills provides the following information for its online and distance learning students in compliance with State Authorization information & Consumer Complaints federal Title IV regulation. Federal law [Section668.43(b)] requires all institutions must disclose to all students or prospective students the complaint agency in all states where students reside. If a student has a complaint or concern, information on how to contact a state agency and register a complaint, can be found at the following website: http://www.calstate.edu/AcadAff/state-regulatory-authorizations/index.shtml.