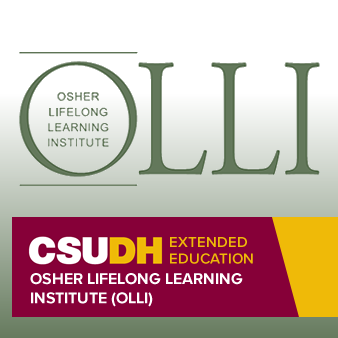 The Osher Lifelong Learning Institute at California State University, Dominguez Hills
is a program of educational, cultural, and social opportunities for retired and semi-retired individuals age 50 and above. Members experience taking courses in a relaxed atmosphere for the pure pleasure of learning.
Read more...
---
 View Our Latest OLLI Catalog!
How to register for classes ► | Download our Interactive OLLI catalog/view below ▼
---
Courses & Events
View our OLLI Activity Calendar:
---
Member Tips
  Are you a new or returning OLLI member?
OLLI Membership for 2018-19 includes Fall 2018, and Spring 2019, and Summer 2019.
Join or renew now ►
OLLI needs your registration – even for free events – for grant award reporting purposes... Register today!
 

 Need help with your Blackboard/Toromail access?

As an OLLI member, you have been provided your very own account for accessing online course content and our campus Gmail ("Toromail")

Access Blackboard for the First Time:
https://www.csudh.edu/academic-technology/faq/

Forward Your Toromail to Your Personal Gmail:
https://www.csudh.edu/Assets/csudh-sites/it/docs/forward-toromail-to-gmail.pdf
  Annual Parking Passes: New membership benefit!
Annual parking passes for OLLI members are available now... Just $20 for the whole year!
For more info, call 310-243-3208
CSUDH Campus Maps ►
OLLI Parking Passes ►
Join Our Online Community!
Share & view event photos, check schedules, and connect with fellow OLLI Members!
Login & Like:
  facebook.com/CSUDHOLLI