Master of Science in Systems Engineering (Online)
    Sign up to Receive Updates and Information

---
Develop the ability to design and manage large systems and projects with an online Master of Science in Systems Engineering (MSSE) at California State University, Dominguez Hills (CSUDH).
The MSSE program at CSUDH provides students with the latest, cutting-edge skills and design methods for the realization and management of the complex, interdependent systems required to develop and maintain today's products and systems in rapidly changing environments. These include Model Based Systems Engineering, Systems Architecting, System-of-Systems Engineering and Complex and Resilient Systems. The curriculum balances theory with practical projects and case studies, enabling students to understand and implement applicable models to enhance and complement systems engineering activities throughout a project's life cycle. 
Systems Engineering: Industry Outlook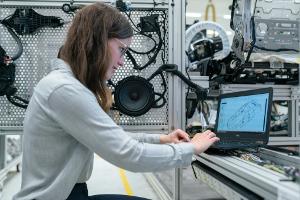 Systems Engineering is a holistic interdisciplinary process critical to designing, integrating and managing complex systems to maximize system quality and safety. The high-demand discipline boasts an average, entry-level salary of $92,000, and the number of professionals is projected to increase by 27% nationwide and 42% in California between 2014–2024. Systems Engineers typically begin their careers in engineering, physical science or computing positions, and not only have depth in their primary field, but also develop skills and 'systems thinking' that allows them to solve problems that transcend disciplinary boundaries.
The CSUDH MSSE program draws upon case studies, methodologies and tools from several engineering industries, providing experienced professionals as well as those new to the field with exposure to real-world systems engineering case studies. Students access contextualized case studies within their industries, and complete their degree with a culminating project that prepares them for complex, real-life projects.
What Students Will Learn
Students will learn how to apply systems engineering knowledge and techniques to problems from the automotive, commercial aviation, defense, electronic communication and space industries. They will learn the importance of implementing Model Based Systems Engineering in the development of complex, interdependent systems that may be comprised of a combination of legacy and new components.
Graduates of the MSSE program at CSUDH will have the ability to:
Apply the appropriate mathematical, science and engineering techniques to systems engineering problems.
Identify the proper application of Systems Engineering processes, tools and methodologies to interdisciplinary problems.
Generate, collect and articulate user needs and requirements for complex systems.
Define the role of Systems Engineering processes and tools in each phase of a system's life cycle: from inception through retirement.
Compare and contrast the impact of engineering solutions and design alternatives in the context of acquisition, environmental, ethical, fiscal, operational, schedule and technological constraints.
Describe how to plan and manage complex systems engineering projects.
Outline professional and ethical responsibility in engineering efforts.
Compare and contrast system and component-level alternatives using appropriate system analysis tools.
Articulate technically complex ideas and concepts in oral as well as in written format.
Courses include:
Systems Engineering has been implemented in nearly every field, including:
Aerospace
Automotive Design and Manufacturing
Biotechnology
Counter-Terrorism
Critical Infrastructure
Cyber Security
Defense
Environmental/Green Engineering
Healthcare
Homeland Security
Manufacturing
Next Generation Farming
Oil and Gas
Power and Energy Systems
Quality Assurance
Safety/Security Engineering
Social Network Systems Architecture
Space Systems
Telecommunications
Transportation
The program is designed to prepare students for industry. As such, our goal is not to offer conventional midterm and final exams in which students regurgitate material that that they have memorized. Instead, students apply course concepts to a mini-project that they complete alone or in small groups; they are typically allocated 4-7 days to complete these projects.
The 1-unit project courses lay the foundation for the capstone project. Students begin work on this during the first semester; this reduces the time required to graduate. In many programs, students complete the required coursework but may spend a full semester identifying the topic of their capstone project or thesis. The project courses (SEE 501, 502, 503, 504) facilitate the incremental development of the course capstone project. Students are initially introduced to the domain areas and applications of systems engineering (SEE 501). They then focus on the problems and approaches that characterize a specific domain (SEE 502). Once they have selected a problem domain, they research the approaches that have been applied to the problem (SEE 503). Students then synthesize the products of SEE 501, 502 and 503 to develop a research proposal that identifies the related work, methodology, tools, schedule, milestones and project deliverables associated with their chosen topic. This stage of the process also includes the identification of faculty and industry practitioners who will serve on the project committee. The foundational work performed throughout the program facilitates the completion of the culminating project during the final term of the program.  Students are allowed to devote additional time to their culminating projects if they desire.
    Sign up to Receive Program Updates and Information ►
CSUDH is accredited by the Western Association of Schools and Colleges (WASC).