OSX 956 • OSHA 2045: Machinery and Machine Guarding Standards
| 2022 Dates | Times | Meetings | Meeting Type | Location | Reg. Deadline | Fee |
| --- | --- | --- | --- | --- | --- | --- |
| February 19, 20, 26, 27 | 8:30am–5:00pm | 4 | Weekend | Online | February 15 | $775 |
| October 25, 26, 27, 28 | 8:30am–5:00pm | 4 | Weekday | Online | October 21 | $775 |
Course Description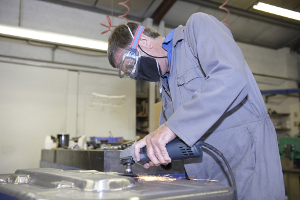 This course covers the various types of common machinery, machine safe guards, and related OSHA regulations and procedures. Course topics include machinery processes, mechanical motions, points of operation, and common OSHA machine guarding violations.
Program highlights include the ability to recognize hazards and provide options for control and hazard abatement through machine safeguarding inspection workshops. Upon course completion, students will have the ability to describe common machine hazards and sources of energy, identify resources for assisting with machine guarding issues, and determine methods of control and hazard abatement, and selection of appropriate machine safe guards.
Who Should Attend
Individuals responsible for overseeing safety in industries such as: Construction, Manufacturing, Agriculture, Maritime and General Industry.
Learning Outcomes
Describe basic machinery terms
Identify common machines found within a broad spectrum of industries
Identify common hazards and violations associated with machinery
Utilize the appropriate OSHA standards as they apply to machine guarding
Identify appropriate abatement procedures.
CEUs: 3.0
Prerequisites: None
Course Length: 4 days
Recommended Materials: Pen, pencil, highlighter and writing pad. This course has an off-site training component that requires students to have transportation to and from campus.