Nationwide and Around the World!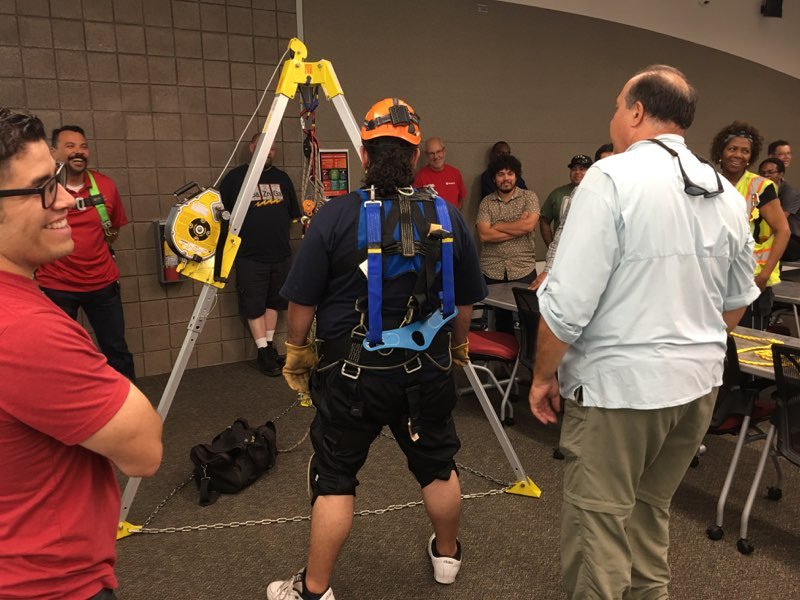 The OSHA Training Institute Education Center at CSUDH works closely with the business community to develop training programs to help companies stay in compliance with regulatory enforcement agencies.
CSUDH offers over 100 courses in Occupational Safety and Health both in English and Spanish, courses are tailored to meet industry specific requirements.
For more information, please contact us at (310) 243-2425 or rguzman@csudh.edu.
Construction Industry courses include:
| T8 CCR | Course Title |
| --- | --- |
| 1509 & 1510 | 10- & 30-Hour Construction Safety and Health Course |
| 3648 | Aerial Devices/Scissor Lift Safety |
| 1529 | Asbestos Safety Awareness Level |
| OSHA 1926.1101(k)(9) | Asbestos Class III Worker Training |
| 3203 | Back Injury Prevention Safety Lifting |
| 1590-1596 | Backhoe/Loader |
| 3648 | Boom (Bucket) Truck Safety |
| 3400 | First Aid, CPR & AED |
| 5157 & 5158 | Confined Space Entry |
| 5157 & 5158 | Confined Space Rescue |
| 5006 | Crane and Hoist Safety for Construction |
| 3203 | Defensive Driving |
| 3314 | Electrical Safety & Lockout/Tagout Program |
| 3314 & NFPA 70E | Electrical Safety NFPA 70E Arc Flash |
| 3416 & 1670 | Fall Protection |
| 6151 | Fire Prevention/Extinguisher Use for Construction |
| NFPA51, 29 CFR 1910.252 | Fire Watch Training for Hotwork |
| 3556 | Hand and Power Tool Safety |
| 5099 | Hearing Conservation |
| 3395 | Heat Illness Prevention |
| 3668 | Industrial Power Truck Operator Safety |
| 3668 | Industrial Power Truck Train-the-Trainer Program |
| 1532 | Lead Awareness Level Training |
| 3203 & 3314 | Machine Guarding Safety |
| 5144 | Respiratory Protection |
| 5003 | Rigging & Material Handling Safety |
| 1637 | Scaffolding Program |
| 5144 | Self Contained Breathing Apparatus |
| Labor Law | Sexual Harassment Course |
| 1597-1599 | Traffic Control Flagger, Barricades & Warning Signs |
| 1540-1541 | Trenching and Shoring (Competent Person) |
| 3203 | Violence in the Workplace |
| 4799 | Welding Safety |
General Industry courses include:
| T8 CCR | Course Title |
| --- | --- |
| 1509 & 3203 | 10- & 30-Hour OSHA General Industry Worker Health & Safety |
| 3648 | Aerial Devices/Scissor Lift Safety |
| Labor Law | Americans with Disabilities Act |
| 1529 | Asbestos Safety, Awareness Level |
| 3648 | Boom (Bucket) Truck Safety |
| 3400 | First Aid, CPR & AED |
| 5157 & 5158 | Confined Space Entry |
| 5157 & 5158 | Confined Space Rescue |
| 5006 | Crane & Hoist Safety for General Industry |
| 3202 | Defensive Driving |
| Labor Law | Drug and Alcohol Substance Abuse Program |
| 3314 | Electrical Safety and Lockout/Tagout Program |
| 3314 & NFPA 70E | Electrical Safety NFPA 70E Arc Flash |
| 3220 | Emergency Response Training |
| 3413 & 3416 | Fall Protection |
| 3221 & 6151 | Fire Prevention/Extinguisher Use |
| NFPA 51, CFR 1910.252 | Fire Watch Training for Hot work |
| 3356 | Hand Tool and Portable Power Tool Safety |
| 3668 | Forklift Operator Safety |
| 3668 | Forklift Train-the-Trainer |
| 5194 | Hazard Communication |
| 5194 | Hearing Conservation |
| 3395 | Heat Illness Prevention |
| 5191 | Laboratory Safety |
| 1532 | Lead Awareness Level Training |
| 3203 & 3314 | Machine Guarding Safety |
| 1509 & 3203 | Regulatory & Safety Program Management for Supervisors |
| 5144 | Respiratory Protection |
| 5003 | Rigging & Material Handling Safety |
| Labor Law | Sexual Harassment Course |
| Labor Law | Violence in the Workplace |
| 4799 | Welding Safety |