OSX 967 • Electrical Safety Standards–NFPA 70E
| 2022 Dates | Times | Meetings | Meeting Type | Location | Reg. Deadline | Fee |
| --- | --- | --- | --- | --- | --- | --- |
| March 11 | 8:30am–5:00pm | 1 | Weekday | Online | March 7 | $275 |
| July 29 | 8:30am–5:00pm | 1 | Weekday | Online | July 25 | $275 |
| November 18 | 8:30am–5:00pm | 1 | Weekday | Online | November 14 | $275 |
Course Description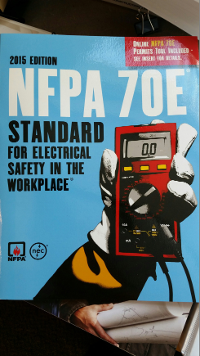 This course is designed for individuals who work on or near energized electrical systems. Course topics include updates to NFPA 70E Standards for Electrical Safety, and emphasis will be placed on topics that are the most hazardous.
The course focuses on safety-related work practices, maintenance requirement, and safety requirements for special equipment, as well as establishing an electrically safe work environment, hazard identification, risk assessment, and selecting appropriate Personal Protective Equipment (PPE).
Who Should Attend
Individuals responsible for overseeing safety in industries such as: Construction, Manufacturing, Agriculture, Maritime and General Industry.
Learning Outcomes
Recognize and list workplace hazards
Describe protective measures needed for working on or near exposed energized parts
Describe qualifications for individuals working on or near energized equipment
Identify recent updates made to NFPA 70E Electrical Safety Standards.
CEUs: 0.8
Prerequisites: None
Course Length: 1 day
Recommended Materials: Pen, pencil, highlighter and writing pad and latest version of the NFPA 70E book.