OSX 951 • OSHA 501: Trainer Course in OSHA Standards (General Industry)
| 2022 Dates | Times | Meetings | Meeting Type | Location | Reg. Deadline | Fee |
| --- | --- | --- | --- | --- | --- | --- |
| March 14, 15, 21, 22 | 8:30am–5:00pm | 4 | Weekday | Online | March 10 | $775 |
| June 4, 5, 11, 12 | 8:30am–5:00pm | 4 | Weekend | Online | May 31 | $775 |
| September 19, 20, 26, 27 | 8:30am–5:00pm | 4 | Weekday | Online | September 15 | $775 |
| December 10, 11, 17, 18 | 8:30am–5:00pm | 2 | Weekend | Online | December 6 | $775 |
Course Description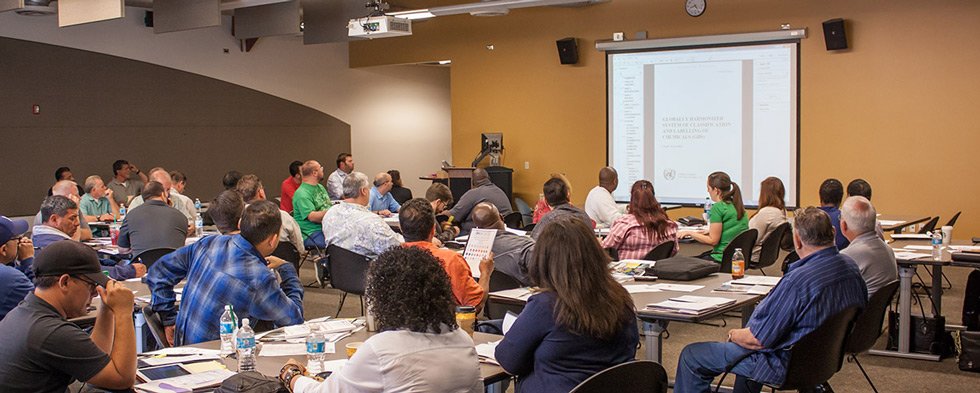 This course is designed for individuals interested in teaching the 10- and 30-hour General Industry Outreach Training Program. Using OSHA General Industry Standards as a guide, this course places special emphasis on topics which are most hazardous.
This course allows the student to become a trainer in the OSHA Outreach Training Program, to conduct both 10- and 30-hour General Industry Outreach classes. Students who wish to participate as authorized Outreach trainers must prepare a presentation on an assigned topic, and successfully pass a written exam at the end of the course.
Who Should Attend
Individuals responsible for overseeing safety in industries such as: Construction, Manufacturing, Agriculture, Maritime and General Industry.
Learning Outcomes
Describe the requirements and resources for the OSHA Outreach Training Program
Utilize adult learning principles and techniques
Develop appropriate multi-media materials
Explain the application of the Occupational Safety and Health (OSH) Act
Describe the OSHA recordkeeping requirements
Describe the OSHA and ANSI guidelines for safety and health programs
Explain corrective actions for common hazards related to CFR 29 1910
Identify required curriculum for the Outreach Training Program
CEUs: 3.0
Prerequisites: (see below for application procedure) Students must successfully complete the OSHA 511: Occupational Safety and Health Standards for General Industry and have five (5) years of safety and health work experience in general industry. A degree in occupational safety and health, a Certified Safety Professional (CSP) or a Certified Industrial Hygienist (CIH) designation may be substituted for two (2) years of work related experience. Students should obtain guidance on whether they meet this requirement from the OSHA Training Institute Education Center where they intend to receive the training.
Authorized OSHA General Industry Outreach Training Program trainers are required to attend OSHA 503: Update for General Industry Outreach Trainers at least once every four (4) years to maintain their trainer status.
Course Length: 4 days
Recommended Materials: Pen, pencil, highlighter and writing pad. It is recommended that each student have a laptop/tablet for use in preparing presentations.