University Partnership with Dignity Health Sports Park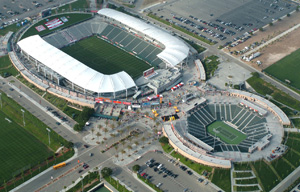 Dignity Health Sports Park is situated on 125 acres of the CSUDH campus and features state-of-the art stadiums and facilities for soccer, tennis, track & field, cycling, lacrosse, rugby, volleyball, baseball, softball, basketball and other sports. Designated as an "Official U.S. Olympic Training Site," Dignity Health Sports Park is the nation's most complete training facility for Olympic, amateur, and professional athletes.
The complex includes a 27,000-seat soccer stadium, 8,000-seat tennis stadium, 10,000-seat track & field facility, and 2,450-seat indoor velodrome. Dignity Health Sports Park is currently serving as the temporary home of the San Diego State University Aztecs football team until their new stadium is completed. As a sister institution of SDSU, CSUDH is proud to host Aztecs' home games this fall, which will feature opposing teams from the Mountain West Conference. The games will bring the tradition, pageantry, and excitement of NCAA Division 1 college football to Carson and the South Bay.
In addition, the site is the U.S. Soccer Federation's national team training headquarters and the location of the United States Tennis Association's (USTA) USA High Performance National Training Center. The development is also designated as an official training site for USA Cycling and USA Track & Field.
Since its opening as the Home Depot Center in 2003, Dignity Health Sports Park has been a part of the CSUDH campus, bringing an energy to the university that only a world-class sports venue can. The venue provides not only financial returns, but educational and career opportunities for current students and alumni. Having Dignity Health Sports Park on campus offers many benefits to the students and campus community:
---
Benefits for Students
Student Internships
Educational opportunities include student internships at Dignity Health Sports Park. As part of a marketing internship through the College of Business Administration and Public Policy, students were able to create marketing campaigns that highlighted the partnership between CSUDH and Dignity Health Sports Park. Current student interns are gaining valuable experience producing soccer events.
Use of Facilities
CSUDH student-athletes have the use of some of the outstanding facilities provided by Dignity Health Sports Park, including tennis courts, soccer training fields, and a three-mile jogging trail with twelve fitness stations.
Industry Experts
Katie Pandolfo, General Manager of Dignity Health Sports Park, serves on the advisory board for the university's College of Business Administration and Public Policy. Other professionals serve as adjunct faculty on campus -- the university is fortunate to have these professionals contribute to academic programs and activities.
Career Opportunities
A number of CSUDH alumni have landed key positions at Dignity Health Sports Park or its partners. Joe Herrera (Class of '99, B.A., Labor Studies) is Vice President of Corporate Human Resources at STAPLES Center, NOKIA Theatre, and L.A. LIVE Entertainment District.
Scholarship Support
Dignity Health Sports Park is a sponsor for our annual President's Scholarship Reception, a fundraiser for the Presidential Scholarship. This scholarship is a full-tuition fee award to graduating high school students and community college transfer students, which can be renewed each of their undergraduate years.
---
Benefits for Campus Community
Raises Public Profile of Campus
Tens of thousands of spectators attend events at Dignity Health Sports Park and are exposed to the university as a result.
Venue for Commencement Ceremonies
Dignity Health Sports Park is a beautiful venue where the university's commencement ceremonies are held each year.
Revenue
The university receives revenue from Dignity Health Sports Park each year. See the university budget documents for more information.
Event Discounts
Discount tickets to sporting events at Dignity Health Sports Park are often offered to students and members of the campus community. Sports events include world-class soccer, tennis, track and field, lacrosse, and cycling.
President's Suite
The university president has a luxury suite at Dignity Health Sports Park and often hosts friends of the university, donors, and other guests at games and events held at the stadium.
---
If you have any questions about university partners, please contact the
Office of Development
at (310) 243-2182.