Student clubs and organizations are an essential part of the CSUDH campus, representing the most visible and accessible avenue to student involvement. They provide students with a variety of opportunities to explore their academic, professional, political, social, cultural, religious, and community service interests. These leadership experiences allow students to develop interpersonal, organizational, and leadership skills that can contribute to their marketability.
Clubs & Organizations
CSUDH students have over 90 student clubs and organizations to choose from. It's helpful to identify what type of organization you are interested in joining. Our student organizations are responsible for the majority of the programs and events held on campus each year, including workshops, lectures, special events, cultural and social events, and conferences.
If you are looking for a particular organization, click on the Clubs & Organization list on Toro Link and find one that fits your interests. If there isn't one that matches what you're looking for, you can work with the Office of Student Life (OSL) to start a club that meets your needs. In addition to this website, the Office of Student Life is always available to assist you with all of your involvement needs.
Getting involved in a student club or organization enhances your overall experience here at CSUDH. Student clubs and organizations address a wide range of issues, plan a countless number of events, and work to improve the overall campus environment. Last year, student organizations planned more than 1,400 meetings, fundraisers, socials, educational workshops, and community service events.
So what are you waiting for? It's time to GET INVOLVED!
All active clubs and organizations are listed on CSUDH Toro Link. Don't see a club that meets your interest? Start one of your own!
A club can be started by at least five students who share a common interest (social, recreational, vocational, educational, cultural or religious). All clubs must have a faculty or staff advisor.
Student groups are allowed to use many campus facilities and resources for free, and they can apply for funding through the Associated Students, Inc. or their organizations commission. Joining or starting a club or organization at CSUDH can really be a step in the right direction for students looking for leadership development opportunities!
---
The student club and organization recognition process for Fall 2021 is NOW OPEN!
Please review the Student Organization Recognition Checklist for the complete overview of the recognition process, resources, orientations, and deadlines.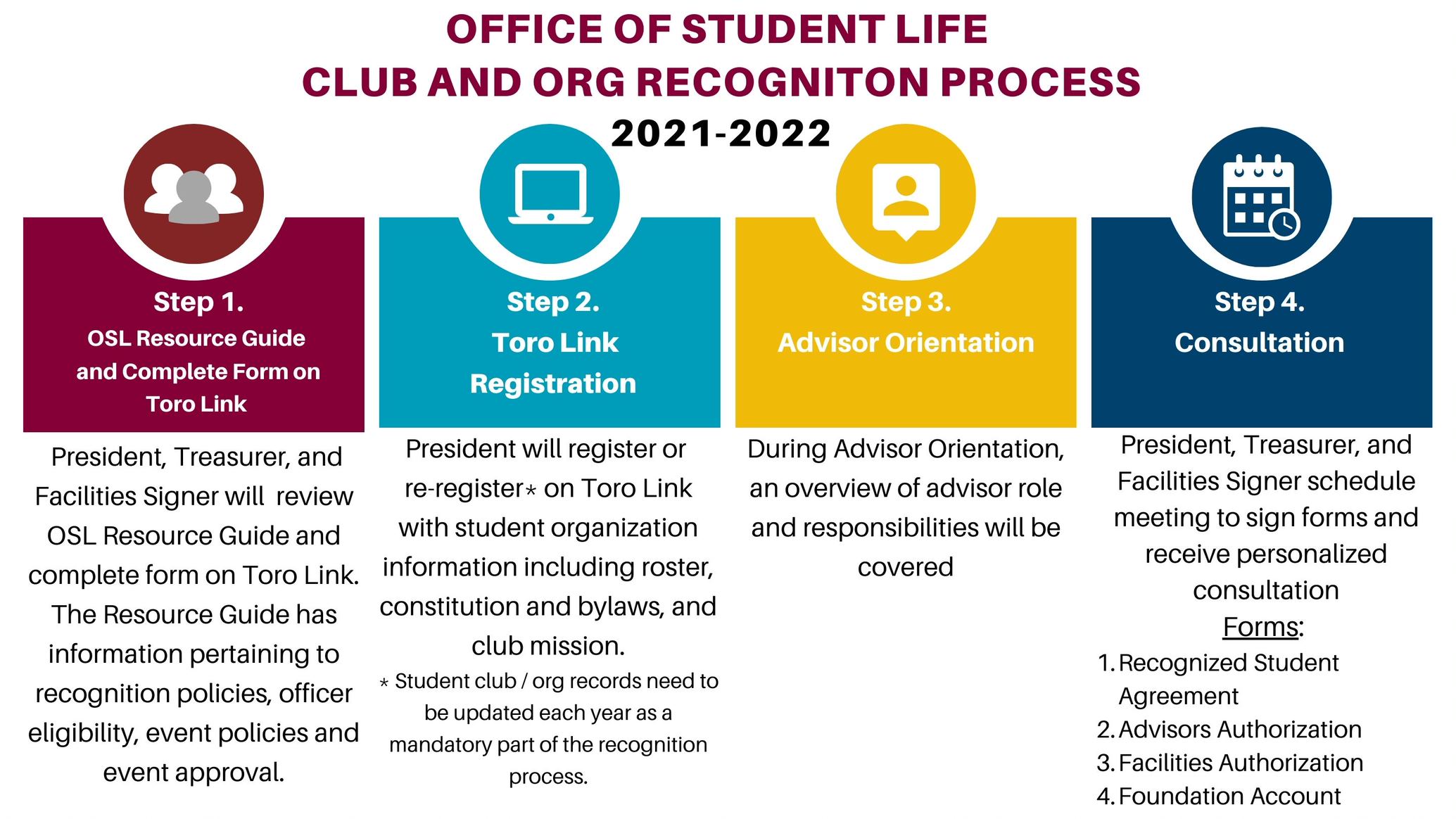 ---
Questions? Contact the Office of Student Life at (310) 243-2081 or osl@csudh.edu.
To protect the health and safety of everyone in our community, our office staff is currently working remotely, but available Monday through Friday 8:00am - 5:00pm to assist you.