Veterans Resource Center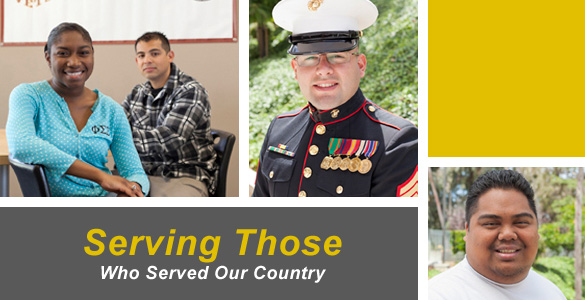 Welcome
The Veterans Resource Center (VRC) assists military veterans, service members and dependents in successfully navigating their college experience. We provide advisors, mentors, academic workshops and holistic personal and professional development opportunities to help students' transition to the university. We believe veterans possess unique abilities and characteristics that when nourished will help them succeed inside and outside of the classroom regardless of their age, ethnicity, socioeconomic status, physical or mental abilities.
Supporting Your Success
Conveniently located on CSUDH's veteran-friendly campus, our office provides dedicated, individualized assistance to veterans, active duty personnel and dependents, including:
Veteran's Project (SSS-Veterans)
Academic Advising
Tutoring
Social and educational workshops
Counseling
CalVet Benefits, DOD TA, and VA Education Benefits
Study/lounge space
Computers
Printing Access
VA Work-Study opportunities for part-time employment
Connections to veterans and other campus organizations
Office Hours:
Monday through Thursday - 8:00 AM to 5:00 PM
Friday - 8:00 AM to 4:30 PM
Location:
Leo Cain Library
3rd Floor 3941
To learn more about the VRC and services available, please call (310) 243-3643 or email vrc@csudh.edu.
Follow Us