The Cambodian Community History and Archive Project (CamCHAP) is a collaboration between California State University Dominguez Hills (CSUDH), California State University Long Beach (CSULB), and the Historical Society of Long Beach (HSLB), where the collection is housed. The co-founders, Dr. Susan Needham, CSUDH, and Dr. Karen Quintiliani, CSULB, in conjunction with Julie Bartolotto, Executive Director at HSLB, formed CamCHAP in 2008 to ensure Cambodian history in Long Beach is preserved and accessible to community members, students, and scholars.
CamCHAP goals include
Ensuring Cambodian history in Long Beach is documented and preserved
Creating a community-based research and learning center which is accessible to community members, educators, and researchers
Providing students with educational opportunities at a community research site
Cambodians in Long Beach
Long Beach, California, is home to the largest population of Cambodians outside Southeast Asia. They have established a strong presence in the city of Long Beach in a relatively short period of time and built a vibrant and dynamic community offering goods and services to Cambodians and mainstream Americans alike. CamCHAP documents the history of this vibrant and dynamic community and is the only archive of its kind in the United States.
THE CamCHAP ARCHIVE
The CamCHAP founders have conducted ethnographic and linguistic research in this community since 1988. The collection includes over 2000 photographs, and nearly 1700 English and Khmer newspapers, documents, unpublished manuscripts and reports from researchers, community members, and Cambodian-led and Cambodian-serving organizations. The Archive is located at the Historical Society of Long Beach, 4260 Atlantic Ave., Long Beach and is open to the public by appointment. For more information call 562-424-2220 or visit www.hslb.org.  
THE CamCHAP INTERACTIVE WEBSITE – www.camchap.org
The CamCHAP website presents a digital ethnography (living story) of the Long Beach Cambodian community through photographs, narratives, and short video documentaries.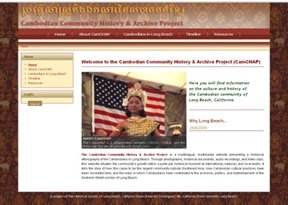 It tells the story of Cambodians in Long Beach – how they came to be the largest community outside Southeast Asia, how they have recreated Cambodian cultural practices here, and the ways in which they have contributed to the economy, politics, and redevelopment of the Anaheim Street corridor of Long Beach.  
Support
This project is made possible, in part, by grants from: 
The Long Beach Community Foundation strategic grant-making program which aims to address critical, new and emerging needs in Long Beach. Their generous support made it possible for the Cambodian story to become a part of Long Beach's rich and diverse history. 
California Council for the Humanities in partnership with the Skirball Foundation, through the jointly supported California Documentary Project, a program of the California Stories Initiative. The Council is an independent non-profit organization and a state affiliate of the National Endowment for the Humanities. For more information on the Council and the California Stories Initiative, visit www.californiastories.org. 
Stone & Compass is an educational and cultural retreat located in Bulgaria with multiple global outreach programs aimed at encouraging people of all ages and backgrounds to create cultural understandings through contact with each other. We are a company founded on the principle that everyone is human first. Our goal is to connect, educate and inspire.