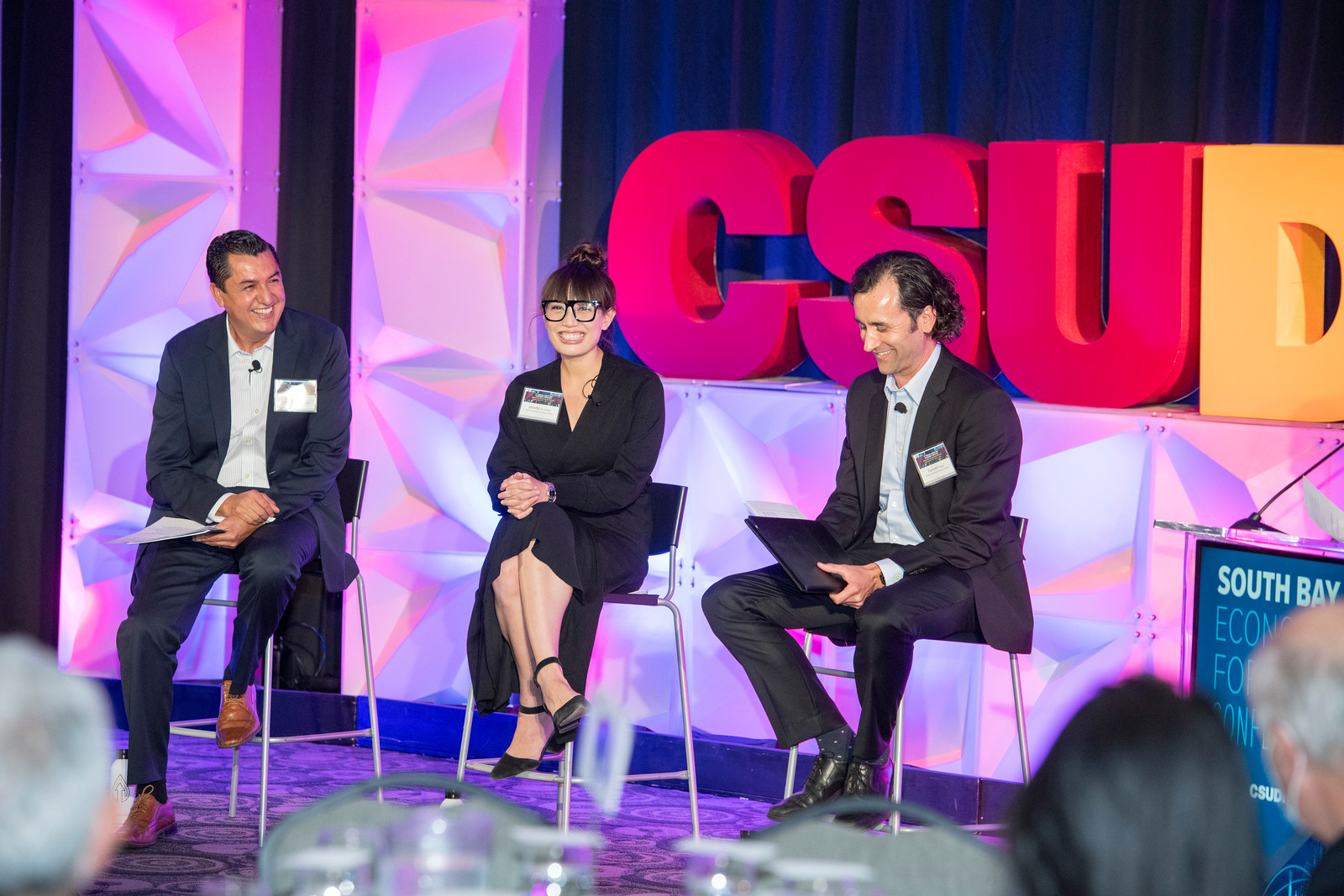 Mission: We provide a quality undergraduate business education and innovative professional graduate programs to a diverse student population in the South Bay area. Our business programs prepare students for career advancement through our classroom activities and a scholarly, applied research agenda.
About the B.S. in Business Administration
The College of Business Administration & Public Policy's (CBAPP) Bachelor of Science in Business Administration program is designed to accomplish two objectives. The first of these is to prepare students for lifelong professional careers in commerce, finance and industry, as well as for management careers in the public and not-for-profit sectors. A second objective is to provide students with the knowledge and skills needed to obtain professional, entry level positions in one functional area of the business enterprise, or in some particular field of business. Students in the Business Administration program will select one of the concentrations noted below.
Concentrations
| | | |
| --- | --- | --- |
| Accounting | General Business | International Business |
| Business Analytics | Global Supply Chain Management | Management & Human Resources |
| Entrepreneurship | Information Systems | Marketing |
| Finance | Information Systems Security | Sports, Entertainment & Hospitality |
Degree Requirements
Admission to the undergraduate Business Administration program requires completion of all lower division Business Administration core courses with minimum grades of "C". All new majors are classified as "pre-business majors" until the requirements are met. Upper division advanced and concentration courses are available only to declared Business Administration majors.
Total Course Requirements for the Bachelor of Science in Business Administration consists of:
General Education Requirement
Graduation Writing Assessment Requirement
Major Requirement
Elective Requirement
Total Course Requirements for the Bachelor's Degree in Business Administration.
View the requirements for a Bachelor's Degree from CSUDH.
Accreditation
The CSUDH CBAPP Bachelor of Science in Business Administration program is accredited by AACSB International. AACSB is a global nonprofit association specializing in the highest standards of excellence and quality in business education, learning, and development. AACSB accredited schools pass rigorous standards, have superior faculty, better programs, higher student GPAs, and more employers who recruit from them.
Program Learning Outcomes
The Business Program Learning Outcomes are aligned with CSUDH Undergraduate Institutional Learning Outcomes. Upon completion of the B.S. in Business Administration, students should be able to:
Communication: to communicate effectively both orally and in written form. Upon completion of the program, students will be able to,

Describe the communication process and explain how non-verbal behavior and listening affect communication.
Analyze and synthesize information by clearly writing solution or recommendations to a business challenge that are logical and are appropriately justified.
Apply the skills of critical analysis in the strategic management context, including identifying the strategic problems of a firm, generating and evaluating alternative courses of action, articulating and defending recommendations, and planning implementation.

Critical Thinking: to solve problems using the applicable analytical and quantitative techniques. Upon completion of the program, students will be able to:

Identify relevant issues, generate and compare alternatives, and develop a sound solution.

Globalization: to understand the interconnections of the global economy. Upon completion of the program, students will be able to,

Understand the interconnectedness of the global economy.

Understand the impact of global economy decision- making discuss international economics, both international trade and finance, from the perspectives of theory, policy, institutions

Information Technology: to use technology effectively to solve problems and communicate their solutions. Upon completion of the program, students will be able to:

Create and use Excel spreadsheets to analyze data and create graphs
Organize data, create relational databases, and query data using Access software
Use computer and basic software, e.g., MS Suite, Windows
In a case setting, propose and justify IT solutions

Ethics: to identify and evaluate ethical issues in the business world, and address solution alternatives in their context. Upon completion of the program, students will be able to,

Understand that ethics is tied to cultural norms and religious beliefs and also understand the laws and regulations that affect business.

Analyze social responsibility and ethical decision-making situations.

Apply ethical frameworks in making business decisions.

Functional Knowledge: to demonstrate competency in the business-related content areas, including accountancy, economics, finance, law, management, information systems, marketing, statistics, operations management, globalization, and ethics.
Minors
Minor in Business Administration
Minor in Information Systems Security
Facilities
Computing & Communication Facilities
Courses are primarily taught in the new Innovation & Instruction Building located at the front of the CSUDH campus. The building has Wi-Fi, open seating, breakout rooms, classrooms, the CBAPP Investment Lab, the Innovation Incubator for business start-up, and several computer labs.