Welcome to Safe Space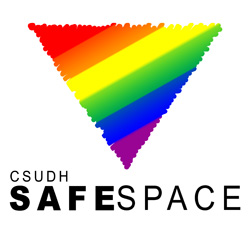 The Safe Space Program seeks to promote awareness of and respect for the diverse LGBT culture on the CSUDH campus; and establish a visible network of staff, faculty, and administrators who are trained to advocate for LGBT students.
Upcoming Trainings
If you wish to attend the Safe Space training program, please first consult your immediate supervisor. Then, to RSVP for the training, please contact Arnecia Bryant, Associate Director Loker Student Union abryant@csudh.edu or Stephen J Rice, Associate Dean of Students at srice@csudh.edu. Training is limited to 20-25 people.
Friday, February 19, 2016
1:00 pm - 4:00 pm
Loker Student Union
Wednesday, April 13, 2016
1:00 pm - 4:00 pm
Loker Student Union
Screening of The New Black Documentary (Followed by a Panel Discussion)
Wednesday February 17, 2016
Loker Student Union Ballroom C
5- 7 pm
The New Black is a documentary that tells the story of how the African-American community is grappling with the gay rights issue in light of the recent gay marriage movement and the fight over civil rights. The film documents activists, families and clergy on both sides of the campaign to legalize gay marriage and examines homophobia in the black community's institutional pillar—the black church and reveals the Christian right wing's strategy of exploiting this phenomenon in order to pursue an anti-gay political agenda.
The New Black takes viewers into the pews and onto the streets and provides a seat at the kitchen table as it tells the story of the historic fight to win marriage equality in Maryland and charts the evolution of this divisive issue within the black community.