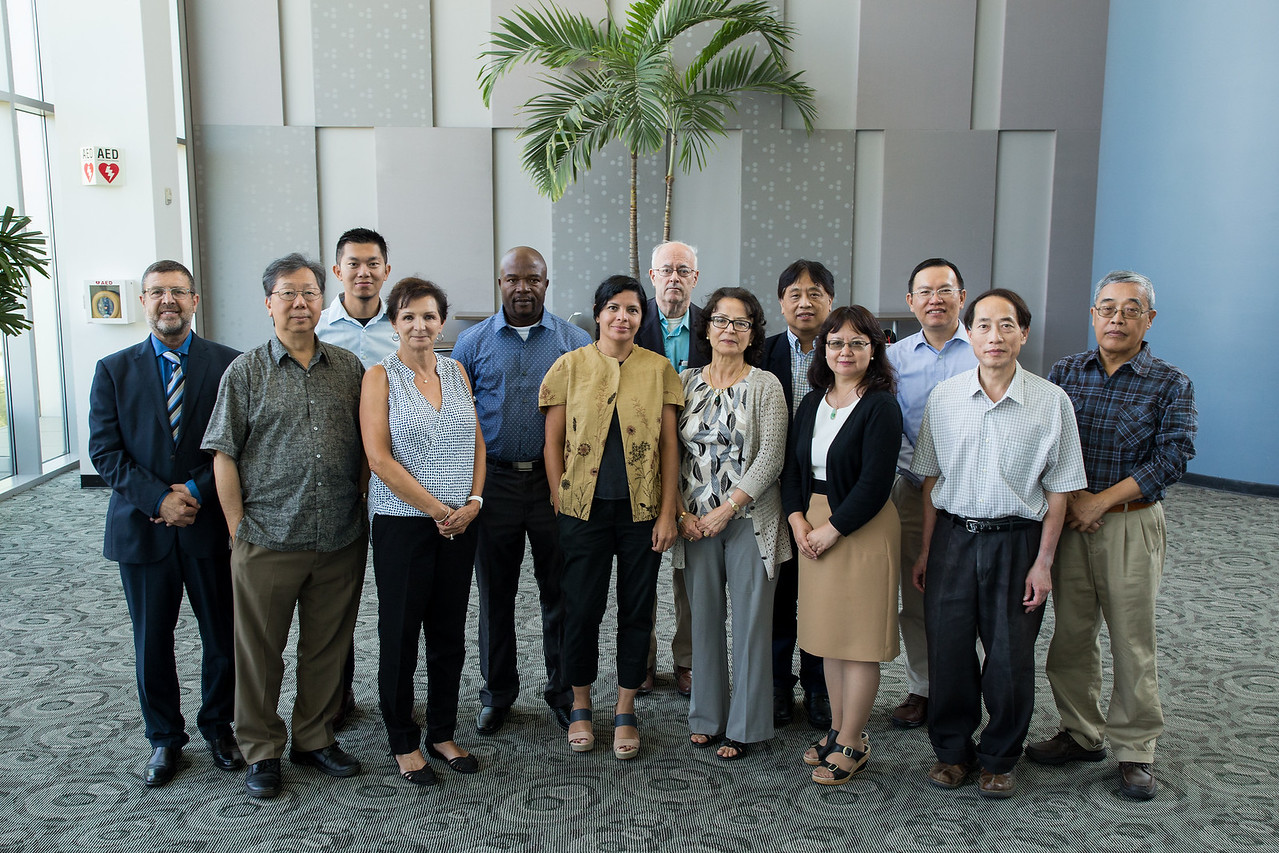 Business Analytics · Information Systems · Information Systems Security · Global Supply Chain Management 
Dr. Myron Sheu, Department Chair  |    (310) 243-3034  |    msheu@csudh.edu
The Department Information Systems and Operations Management (ISOM) consists of highly academically and/or professionally qualified faculty who are committed to helping students succeed.
The ISOM Department offers several quality concentrations and minors as part of the undergraduate Business Administration degree program. 
The concentration in Global Supply Chain Management (GSCM) is the modern version of traditional operations management programs as companies are increasingly intertwined so that they focus on their core competencies. GSCM is about getting quality products engineered, manufactured, and delivered to the right customers timely and cost-effectively.
In addition, the ISOM Department offers several STEM-designated concentrations such as Business Analytics, Information Systems, and Information Systems Security, and three minors in Data Analytics (12-19 units), Information Systems (12-19 units), and Information Systems Security (15-21 units). In particular, the concentration in Business Analytics is relatively new but highly trendy as Corporate America is sitting on too much data and needs data-driven decisions on execution and innovation in order to survive and thrive. All our concentration and minors programs are carefully designed to help students gain in-demand functional, technical, and managerial skills with which they can design and implement optimal business solutions in an increasingly globalized business environment.
All our concentration and minor programs are designed to help students gain a well-rounded skill set that is composed of in-demand functional, technical, and managerial skills with which they can design and implement optimal business solutions in an increasingly globalized business environment.
View the details of our quality programs in the latest University Catalog.
B.S. in Business Administration Concentrations
Business Analytics
Global Supply Chain Management
Information Systems
Information Systems Security
Business Analytics Concentration
The concentration is designed for students to develop the skill set needed to leverage massive data made overwhelmingly available via modern IT infrastructure to discern business issues and opportunities for corporate competitiveness, and the ability of this kind is increasingly vital for Corporate America to survive and thrive. Jobs requiring extensive business analytical skills are highly in demand, such as Business Analyst, Marketing Research Analyst, Operations Research Analyst, Data Analyst, Supply Chain Analyst, Systems Analyst, etc.
Global Supply Chain Management Concentration
Students in the Global Supply Chain Management (GSCM) concentration will learn how to manage three critical elements of supply chain management, namely sourcing, converting, moving, and to integrate these three elements to achieve optimal operations. Students will be equipped with advanced knowledge about purchasing, business analytics, business process improvement, database management, project management, and the best practices of supply chain management in global settings. Students will gain hands-on experience with supply chain management software such as SAP ERP solutions.
Information Systems Concentration
Students will study the complex combinations of people, hardware, software, procedures and data to support the operational and managerial needs of an organization. This concentration is for students interested in leverage computers and telecommunications to gain business competitiveness and to cost-effectively improve the way we live and work. As information technology (IT) is a two-edged sword, we must learn the ways in which IT can help us increase productivity and must study their optimal use in business, education, entertainment, daily life, and other fields. Graduates will find rewarding careers in industry and government such as systems analyst, database administrator, programmer analyst, network engineer, website developer, supply chain analyst, project manager, applications developer, telecommunications analyst, data analyst, data warehouse architect, MIS manager, information technology specialist, IT consultant, compliance analyst, information auditor, enterprise resource planner, business intelligence analyst, IT architecture designer, software developer and systems administrator.
Information Systems Security Concentration
All industries and governmental agencies need trained security professionals to safeguard the integrity and security of their information systems and data communications. The concentration is designed to help students develop a strong foundation for securing such a professional career in nearly every field that increasingly depends on information technology and information systems to survive and thrive. The courses in the concentration are carefully chosen or uniquely developed to enable students to develop not only strong specialty in information systems security but also solid foundational knowledge for applying such specialty in various business settings, and as a result graduating students from the concentration should possess a well-rounded skill set long with in-demand specialty.
Minors in Data Analytics, Information Systems, Information Systems Security
Each of the three minors consists of four to five specialty courses plus two preparation courses equivalent to CIS 270 and CIS 370 if the student's major doesn't require them.
Computing and Communication Facilities
Intelligent Classroom
Our facilities include a state-of-the-art intelligent classroom, with a computer at every student seat and total interaction of the instructor's computer with that of the students.
Specifically, capabilities such as the following are provided:
Sharing the screen of any student with all other students' screens
Collaborating or interaction by the instructor on any student screen and showing that interaction to the rest of the class
Having two or more students interact on the same screen and sharing that with the rest of the students
Viewing the screen of any student on the instructor screen
Sending messages to any and all students
Shutting down or locking any and all student screens
Having the instructor software in split screen mode on the student machines.
CISCO Laboratory
The CISCO Academy has a Laboratory adjacent to the intelligent classroom. This Lab contains tables for hand-on student wiring and cabling exercises. Equipment is provided to enable students to make various kinds of electronic measurements. Furthermore, the Lab is equipped with computers and routers which allow the students to configure local and wide area networks. Programming is done on the routers by the students. Also, the computers are disassembled by the students so as to allow insertion of network interface cards and to make other changes.
Network Analysis Lab
In the same physical facility that houses the CISCO Lab, we have also established a Network Analysis Lab. The computers in this Lab are used in conjunction with instruction in our network analysis courses. Students are trained in the installation of different operating systems, client/server software and communications traffic handlers. These computers are cabled into various configurations by the students and disassembled to familiarize the students with computer internals.
Academic and Career Advisement
Concentration and Career Advising are provided by faculty and can be initiated by students to accommodate individual needs. Names of faculty and their areas of professional expertise are outlined on our website. Click here to view the Information Systems and Operation Management  Department faculty. Students may obtain advice from faculty about tailoring their academic program toward career goals, graduate schools and programs, and career opportunities. Students are urged to consult with faculty on these matters.
CBAPP Student Success Center  |  (310) 243-3548  |  Offices: II 1100 & 3400
Undergraduate student services and advisement.
Faculty Support & Faculty Office Hours  |  (310) 243-3548  |  Offices: II 4525, 4526, 4200
Support regarding faculty office hours, contacting faculty, and classroom changes, etc. 
Join the Logistics and Supply Chain Management Club