Our Program is part of the California State University Dominguez Hills, and is located in Los Alamitos, California.
Orthotics and Prosthetics (O&P) is the evaluation, fabrication and custom fitting of artificial limbs and orthopedic braces. O&P is an allied health profession with a variety of exciting employment opportunities available.
provide patients with prostheses (artificial limbs) to replace an amputated hand, arm, foot or leg. The goal of the prosthetist is to provide the patient with increased function, such walking or grasping.
Orthotists
provide patients with orthoses (braces) that restore function, or stabilize the part of the body in question. Orthotic application include the spine, cranium, and extremities after injury or disease. The goal of the orthotist is to provide the patient with protection, support, and increased function.
The CSUDH Orthotic and Prosthetic Education Center is a 12,000 square foot facility containing both class rooms and several laboratory spaces. Faculty and students alike have the opportunity to rotate into VA prosthetic, orthotic, and other medical clinics to enhance their patient care skills.  Also, active clinical rotations are in place with large and small private O&P providers, Hanger's major central fabrication facility, Rancho Los Amigos Rehabilitation Center, and the Balboa Naval Medical Center's C-5 program in San Diego, where combat wounded soldiers are receiving treatment.
CSUDH Prosthetics & Orthotics Program from CSU DOMINGUEZ HILLS on Vimeo.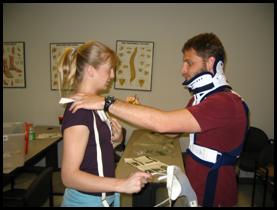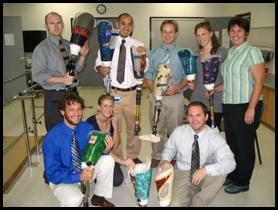 Our students are our most valuable resource. Each student makes a unique contribution to the Program, and is recognized as an individual.  We work together as a team to provide the highest quality patient outcomes. We provide our students with unique "hands-on" learning opportunities in a series of lecture, demonstration, and laboratory activities that culminate in formal critiques and practical applications of orthotic and prosthetic practice. Our students thrive in an environment the combines academic, clinical, and research components that lead to successful practice as an O&P professional.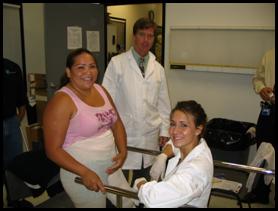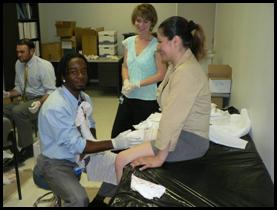 Thank you for considering the California State University Dominguez Hills Orthotics and Prosthetics Program for your education. 
Feel free to contact us for further information.   Please send inquiries to erollo@csudh.edu
To learn more about the profession, please visit
www.opcareers.org
; also you may view the Academy video on O&P careers: