---
The 4th Annual Labor, Social & Environmental Justice Fair
Thursday, April 19
11:00 AM - 4:00 PM, Loker Student Union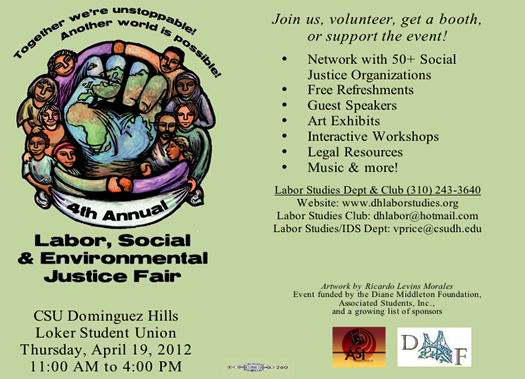 Welcome to the Labor, Social and Environmental Justice Labor Fair page
Greetings from the CSU Dominguez Hills Labor Studies Club!
On Behalf of the Labor Studies Club and the Labor Studies Dept. of California State University Dominguez Hills, we would like to invite you to participate in the Labor, Social, and Environmental Justice Fair to be held on Thursday, April 19, 2012, from 11 AM to 4 PM on the campus of CSU Dominguez Hills. Organizations will set up at around 8 AM. Unity Fest, with great music and cultural programming by our Multicultural Center at CSUDH, will be held in conjunction with the Fair, so a good time should be had by all. Our planning committee, consisting of students, community and labor organizations is finalizing the program, and we are inviting you to be part of this great event!
This is the fourth year for the Fair. Last year, we were very pleased with the wonderful turnout we were able to achieve, with 300 high school students coming from four different schools, dozens of community college students and over 700 of our own students attending. We've learned a lot from the past events and plan to make this the best Fair ever.
This Fair has multiple goals. CSUDH is the only four-year university in Southern University to offer a major in Labor Studies. We think it is crucial to honor labor and promote labor studies, and we want to build our support for the labor and social justice community. We view the Fair as an opportunity to deepen connections among campuses, labor unions, workers' centers, community organizations, and people: students, faculty, union folk and community members. It is a space for transmitting information about organizing campaigns and work issues, jobs and internships, and discussions about broader issues. Our theme for this year is Together We are Unstoppable, Another World is Possible.
We plan to repeat our successful format of holding outdoor booths for many organizations where one-on-one conversations can be held while workshops and panels on a host of issues go on indoors, programmed by our events committee with involvement from organizations like yours. Faculty and students, community members and union workers and officials will move between the indoor meetings, exhibits, and the outdoor booth spaces with cultural programming and refreshments. This year we are also working with the Multicultural Center on our campus to expand our work to more students.
Please join us in providing us with your ideas and involvement to make this conference a success. To apply for a free booth, download and fill out and send in the booth application. Contact dhlabor@hotmail.com or vprice@csudh.edu with questions. More details will be available soon.
If you are coming from off-campus, you will need to park in one of the lots on campus and purchase a $5 parking permit at a kiosk. Here's the CSUDH map. The event will take place outside Loker Student Union, which is #26 on the map.
Hope to hear from you!
Vivian Price
Assistant Professor, Interdisciplinary Studies/PACE; Coordinator, Labor Studies
California State University, Dominguez Hills
Small College 130
1000 E Victoria St.
Carson, CA 90747
my office 310-243-3583 PACE office 310-243-3640
vprice@csudh.edu
Labor Studies page http://dhlaborstudies.org
IDS page http://cah.csudh.edu/ids/
My webpage http://www.hardhatvideo.com
office fax 310-516-3339
Tradeswomen Archives http://www.tradeswomenarchives.com
New film on the Bracero Program http://www.harvestofloneliness.com
---
Labor, Social and Environmental Justice Labor Flyer [PDF]
The Social Justice Art Contest and Exhibit [PDF]
Third Annual Labor, Social, and Environmental Justice Fair Booth Registration Form [Word DOC]
---
Booth Participants:
9 to 5 Los Angeles, National Association of Working Women
AFT College Staff Guild, Local 1521A
All of Us or None/A New Way of Life Re-entry Project
Answer (Act Now to Stop War and End Racism) Coalition
Anti-Racist Action
Asian and Pacific Islander Obesity Prevention Alliance (APIOPA)
California Faculty Association
California Teachers Association and Santa Ana Educator Association
California United for a Responsible Budget
Campaign for a Healthy CA/Labor United for Universal Healthcare
Center for the Study of Political Graphics
Century Villages at Cabrillo
Clean Carwash Campaign
Coalition for Economic Survival (CES)
Coalition for Educational Justice (CEJ)
Coalition of Labor Union Women
Colombia Peace Project
Disability Advocates at Work
Dolores Huerta Labor Institute
Earth Science Club
East Yard Communities for Environmental Justice
Electrical Training Institute
Espiritu De Nuestro Futuro
Facts-Families to Amend California's Three Strikes
Filipino Migrant Center
IBU, Inlandboatmens Union, ILWU
ILWU Southern California District Council
Innocence Matters
Israel Divestment Campaign/ Dump Veolia-L.A
Jewish Labor Committee Western Region
Jumpstart
Justice Corps
Keepers of Indigenous Ways
Labor 411
La Causa
Lausd/Division of Adult & Career Ed./ George Kiriyanna Community Adult School
Levy, Ford & Wallach
Live Love Laugh Charity
Long Beach Gray Panthers
Los Angeles City Attorney's Office - Dispute Resolution Program
Nabet-CWA Local 53
Partners of Parks
Public Allies Los Angeles/CD Tech
Radical Women
SEIU Local 1000
South Bay LGBT Center
State Workers with Disabilities, SEIU 1000
Students for Quality Education
Teamsters Local 572
U.S. Department of Labor Office of Federal Contract Compliance Programs
UAW Local 4123
USW Local 675
---
Links: