Program Description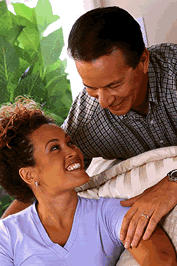 The Master of Science Degree in Marital and Family Therapy is a 60 unit, and in most cases five-semester, program. It is fully recognized by the Board of Behavioral Sciences (BBS) for MFT licensure, the California Association of Marital & Family Therapists (CAMFT) and the American Association of Marital & Family Therapy (AAMFT). It fully satisfies the State requirements with all the old and new curriculum requirements such as Marital and Family Theory (two semesters), Cross-Cultural Family Values and Behavior, working with families with alcohol and substance abuse, identifying and treating families where child and elder abuse are present, Legal and Ethical Aspects of Counseling, Treatment of Trauma in Families, Family Development Across the Lifespan, Assessment in MFT, Psychopathological Issues in MFT, relationship theory and therapy, Child and Adolescent Psychotherapy, Studies in Human Communication and other current issues in MFT such as intimate partner violence and human sexuality in regards to families. Graduation from this program requires the student to complete a minimum of 500 hours of practicum experience. This means that 250 of those hours must be in workshops, supervision, training, etc. and a minimum of 250 hours must be completed providing direct clinical therapy to clients as a supervised trainee while enrolled in an MFT Fieldwork course.
NOTE: The CSUDH Department of Marital & Family Therapy is not a joint/connected program to the CSUDH Department of Psychology or any other program in Education or Social Work. The MFT Department is solely and directly dedicated to the teaching, training, and mentoring of students to becoming licensed marital and family therapists in California.
Fall and Spring application opens - October 1st
Spring application deadline- November 1st
Fall application deadline - February 1st
ATTENTION: The CSUDH MFT Department now offers qualified candidates admission to both FALL and SPRING cohorts. Please pay attention to the appropriate deadlines and make sure the separate applications to the university (Admissions Office) AND the MFT department are fully completed with all supporting documents received by the two separate offices.
Features
The Master of Science in Marital and Family Therapy at CSU Dominguez Hills is one of only a few publicly supported programs in Southern California offering a complete evening course of study to accommodate those who work during the day of study, especially during the first year when classes are offered 2-3 evenings a week.
Our entire faculty is degreed/licensed in Marital & Family Therapy and some have been expert contributors to the BBS licensing exam and some have been BBS licensing examiners.
We start our program in the summer (except for students admitted in the Spring cohort). Each student is required in the summer to take an intensive course called MFT 500: Introduction to MFT. This provides the MFT student the perfect opportunity to personally and educationally prepare for the program's requirements. This course is only offered during the summer and the student must register in it through the Office of Extended Education. Students admitted to the Spring cohort must agree to take this course the following summer.
The MFT Department also provides a mentoring program, where each student in the first year is assigned a mentor from year two or three. That mentee gets weekly mentoring meetings to stay on course with the program and then that mentee will receive training to become a mentor in year two.
Preparation
To qualify for admission to the Marital and Family Therapy Program certain prerequisite courses are required. Please click on appropriate class to see exact equivalence. They include:
Career Possibilities
Many of our students have obtained successful positions with the Department of Mental Health (DMH) and some of our students have traineeship experiences that emphasize DMH paperwork and procedures. The MFT Department is directly connected to the California Consortium of Marital & Family Therapy Programs where each year competitive state and county stipends are given to students which include a substantial grant (currently $18,500) AND a full-time paid position as a therapist within the Department of Mental Health after graduation. The MFT Department can not promise each student will receive this, but our faculty will help students in the process.
Graduate Student Policy Handbook
BBS MFT Student Handbook [PDF]
Information Sessions
WH C-303
| Date | Time | Location |
| --- | --- | --- |
| Saturday, April 7, 2018 | 12:00pm - 2:00pm | WH C-303 |
| Saturday, April 21, 2018 | 12:00pm - 2:00pm | WH C-303 |
| Friday, May 4, 2018 | 12:00pm - 2:00pm | WH C-303 |
| Friday, May 11, 2018 | 12:00pm - 2:00pm | WH A-330A |
| Saturday, May 26, 2018 | 12:00pm - 2:00pm | WH C-303 |
| Saturday, June 9, 2018 | 12:00pm - 2:00pm | WH C-303 |
| Friday, June 22, 2018 | 12:00pm - 2:00pm | WH C-303 |
| Friday, July 6, 2018 | 12:00pm - 2:00pm | WH C-303 |
| Friday, July 20, 2018 | 12:00pm - 2:00pm | WH C-303 |
| Saturday, August 11, 2018 | 12:00pm - 2:00pm | WH A-330A |
| Friday, August 24, 2018 | 12:00pm - 2:00pm | WH C-303 |
| Saturday, September 8, 2018 | 12:00pm - 2:00pm | WH C-303 |
| Friday, September 21, 2018 | 12:00pm - 2:00pm | WH C-303 |
| Friday, October 5, 2018 | 12:00pm - 2:00pm | WH C-303 |
| Saturday, October 20, 2018 | 12:00pm - 2:00pm | WH C-303 |
| Friday, October 26, 2018 | 12:00pm - 2:00pm | WH C-303 |
WH = Welch Hall
LSU = Loker Student Union
Please RSVP by calling (310) 243-2545 / (310) 243-2032 or email Rosa Escobar at rescobar17@csudh.edu
Saturday, September 16