International Student Info ►
Current Students ►
Immigration
Programs & Events | Immigration | Employment | Travel | Contact Us| |
Passport Validity
Your passport must be valid at all times. Please contact your country's local embassy or consulate for information on how to renew your passport.
Full-time Enrollment
International students must be full-time enrolled during their academic program. Undergraduate student full-time enrollment is twelve (12) units. Graduate student full-time enrollment is eight (8) units.
Reduced Course Load
If you enroll in less than the required units, you must submit an Application for Reduced Course Load to International Student Services (ISS) for review. Failure to obtain approval before dropping below full-time status will affect your immigration status. Submitting a request does not indicate an automatic approval; once ISS reviews the request, they will contact you.
Online Courses
As an international student, you can only have one 3-unit online course counted toward the full-time enrollment per fall and spring semester.
Exception: Saudi Arabian Government sponsored students are restricted to only a few classes during the entire academic program. Please check with your sponsor before enrolling online.
Concurrent Enrollment
Concurrent enrollment allows you to enroll in a limited number of classes at another institution while attending CSUDH. As CSUDH is your primary school listed on your I-20, you must take most classes at CSUDH. Undergraduate students MUST enroll in at least nine (9) units at CSUDH. You will submit the Authorization for Concurrent Enrollment form to the ISS office for review. If ISS approves the form, the ISS advisor will sign the bottom portion, which you will take to the institution as proof that you can enroll in the course.
Report I-20 Changes
You must report any change of major or funding to the ISS within ten (10) days as ISS is required to report changes to SEVIS. ISS will notify you to pick up a new I-20 once the changes have been made. Failure to report these changes will cause you to fall out of status.
Please complete the I-20 Request-Replacement or Change of Major form and submit it to the ISS office for review.
Program Extensions
Your I-20 must be valid at all times while studying at CSUDH. If you cannot complete your degree by the date printed on your I-20 (Program End Date), you must submit an I-20 Request-Program Extension form for review to the ISS office at least thirty (30) days before the expiration date of your I-20.
Leave of Absence
You may request a Leave of Absence (LOA) for up to one (1) year during your academic program at CSUDH. However, you must meet with an ISS advisor to request an LOA to discuss the university's process and immigration regulations. If the LOA is approved, you must leave the U.S. during the requested period. If you do not enroll at CSUDH for more than two (2) semesters, you must apply for university readmission.
Address Changes
You must also report any change of address, i.e., your actual physical residence, within ten (10) days of the change by updating your biographical data in your MyCSUDH account and submitting the Address Update Form to the ISS office.
Letter Request
If you need a certification/verification letter, please submit the Certification of Status Letter Request form to the ISS office. The ISS office will not issue invitation letters for family members.
Transfer In/Out
You must notify ISS to transfer your SEVIS record to another school in the U.S. To request a transfer of your SEVIS record, you must submit the following documents to ISS:
Copy of the acceptance letter to the new school
California Driver's Licenses
A California Driver's License is required if you wish to drive in California. The California DMV website provides information on how to apply for a driver's license. 
Here some tips for how to apply for ID/Driver's license.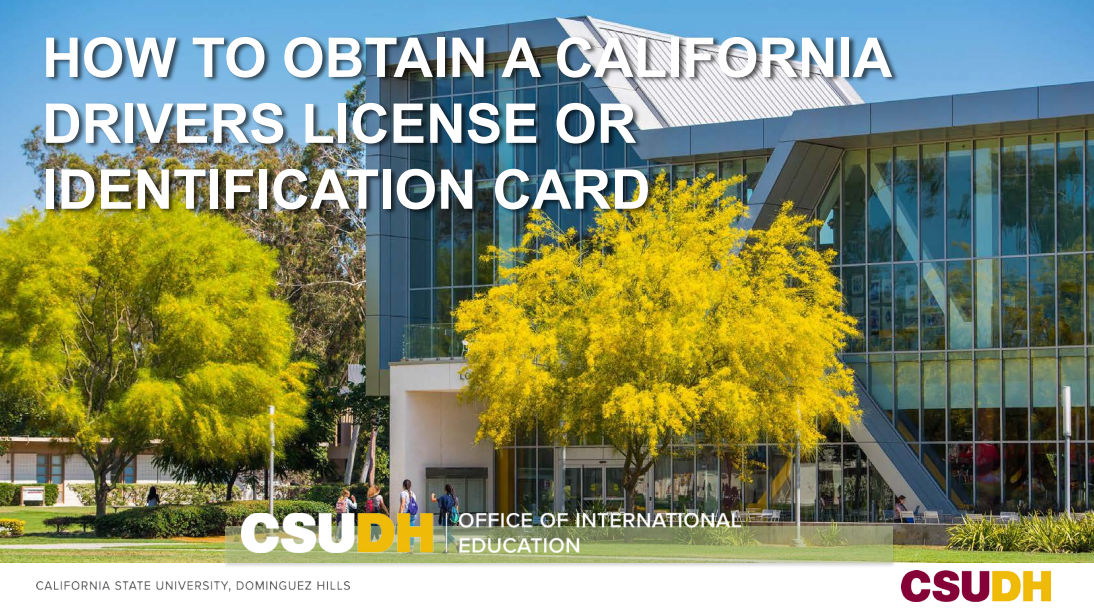 Grace Period
F-1 students who have completed their studies or completed their Optional Practical Training period have sixty (60) days to prepare to leave the U.S., apply for Optional Practical Training (if you did not use it after your most recent degree program), transfer out to another US school, or start a new program at CSUDH.
F-1 students who withdraw from CSUDH with approval from the ISS have fifteen (15) days to prepare to leave the U.S.
F-1 students who withdraw

WITHOUT

approval from the ISS office must leave the U.S. immediately.