International Student Info ► Current Students ► Employment
Programs & Events | Immigration | Employment | Travel | Contact Us| |
Working On Campus
When school is in session, you are eligible to work on campus for up to 20 hours per week (part-time). If you are eligible, you may work more than 20 hours per week (full-time) during breaks (like summer). On-campus employment must end when you complete your academic program.
Tips to find on-campus job and interviewing etiquette.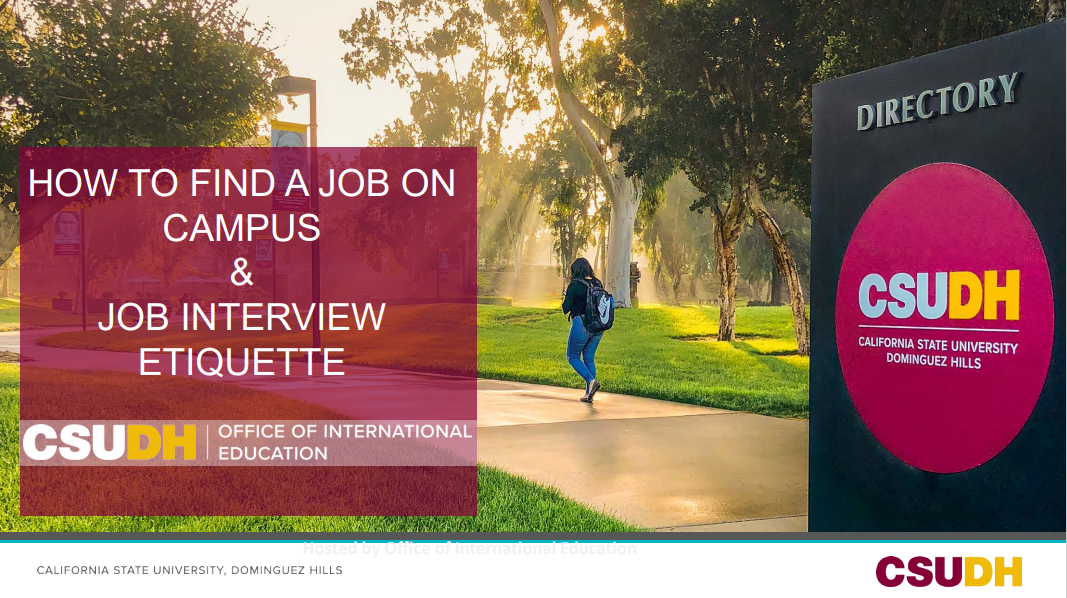 Practical Training
Curricular Practical Training (CPT)
Curricular Practical Training (CPT) is defined as work experience that is an integral part of your academic program. This type of employment must be a required part of your academic program or coursework for which you receive academic course credit. You must have a firm internship offer from an employer before applying for CPT, and discuss it with your academic advisor and International Student Services (ISS) advisor. 
You can find more information in the CPT handout and the Department of Homeland Security website.
Optional Practical Training (OPT)
Optional Practical Training (OPT) provides an opportunity to apply theoretical knowledge from your academic program to practical work experience. This employment must be directly related to your major field of study.
OPT employment authorization is granted by the U.S. Citizenship & Immigration Services (USCIS) upon receipt and review of applications filed by the student and recommendation made by the ISS advisor.   
You may be authorized for twelve (12) months of full-time OPT per higher education degree level if you meet the eligibility requirements. Before applying, you will need to attend an OPT workshop in the ISS office. Please check our Programs and Events page for future workshop dates and times.
---
Social Security Number
The Social Security Administration issues your Social Security Number (SSN) when you have authorized employment. SSN is not a work permit. More information can be found in the SSN information form.
Here some tips for how to apply for Social Security Number.
Income Tax
As an international student, you are responsible for filing federal and state income taxes. More information will be emailed to you at the end of January. However, the ISS office cannot give tax advice, and you should consult a professional tax preparer if you have any questions. The deadline to file taxes is April 15th of every year.
Volunteer Work
If you have questions about whether you can volunteer at a specific place or company, please make an appointment with an ISS advisor before beginning any work.