Tuesday, September 21, 2021
"Understanding 9/11 and Twenty-Year War

"
1 hour, 12 minutes
Dr. Clarence Augustus "Gus" Martin is Director of the School of Public Service and Justice and a Professor of Criminal Justice Administration at California State University, Dominguez Hills (CSUDH). His current research and professional interests are terrorism and extremism, homeland security, and the administration of justice. Dr. Martin is the author of several books on terrorism and homeland security, including Essentials of Terrorism: Concepts and Controversies (SAGE Publications, 2021); Understanding Terrorism: Challenges, Perspectives, and Issues (SAGE, 2020); Understanding Homeland Security (SAGE, 2019); Terrorism: An International Perspective (with Fynnwin Prager; SAGE, 2019); The SAGE Encyclopedia of Terrorism (SAGE, 2011); Terrorism and Homeland Security (SAGE, 2010); and The New Era of Terrorism: Selected Readings (SAGE, 2004). He is also the author of Juvenile Justice: Process and Systems (SAGE, 2005). 
Dr. Martin received his A.B. degree from Harvard College, J.D. from Duquesne University School of Law, and Ph.D. from the Graduate School of Public and International Affairs at the University of Pittsburgh. 
Connect with Dr. Clarence Augustus Martin on LinkedIn.
---
"Radical Religion: Fundamentalisms in the 21st Century

"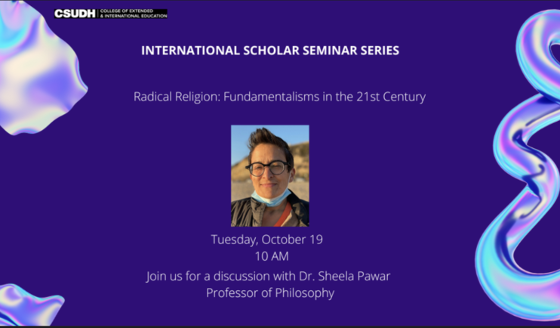 Dr. Sheela Pawar is an Associate Professor of Philosophy at California State University, Dominguez Hills (CSUDH). She earned her Ph.D. in Philosophy of Religion and Theology from Claremont Graduate University in 2002. At CSUDH, she teaches philosophy and religious studies courses and completed an NEH Summer Institute on teaching world religions. 
Dr. Pawar's research is on the concept of trust, violence, and religion and the intersection of religious studies and the philosophy of religion. She enjoys traveling, cooking, and her dog, Spartacus. 
Read more about Dr. Sheela Pawar at CSUDH.edu.
---
"The History of the

Tongva

People and 21 Ways to Respect Native Americans"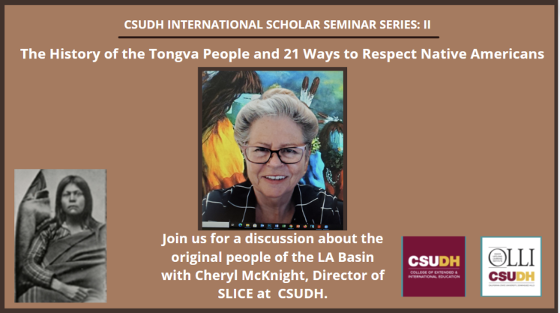 Cheryl McKnight is the Director of Service Learning, Internships, and Civic Engagement (SLICE) at California State University, Dominguez Hills (CSUDH). Cheryl is a long-standing advocate for indigenous people and sits on the California State University system-wide Native American Initiative committee. She is also co-director for the CSUDH American Indian Center and chair for the American Indian Changing Spirits Residential Recovery Center, giving presentations on the Los Angeles Native American Tongva Nation. 
She is a recipient of multiple awards, including the 2020-21 CSU Faculty Innovation and Leadership Award, 2016 California State Assembly Women of Distinction, 2016 Los Angeles County Supervisor Don Knabe Commendation, 2016 California State Assembly Recognition for Work in Native American Community, 2015 Richard E. Cone Award for Excellence and Leadership in Cultivating Community Partnerships in Higher Education, and CSUDH Office of Student Life Transformational Leadership Award for Excellence in Education.  
Cheryl is co-author of the chapter "Challenging the Underrepresentation of Native Americans in Higher Education at an Urban, Comprehensive University," published in Diversity and Inclusion in Educational Institutions (Cambridge Scholars Publishing, 2022).
Connect with Cheryl McKnight on LinkedIn.
---
"Jihadism 4.0

: How Jihadists Hijacked Islam and Lived to

Tell

About It"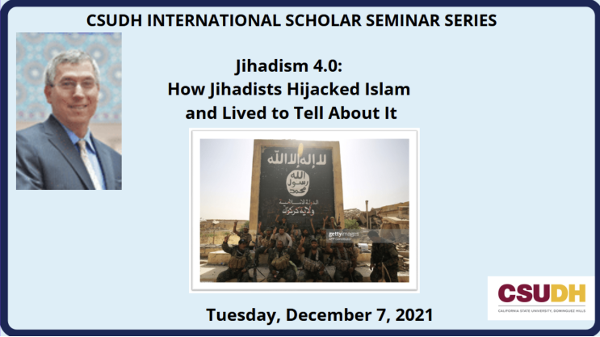 Dr. Hamoud Salhi is the Associate Dean of International Education and Senior International Officer at California State University, Dominguez Hills (CSUDH). 
Dr. Salhi specializes in international and comparative politics, emphasizing the Middle East and Northern Africa, terrorism and counterterrorism, and political change in the developing world. 
A former journalist, Salhi was a contributor for Algerian newspapers El-Khabar, Ech-Chaab, and Dubai's Gulf News. He has also been a radio commentator for Algeria International Radio and is a regular political commentator on Algerian National Television and Radio. 
Connect with Dr. Hamoud Salhi on LinkedIn.
---
"Esports is a Student Success Strategy"
1 hour, 19 minutes
Ruben Caputo has worked in educational technology for the past 11 years at California State University, Dominguez Hills (CSUDH), and is the co-chair of the CSU Esports Collective. 
After graduating from Biola University with a Bachelor's degree in Business Marketing, Ruben worked for Apple's Education Team as a Partner Manager focused on business development. During his time at Apple, Ruben grew fond of working in education. So, he received his Master's in Technology Entrepreneurship from the University of Maryland in 2011. Later, he implemented graduate-level curriculum for the CSUDH College of Education School Leadership Program. 
He is part of Google's EdTech team that promotes universal design practices to create a more connected space for K-12 educators and learners. And Ruben's leadership led him to the role of Academic Advisor and General Manager for the CSUDH Esports Association, serving upwards of over 600 students and alums.  
Finally, Ruben's background earned him his current role as Information Technology Consultant for the College of Education under the CSUDH IT Academic Division.
Connect with Ruben Caputo on LinkedIn.
---
"
An Indigenous Community-Based Approach to Restorative Justice in Alaska

"

1 hour, 10 minutes

Dr. Brian Jarrett is the Director and Professor of CSUDH's Negotiation, Conflict Resolution, and Peacebuilding (NCRP) program. He is a lawyer, mediator, and arbitrator in the United States and Canada. He also holds a Ph.D. in Sociology. His interests include mediation, arbitration, Dispute Systems Design (DSD), Restorative Practices, and Therapeutic Jurisprudence (TJ). 

In recent years, Dr. Jarrett has originated work in integral mediation, which promotes interdisciplinary practices in mediation. He enjoys working with indigenous peacemakers and communities, supporting their work in rediscovering traditional restorative practices. Each year, Dr. Jarrett facilitates the International Cyber-conference on Dispute Resolution, which unites peacemakers, dispute resolution practitioners, and researchers worldwide.  

Read more about Dr. Brian Jarrett at CSUDH.edu.
---
"Next Generation International Education: Where We've Been and Where We're Headed"
1 hour, 2 minutes
Dr. Anthony C. Ogden is the founder and managing director of Gateway International Group, a new organization focused on next-generation international education.   
Dr. Ogden is a respected scholar-practitioner with nearly 30 years of experience in international higher education, having held senior international leadership positions at Pennsylvania State University, the University of Kentucky, Michigan State University, and the University of Wyoming. A three-time Fulbright recipient, Dr. Ogden completed a Ph.D. at Pennsylvania State University in Educational Theory and Policy, with a dual title in Comparative and International Education. He has produced over 60 professional and scholarly publications on international higher education, including the co-edited book Education Abroad: Bridging Scholarship and Practice (Routledge, 2020).
Connect with Dr. Anthony Ogden on LinkedIn.
---
"Fraud at Waste Management"
51 minutes
Dr. Meghna Singhvi is an Associate Professor of Accounting and Law at California State University, Dominguez Hills (CSUDH). She has taught undergraduate and graduate classes since 2016 at Northern Kentucky University, Xavier University, Florida International University, and Loyola Marymount University. 
Dr. Singhvi's research expertise focuses on corporate boards, ESG investing, audit committee director turnover, CEO power, and sustainable investing. One of her papers, "Audit fees after remediation of internal control weaknesses," was cited in the 2010 Dodd-Frank Wall Street Reform and Consumer Protection Act. Her focus has been on internal controls since 2008. She has spent enormous hours studying systemic controls and account-specific internal controls. Dr. Singhvi also studied remediation of internal controls in depth and continues researching SOX compliance. She attributes much of a company's success to the tone at the top and its culture.