Study Abroad ► Study Abroad Options
Study Abroad Program Options for CSUDH Student
Learn... Travel... Lead
CSU International Programs (IP)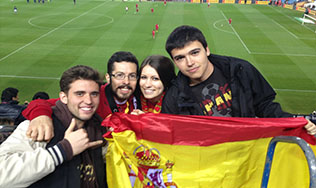 IP is the overseas study program of the CSU system, affiliated with over 70 institutions of higher learning in 18 countries. IP offers yearlong and semester study abroad programs in a variety of majors, with articulation with CSUDH courses and most majors. Students pay CSU fees, plus travel and living expenses. CSUDH financial aid is fully applicable to IP study programs. Most programs require a 2.5 or 2.75 GPA, but some require a 3.00 GPA. Applications are available online beginning October of each year.
For more information: https://csuip.calstate.edu/ ►
Faculty-Led Programs
Faculty-led Study Abroad Programs are organized and taught by faculty at CSUDH. The programs are travel courses led by CSUDH faculty. Students can travel 1 week – 6 weeks during winter, spring intersession and summer sessions. Students earn minimum 3 or 6 units that may count toward their degree. If you are interested, please contact the Study Abroad Office to learn more about eligibility and application deadlines.
Study Abroad Opportunities through Program Providers:
Council on International and Educational Exchange (CIEE)
https://www.ciee.org

Over the past seven decades, CIEE has continually redefined its focus to meet the changing needs and expectations of students, faculty, staff, and institutions, solidifying its leadership as the world's premier international educational organization. CIEE is committed to helping every student – regardless of socioeconomic background or academic major – access a transformative study abroad experience. Search for college study abroad programs in more than 40 countries around the world including Spain, Italy, China, Germany, Australia, and more with CIEE study abroad. A minimum 2.33 GPA is required to be eligible for most programs.

CSUDH Direct Exchange Study Abroad Programs in
Tokyo, Japan

Study abroad for a semester or academic year in Tokyo, Japan. Programs available to eligible CSUDH students. Students can study abroad during fall and spring semester. Students pay tuition and fees at CSUDH and living expenses to the host university abroad. Programs require a GPA of 2.0 to 4.0. and a junior standing.

Toyo University

Aspires to develop individuals that possess the aptitude to thrive in today's global society. It promotes individual program and requires junior class standing and a minimum of 3.00 GPA.
For more information: https://www.toyo.ac.jp/en/

Application = Contact Study Abroad Office for more information: rwangui@csudh.edu
Cost = TBD

Meiji University

One of the leading universities in Japan for almost 140 years whose mission is empower and link individuals to the world and future. The applicants must have GPA of 2.0 or above on 4.0 scale.
For more information: https://www.meiji.ac.jp/cip/english/prospective/exchange.html

Application = Contact Study Abroad Office for more information: rwangui@csudh.edu
Cost = TBD

 

University Studies Abroad Consortium (USAC)
http://usac.unr.edu

Based out of University of Nevada, USAC offers programs in 25 countries with many locations unique for study abroad. Students from more than 800 universities around the world have studied with USAC over its thirty-year+ history. Programs options are winter (January), summer, semester and yearlong. Students pay USAC tuition, plus travel and living expenses abroad. Students should have a 2.50 GPA and be in good academic standing. Some programs require a 3.00 GPA. Students will be admitted on a "first-come, first-served" basis. CSUDH financial aid is fully applicable.
 
Since 1987, International Studies Abroad (ISA) has provided college students in the United States and Canada who wish to study abroad for a summer, semester, or academic year. ISA has a wide variety of study abroad programs at accredited schools/universities throughout Asia, Europe, Africa, Latin America, Middle East, and the Pacific. Check the individual eligibility requirements for your program on the website, as they may vary. Some requirements include GPA with ranges from 2.50 to 3.30, foreign language proficiency, if applicable, and academic classification. ISA accepts applicants on a rolling basis and recommends submitting application as soon as possible preferably one or two months before application deadline. Application deadline varies depending on the country of choice.
 
Since 1964, over 1.5 million students have traveled abroad with AIFS. With more than 50 years of experience, they have the resources and experience to provide what their students want and need in a study abroad program, and to safeguard their welfare around the globe. AIFS offers a wide range of unique programs in Asia, Australia, Europe, South Africa and the Americas for a summer, semester or academic year. Most AIFS campuses offer courses in English or in foreign languages from beginner to advanced levels, so you don't even have to know a foreign language to study abroad. Application deadline varies depending on the country of choice.
 
Since 1997, CEA has maintained one simple philosophy: To provide high-quality international academic programs and services. Our programs are designed for U.S. and Canadian students who wish to go abroad for a summer, semester, or academic year and gain credit toward their undergraduate degrees. CEA offers a balance of academics and adventure to thousands of students each year, with destinations in 21 cities across 12 countries. CEA are committed to providing programs that align with your academic, professional, and personal goals. You'll earn credits toward graduation while gaining skills that enhance your employability. Applications are accepted on a rolling basis, assessed as they arrive, and accepted after eligibility is verified. Each program has an "apply-by" date and maximum capacity; once reached; further applications are not accepted.