For more information about the university's response to COVID-19, go to the Toros Together Page

Negotiation, Conflict Resolution & Peacebuilding
The Program on Negotiation, Conflict Resolution, and Peace-building is an exciting professional program, aimed at building practical skills and knowledge. Founded in 1987, the Program produces scholar-practitioners. It has a large alumni base both nationally and internationally. Courses are taught in an applied, interactive manner, with hands-on exercises. Its professors, who are drawn from among the best in the country, are all leading contributors recognized at the national level. Each brings a particular expertise to the classroom associated with his or her chosen specialty and practice area. The program provides rigorous education in the field in a supportive and friendly learning environment. Coursework includes key areas of practice including negotiation, mediation, arbitration, fact-finding, investigation, early neutral evaluation, program evaluation, ombudsman work, dispute-systems design, and restorative practice.
In addition to providing education in all the standard practice skills, the program goes further than many others by emphasizing inter-cultural practice and organizational development. This provides students with the knowledge and skills to work not only as a valuable employee in a variety of industry settings but also as a skilled consultant to business organizations, communities, government, courts, law enforcement, NGOs, and in a host of related institutions. Students, alumni, and colleagues in the professional network consistently rank the Program on Negotiation, Conflict Resolution and Peace-building as one of the best in the nation because it offers high-quality education at an affordable price.
Announcements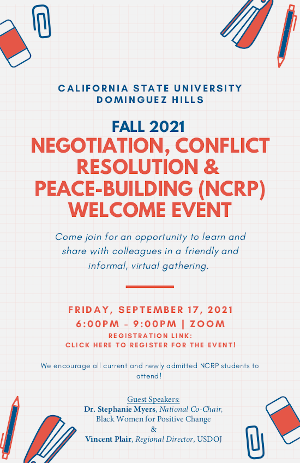 Negotiation, Conflict Resoulution, & Peace-Building (NCRP) Welcome Event
Come join for an opportunity to learn and share with colleagues in a friendly and informal, virtual gathering
Friday, September 17, 2021 | 6:00pm - 9:00pm
---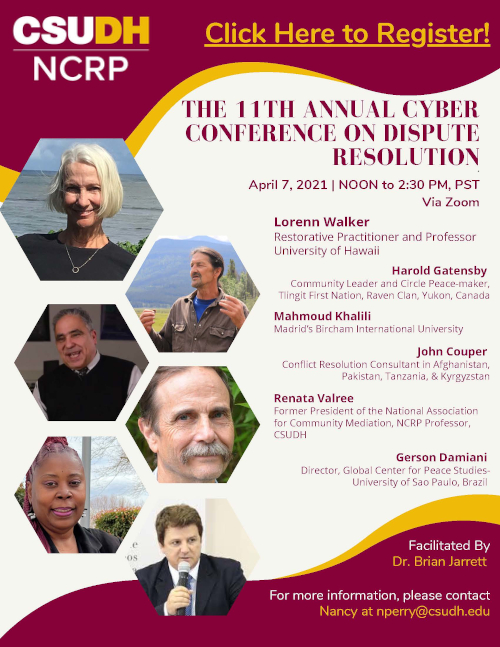 11th Annual Cyber Conference on Dispute Resolution
Join Us for the 11th Annual Cyber Conference on Dispute Resolution. This year we have Lorenn Walker as our Keynote Speaker.
Lorenn Walker
Restorative Practitioner and Professor, University of Hawaii
Interviewed on Oprah Winfrey Network
Topic: "The Restorative Approach"
Lorenn Walker, JD, MPH, assists individuals and organizations manage and prevent conflict, wrongdoing, and social injustice. She develops, implements, researches, and reports on public health and cooperative learning processes using restorative justice and solution-focused approaches that have been replicated in other states and countries. She directs Hawai'i Friends of Restorative Justice and is professor of practice for the University of Hawai'i at Manoa. She's authored over 60 published articles and books. She has trained thousands and has facilitated hundreds of restorative meetings. She is a Senior Fulbright Specialist for peacemaking and conflict management. CNN, NPR, and the Oprah Winfrey Network have interviewed her. Her personal interest in helping disenfranchised and marginalized populations is partly due to her experiences living on her own at 14, dropping out of school at 15, being in jail at 16, and almost murdered by a stranger at age 24.
Other Guest Speakers include:
Harold Gatensby
Tlingit Circle Peace-maker, Yukon, Canada
Topic: "Healing Communities".
Mahmud Khalili
Madrid's Bircham International University
AND
John Couper
Conflict Resolution Consultant in Afghanistan, Pakistan, Tanzania, and Kyrgyzstan
Topic: "Designing Social Media to heal political, cultural, and inter-generational tensions in Afghanistan".
Renata Valree
Professor, CSUDH
Topic: "Facilitating Transformative Dialogue between law enforcement and community groups".
Gerson Damiani
Director, Global Center for Peace Studies, University of Sao Paulo, Brazil
Topic: "Building a Global Peace Center in Brazil".